Awesome New Art Shares What Disney Princesses Would Look Like Pregnant And As New Moms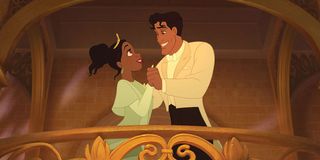 Disney fans are a loyal bunch -- and with decades of classic movies to enjoy, it's not hard to see why. Even after the credits roll, some fans still find a way to engage with their favorite Disney characters by making awesome fan art. One artist has even gone so far as to show us what happens after happily ever after with pictures of Disney Princesses that depict them as pregnant and as new moms.
An Instagram artist that goes by the name goldoxi21 is a devout Disney fan, who frequently draws iconic villains and heroes alike in different contexts than we're used to. That includes creating images that show what some characters might look like if they were pregnant or new moms. To date, goldoxi21 has tackled numerous Disney properties, from 101 Dalmations to Peter Pan. They've drawn villains and sidekicks alike, but they often focus on Disney Princesses.
The artist often commissions pieces from fans all over the world. This isn't new in fandom spaces, but there's a unique twist to what the artist is doing. After fans send in pictures of themselves and their families, the artist uses them as inspiration to draw Disney characters and what their families might look like.
One such image shows The Princess and the Frog's Tiana and Prince Naveen posing together in front of the Saint Louis Cathedral in their hometown of New Orleans. Tiana is very pregnant, but her maternity dress is still that iconic green:
Another image, this one commissioned by a fan from Minnesota, shows Tiana sitting on a lily pad. In one arm, she holds her beautiful newborn daughter. In the other, she holds a frog, in case anyone had any question as to what movie inspired the drawing:
Aladdin seems to be a popular film for the artist to cover. They've tackled it several times, including this image -- inspired by an expecting couple in Texas -- of Aladdin embracing a very pregnant Jasmine, seemingly inside their palace:
An equally adorable Aladdin homage was based on a family portrait sent in from the UK. It shows the happy couple on another magic carpet ride, this time with their two young children, who may or may not be cosplaying as Rajah and Abu:
Sometimes the artist even takes the Disney princesses out of their home territory and puts them in more places we might not expect to see them. One Beauty and the Beast-inspired portrait, requested by an Instagram user in Washington D.C., shows a pregnant Belle posting with her prince and another toddler in front of the Washington monument:
The artist also gave us a chance to see another version of Belle holding a young daughter, this time in a more familiar setting -- a lush rose garden:
Each Instagram post shows both the final drawing and, if applicable, the photos that they based their artwork off of. The result are portraits that capture the essence of Disney fairytales while still adapting them for a modern, diverse audience.
If someone was going to draw you as a Disney character, who do you think it would be? Let us know in the comments!
Your Daily Blend of Entertainment News