What To Watch On Netflix If You Love Happy, Romantic Movies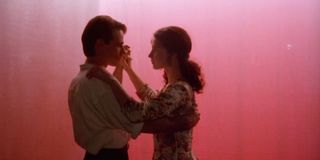 I enjoy unique romantic movies. The quirky ones with unusual love stories, like falling in love with a mannequin or a teacher falling in love with a woman undercover, pretending to be a student. I also enjoy the heart wrenching romantic movies where you know a happy ending isn't possible for these couples, but you take the journey anyway. Other times, I just like romantic fluff. I don't care if the plot makes sense, or logically these characters will never last more than a week. I want a happy—often cheesy—romantic movie. Luckily for you (and me) Netflix has plenty of them. With this list, I will make it easier for you to find what to watch on Netflix.
Most of the movies on this list are pure cute romantic bliss: Nothing too complex, no major political statements, and an overall lighthearted tone. These films may have messages, like believe in yourself and take chances, but nothing that will make you really question the world around you.
The Kissing Booth
The Kissing Booth is based on a Wattpad novel, so you already know the deal. It involves an older bad boy (Jacob Elordi), a quirky teen girl (Joey King), and a kissing booth. Elle (Joey King) is in love with her best friend Lee (Joel Courtney)'s older brother Noah (Jacob Elordi), because of course. Like any great young adult story, The Kissing Booth has a love triangle, but not in the traditional sense. Lee becomes upset when he finds out about Elle and Noah because it breaks their rules. The Kissing Booth fulfills the fantasy of many young girls and boys: falling for your best friend's hot older brother only to find out that he likes you too.
Stream it on Netflix here.
The Perfect Date
Since his To All the Boys I've Loved Before debut, Noah Centineo has become Netflix's favorite teen movie heartthrob. He's winning over teen girl's hearts like it's his job, and that's exactly what it is in In The Perfect Date. In this 2019Centineo and Netflix collaboration, he plays Brooks a high school senior who sells himself to young girls looking for a date for special occasions. His journey leads him to Celia (Laura Marano), who helps him realize that the life he wants might not be as great as the one he already has.
Stream it on Netflix here.
Dumplin
Dolly Parton fans, your time has finally come. Dumplin is about a girl who loves Dolly Parton and once used it as a way to bond with her now deceased aunt. Willowdean aka Dumplin (Danielle Macdonald) has been pushed aside by her pageant-loving mother (Jennifer Aniston) because she's overweight and not into pageants. Willowdean decides to shake things up by entering her mother's local pageant this year. She also recruits other girls who don't necessarily fit pageant standards. Meanwhile, Willowdean and her co-worker Bo (Luke Benward) start to get close. Not only is this a great film about shattering beauty standards, but, I kid you not, Bo is very swoonworthy.
Stream it on Netflix here.
Candy Jar
If a romance doesn't start as a love-hate thing, is it really a romance? Possibly, but the love-hate ones have a bit more spice. In Candy Jar, dueling high school debate champions start to see their college dreams fade away. Lona (Sami Gayle) and Bennett (Jacob Latimore) learn to look past their competitive hatred for each other and see the great person standing next to them. Candy Jar is a story about first love and discovering that life doesn't always go as planned, but that doesn't necessarily have to be a bad thing.
Stream it on Netflix here.
Always Be My Maybe
Sometimes the one that got away is only that person because you never took enough chances to make it work. In Always Be My Maybe, Ali Wong and Randall Park play Sasha and Marcus, two former friends who lose touch after an awkward encounter. Sasha returns to her hometown where Marcus still lives, and old sparks begin to fly. Always Be My Maybe is a cute romance that also has a Keanu Reeves cameo, so what more can you want?
Stream it on Netflix here.
Love Jacked
Maya (Amber Stevens West) travels to Africa for some inspiration. Unexpectedly, she meets the love of her life and they become engaged. However, he proves her overprotective dad (Keith David) right for being concerned when he cheats on her. Feeling humiliated, she heads home early. Maya then tells a random guy Malcolm (Shamier Anderson) what happened. He offers to pretend to be her fiancé to save her from embarrassment. As with every fake identity story, Malcolm and Maya start to fall in love.
Stream it on Netflix here.
When We First Met
Years ago, Noah (Adam DeVine) missed his chance to tell the girl he loves Avery (Alexandra Daddario) that he has feelings for her. Now she is getting married to Ethan (Robbie Amell). Noah stumbles upon a time machine. He repeatedly uses it to try to create the perfect scenario to win her over. Through constant time traveling, he realizes that Avery and him might just be destined to remain friends, but that doesn't mean someone else might not be perfect for him.
Stream it on Netflix here.
Set It Up
Set it Up teaches you that the best way to deal with difficult bosses is to make sure that they're getting some action. Then life becomes a lot smoother. It's really the only way to resolve conflict with bosses. Harper (Zoey Deutch) and Charlie (Glen Powell) decided to play matchmaker by pairing their bosses (played by Taye Diggs and Lucy Liu) on a date. As they're working to create the perfect situation for their bosses to fall in love, they start to develop feelings for each other.
Stream it on Netflix here.
Tall Girl
Tall Girl follows Jodi (Ava Michelle), a teen girl who is over 6 feet tall. Her classmates tease her for her tallness, which causes her to become insecure about it. A new exchange student Stig (Luke Eisner) comes to her school and stays with Jodi's friend Dunkleman (Griffin Gluck). Jodi goes from having trouble finding a date to two guys interested in her. Logically, anyone that tall is either going to be a model, professional athlete, or have a Netflix movie produced about them so who will really gets the last laugh on their bullying classmates?
Stream it on Netflix here.
A Christmas Prince
Rose McIver and Ben Lamb star in the Christmas phenomenon A Christmas Prince. Holiday movies generally lift the spirit and ask you to suspend disbelief in honor of Christmas magic. In this Netflix film, reporter Amber (Rose McIver), in order to get a good story, poses as a tutor for Princess Emily (Honor Kneafsey). While working in the palace, Amber gets to see the real Prince Richard (Ben Lamb), not just the tabloid sensation. If you enjoy Christmas romance movies, especially ones involving princes, then this might be the perfect series to revisit all year round.
Stream it on Netflix here.
Sierra Burgess Is A Loser
Sierra Burgess is a Loser is a modern teen version of Cyrano de Bergerac. Sierra (Shannon Purser) teams up with Veronica (Kristine Froseth), the most popular girl in school, to win over her crush Jamey (Noah Centineo). Jamey mistakes Sierra for Veronica, because Veronica gives Jamey Sierra's number as a way to humiliate her. Jamey exchanges texts with Sierra and they both start to like each other. Veronica needs tutoring so Sierra volunteers in exchange for Veronica's help wooing over Jamey (who still believes she's Veronica). Sierra Burgess is a Loser is a love story in two forms. It's between Jamey and Sierra, and Veronica and Sierra who become real friends in the catfishing process.
Stream it on Netflix here.
Falling Inn Love
After breaking up with her boyfriend, Gabriela (Christina Milian) drunkenly enters an essay contest to win an inn, as one does. When she wakes up, she discovers that she won it (not suspicious at all). She then travels to New Zealand to claim her new inn. Surprise! it's a dump. She reluctantly teams up with the town's restoration expert Jake (Adam Demos) to fix it up. As you may have guessed, they start to fall in love in Falling Inn Love. She also gets a sweet little inn out of the whole thing.
Stream it on Netflix here.
Strictly Ballroom
In Strictly Ballroom, love and dance combine to form an almost too cute romance movie about a professional ballroom dancer Scott (Paul Mercurio), who just wants to dance his own style, but the strict ballroom rules forbid it. His mom Shirley (Pat Thomson) also doesn't want him ruining his chances of winning the Pan-Pacific Grand Prix Dancing Championship and hurting their dance studio's credibility. An inexperienced dancer Fran (Tara Morice) believes in Scott and volunteers to be his new partner. He must teach her to dance and she must teach him to be brave. This is the first film in what would become known as Baz Lurhmann's "Red Curtain Trilogy," which also includes Romeo + Juliet and Moulin Rouge.
Stream it on Netflix here.
If you love love, or just enjoy a good romance movie, then these should keep you dancing on cloud nine all evening.
Spent most of my life in various parts of Illinois, including attending college in Evanston. I have been a life long lover of pop culture, especially television, turned that passion into writing about all things entertainment related. When I'm not writing about pop culture, I can be found channeling Gordon Ramsay by kicking people out the kitchen.
Your Daily Blend of Entertainment News
Thank you for signing up to CinemaBlend. You will receive a verification email shortly.
There was a problem. Please refresh the page and try again.