Bill And Ted's Alex Winter Gives Honest Thoughts On The Chances Of A Fourth Film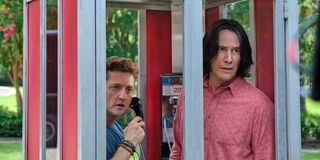 Bill and Ted Face the Music was, for many fans, exactly what a franchise reboot should be. It leaned into nostalgia while still offering a fresh, fun new story. Despite facing unexpected hurdles in its release, the third Bill and Ted film managed to be a hit with fans and critics. So it's only natural to wonder if there will be a fourth film -- and that's a question star Alex Winter has weighed in on.
Alex Winter -- the Bill to Keanu Reeves' Ted -- opened up about how the long-awaited third installment of the film franchise came together and what he thinks could be in store in the future. Here's what he said:
So, it's not a "yes," but it's not a "no" either. If you're one of the many fans around the world that enjoyed Bill and Ted Face the Music, Alex Winter's comments to Collider can be seen as pretty good news.
It means that while they're not immediately jumping back in for another adventure, it's not entirely off the table. And it sounds like if they do end up making a fourth Bill and Ted movie, it will come from a burst of inspiration from the films' creators.
When Bill and Ted Face the Music was released late this summer, it was under different circumstances than the filmmakers likely imagined. Due to the COVID pandemic, it hit select movie theaters, but most fans took advantage of the chance to see it on VOD instead.
That didn't stop fans from enjoying the revival of one of the best comedy duos of all time. Kevin Smith, a huge Bill and Ted fanboy, admittedly got emotional when he saw the third installment for the first time, and he probably wasn't the only one.
If you haven't had a chance to catch up with Bill and Ted, you can watch Face the Music on VOD, and it's available to own it on DVD or Blu-ray.
Your Daily Blend of Entertainment News
Thank you for signing up to CinemaBlend. You will receive a verification email shortly.
There was a problem. Please refresh the page and try again.