Splash Mountain Designer Actually Has A Different Walt Disney World Ride He Wants To Update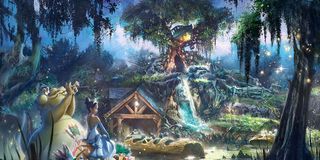 While Walt Disney World is currently seeing several new rides and concepts under construction, with major plans for Epcot in the next couple of years, the ride that everybody is really curious about is one that's over 20-years-old. Splash Mountain is one of the most iconic and recognizable attractions in the Magic Kingdom, but it is set to undergo a major update in the near future that will completely change the ride's theming. Tony Baxter, the Walt Disney Imagineer who originally conceived Splash Mountain will be an advisor on the redesign, but Baxter himself recently said there's another attraction he would actually love to give a major update, Journey Into Imagination with Figment.
Speaking at a virtual event for the Walt Disney Birthplace Restoration Project (via Attractions Magazine) Baxter said he would come out of retirement in order to work on a major update to the Epcot attraction about imagination because he feels strongly that the attraction is important, and he clearly believes that the updates the ride has seen in the last 20 years have taken more away than they've given. According to Baxter...
Journey Into Imagination was an early Epcot attraction created by Tony Baxter and Steve Kirk, and it featured a pair of original characters, a bearded man named Dreamfinder and his purple dragon sidekick, Figment. The pair took guests on the titular Journey Into Imagination in a simple omnimover attraction. They went along with guests as they explored the concept of Imagination through art, literature and other creative endeavors. Tied together with an original song, "One Little Spark" by the Sherman Brothers, the duo who made the music for Mary Poppins and numerous other Disney Parks attractions, it was a popular ride from day one.
Journey Into Imagination remained untouched for 15 years, but in the late 1990s it was given an overhaul and turned into Journey Into Your Imagination. The ride was now the home of the Imagination Institute and Monty Python's Eric Idle became part of the ride as Dr. Nigel Channing, He would also appear nearby in the Honey, I Shrunk the Audience 3-D movie, as tying this part of Epcot together was part of the redesign concept. Figment and Dreamfinder were gone and the redesign was so negatively received that only two years later, the attraction would get another update.
Journey Into Your Imagination with Figment would keep the core of the first update, but it would bring back Figment, "One Little Spark," and some of the ideas behind the original attraction. A lot of fans still don't love the current version, especially among those who knew the original, but it is generally seen as an improvement over the first update. Baxter says, there are a lot of people at this point who never rode the first version, so they've never experienced the "real" thing.
Tony Baxter would also like to see even more come out of the attraction. He floated the idea of an animated film with Figment as the main character, which is absolutely an idea I can get behind.
Needless to say, while there are a lot of people who aren't sure about the Splash Mountain update, many of those people would get behind this. To be clear, Tony Baxter isn't arguing for rolling back the attraction to the original design. Such a thing has never happened and is quite unlikely. However, Baxter would be willing to come up with a new attraction that better expresses the original concepts behind the idea. Baxter continued...
Because updates and redesigns are not that unusual, and Journey Into Imagination has seen it happen twice already, it seems likely that an update will happen. Considering the current version of the attraction has been around longer than the original one was, perhaps that update will come soon, and Tony Baxter will get his wish.
CinemaBlend's resident theme park junkie and amateur Disney historian. Armchair Imagineer. Epcot Stan. Future Club 33 Member.
Your Daily Blend of Entertainment News
Thank you for signing up to CinemaBlend. You will receive a verification email shortly.
There was a problem. Please refresh the page and try again.