Michelle Pfeiffer's Movie French Exit Just Dropped A Trailer, And I Already Want To See More Of That Cat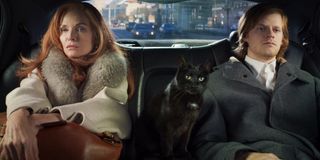 Barrett Strong's classic song "Money (That's What I Want)" said it best when it talked about how lovin' could give a person such a thrill, while also not being able to pay one's bills. Michelle Pfieffer's new "surreal comedy" French Exit seems to build its story off of that kernel of truth for part of its proceedings, as Pfieffer's character Frances Price learns the unfortunate truth that she's flat broke. But she has an exit strategy, and yes, it involves moving to a friend's apartment in Paris with her son (Lucas Hedges) and her cat; as seen in the first trailer for the film, which dropped today. After watching this trailer, I find myself not only eager to see director Azazel Jacobs and writer Patrick deWitt's adaptation of deWitt's own novel, but I'm eager to see more of the cat known to its humans as "Small Frank." Take a look at French Exit's wares for yourself, above.
First of all, let's talk about French Exit on the whole, as this is the celebration of the first trailer being released for the movie. And cat or no cat, I'd be in on this ride, as it has a sense of humor that feels cutting and brief. Like a passive-aggressive dinner party where every now and then someone toes the line extra sharply, this just looks like a fun and devilishly clever comedy. And then you get to the details about the cat, which are present if you know where to look; but they might be considered spoilers. So if you're looking not to get spoiled, consider this a spoiler alert for French Exit.
In the synopsis for the project, the story of the film is laid our cut and dry. Frances' financial woes, her husband's death and her grand plan for the rest of her days are all built into French Exit's tease aimed to entice the public to see it in theaters next February. But just as you're ready to head for the door and politely check in closer to opening weekend, the blurb on the film provides pay dirt!
"Who may, or may not embody the spirit of Frances's dead husband." Rarely does one sentence turn everything on its head, especially when it cannot be stated enough that French Exit already looks like an urbane comedy delight. But a cat who could have the spirit of her late husband Franklin is the prospect that puts the cherry on top of the sundae for me. Especially when Small Frank presumably does have Franklin's soul within him, as there's an actor who plays the voice of this beautiful house panther.
Playing the role of Small Frank's voice is none other than actor, playwright and husband to the insanely talented Carrie Coon, Tracy Letts. You'd remember him from such films as The Post, as well as two of last year's big Best Picture contenders, Little Women and Ford v. Ferrari. But now, you can recall that time Mr. Letts signed on to play a black cat named after a woman's deceased husband. It's the sort of range you'd expect from Letts, and now it's another reason why I want to see more of this cat in French Exit, if only to hear the thoughts it has in the City of Lights.
Another factor of note, and this is for all of you comic book movie fans out there, is the fact that French Exit is another movie to give us the chance to see Michelle Pfieffer working through major life trauma in the presence of felines. While this isn't exactly a repeat of Batman Returns' Catwoman storyline, the visual of Pfieffer waving Little Frank's arm goodbye to her son at the bar is too much of a spiritual coincidence not to mention her famed role. Plus, as we've seen in her social media presence, Ms. Pfieffer is feline-friendly in real life as well; which partially explains how she got a cat to agree to this:
When I read the words "surreal comedy" in the same press release as the synopsis that tells me there may be a man reincarnated into a cat, I expect things to get pretty surreal. After a year like 2020, some offbeat laughs that partially involve a black cat are something I can get behind, especially if it involves Michelle Pfieffer calling her financial broker a little pig in French. French Exit is a comedy after my own heart, and I for one can't wait to get my hands on the finished product. So if anyone at Sony Pictures Classics is reading, consider this my request to see this film right meow.
French Exit is ready to please comedy connoisseurs, as well as those who are just cat crazy, in limited release on February 12, 2021. After which point, a nationwide expansion will occur, much as a cat will go from curling up on your bedspread to a nice big stretch. If you're curious about other movies that are releasing in the coming year, and are fresh out of patience for cat metaphors, you can head to our 2021 release schedule, as a treat.
Your Daily Blend of Entertainment News
Senior Movies Contributor
CinemaBlend's James Bond (expert). Also versed in Large Scale Aggressors, time travel, and Guillermo del Toro. He fights for The User.
Your Daily Blend of Entertainment News
Thank you for signing up to CinemaBlend. You will receive a verification email shortly.
There was a problem. Please refresh the page and try again.