Mank: What To Watch If You Like David Fincher's Netflix Drama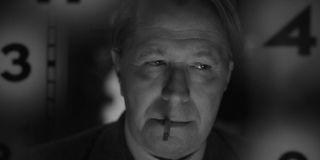 CinemaBlend participates in affiliate programs with various companies. We may earn a commission when you click on or make purchases via links.
Lifelong fans of David Fincher might not have envisioned a film like Mank as his long-awaited, grand return to cinema, especially after a career that mostly consists of grim crime thrillers like Se7en or Zodiac. Additionally, they probably did not expect, after streaming the movie on Netflix after its December 4th premiere, to acquire an interest in learning more about the Golden Age of Hollywood and the complex, complicated inner workings of the industry at the time.
Such is the topic of the historical drama, set mostly during flashbacks to the 1930s, as told through the eyes of Gary Oldman in the title role of Herman J. Mankiewicz, who is best known as Orson Welles' co-writer (or hired sole writer, depending on what you believe) of Citizen Kane's Academy Award-winning screenplay. The black-and-white film even attempts to shed light on the long-standing rumors surrounding the alcoholic writer's rocky relationship with the legendary filmmaker and radio icon, but mainly from one side of the story. However, Mank is the kind of biopic that aims, not just to inform, but also to pay tribute to the unsung heroes of a lost cinematic era, if not from one distinct and surprisingly relevant perspective.
Besides, this is hardly the first fact-based film to provide an intimate portrait of an important cultural milestone by taking a few creative liberties that are up for debate. If the results are as dazzling as Mank, as far as I am concerned, they are liberties worth taking. If David Fincher's passion project left you feeling passionate in what it had to say about the creative process and its lasting influence, the following films might be a perfect follow-up, such as the near-perfect classic that inspired it.
Citizen Kane (HBO Max)
In Citizen Kane, a reporter is told the life story of a prolific media tycoon and politician from multiple witnesses after he is assigned to learn the meaning of the millionaire's dying word: "Rosebud."
Why It's A Good Option for Mank Fans: The people and events that ultimately inspired the story of Citizen Kane, still widely considered today as the finest cinematic effort of all time, is a central focus of Mank, which also found a dead ringer in Tom Burke to play the 1941 masterpiece's producer, director, and star, Orson Welles.
Stream Citizen Kane on HBO Max here (opens in new tab).
Me And Orson Welles (Amazon Rental)
An aspiring teenage actor (Zac Efron) is delighted, and later somewhat disheartened, to be cast in a modern-day retelling of William Shakespeare's Julius Caesar by its director, a young Orson Welles (Christian McKay), in 1937 New York.
Why It's A Good Option for Mank Fans: Tom Burke's unmistakable portrayal of the Citizen Kane helmer only appears in short bursts in Mank, but he is a driving force of director Richard Linklater's 2008 period piece Me and Orson Welles, which even more deeply analyzes the alienating artistic ambitions and complicated personal life of the legendary "genius."
Rent Me and Orson Welles on Amazon here.
The Social Network (Netflix)
The success of his social networking platform leads an ego-driven Harvard drop-out (Academy Award nominee Jesse Eisenberg) to face legal and ethical challenges from his best friend and co-founder (Andrew Garfield) and ambitious twins (Armie Hammer in both roles) who claim he stole their idea.
Why It's A Good Option for Mank Fans: Before director David Fincher put Hollywood under the microscope with Mank, he did the same with the contradictory origins and revolutionary impact of Facebook in The Social Network - an exceptionally sharp biopic with the rare pulse of a suspense thriller from an Oscar-winning screenplay by Aaron Sorkin, who is famous for playing with the truth in the most welcomely entertaining ways.
Stream The Social Network on Netflix here (opens in new tab).
Chaplin (CBS All Access, Tubi)
Despite his success as one of the most talented and influential comedic actors and filmmakers of the early 20th Century, Charlie Chaplin leads a troubled life behind the scenes, as revealed in this biopic.
Why It's A Good Option for Mank Fans: Craig Robert Young makes a brief cameo in Mank as the silent film icon, whose shocking story is revealed in Chaplin, directed by Richard Attenborough and carried by Robert Downey Jr.'s breathtaking, Oscar-nominated performance in the title role.
Stream Chaplin on CBS All Access here (opens in new tab) or on Tubi here.
The Cat's Meow (IMDb TV)
In 1924, a mysterious death occurs on a yacht owned by media mogul William Randolph Hearst, which the celebrity passengers on board at the time suspect could be murder.
Why It's A Good Option for Mank Fans: Charlie Chaplin's cameo in Mank actually makes a subtle allusion to his affair with William Randolph Hearst's then mistress Marion Davies, which is central element of The Cat's Meow - a 2001 drama inspired by one of Hollywood's most infamous crime cases that stars Eddie Izzard as Chaplin and Kirsten Dunst as Davies.
Stream The Cat's Meow on on IMDb TV here.
Cain And Mabel (Amazon Rental)
At the behest of their attention-hungry managers, a boxing contender (Clark Gable) and a Broadway dancer (Marion Davies) hatch a scheme to increase their popularity by posing as a couple.
Why It's A Good Option for Mank Fans: If Mank's depiction of a post-silent era Marion Davies sparked your curiosity about her career and how similarly Amanda Seyfried resembles the actress, the 1936 musical romantic comedy Cain and Mabel may be a perfect introduction.
Rent Cain and Mabel on Amazon here.
Lovelace (HBO Max)
Linda Boreman (Amanda Seyfried) changes her last name and acquires stardom after appearing in the 1972 X-rated hit Deep Throat before taking back control of her life from her abusive husband (Peter Sarsgaard) and later redefining herself as an anti-porn advocate.
Why It's A Good Option for Mank Fans: Before playing an icon of the silent film period in Mank, Amanda Seyfried played the most famous adult film star of the 1970s in 2013's Lovelace, which takes aim at the inner workings of the industry with a similar critical eye.
Stream Lovelace on HBO Max here (opens in new tab).
Ed Wood (Amazon Rental)
With the help of fallen horror movie icon Bela Lugosi (Martin Landau), a young filmmaker (Johnny Depp) lacking much success or talent chases his dreams by making several low-budget films in the 1950s that would eventually make him an icon of shlock cinema.
Why It's A Good Option for Mank Fans: While Orson Welles is commended as a genius, the titular subject of Ed Wood is "celebrated" as quite the opposite for cheesy B-movies like Plan 9 from Outer Space - the production of which (among other fascinating Hollywood revelations) is chronicled in this Oscar-winning biopic from director Tim Burton.
Rent Ed Wood on Amazon here.
Saving Mr. Banks (Disney+)
Stringent English author P.L. Travers (Emma Thompson) struggles to see eye to eye with the Walt Disney Company as it prepares to adapt her series of Mary Poppins books into a motion picture.
Why It's A Good Option for Mank Fans: Like Mank and its depiction of Orson Welles, Tom Hanks' endearing portrayal of Walt Disney in Saving Mr. Banks has been criticized as an exaggerated contradiction of the truth in an otherwise engaging behind-the-scenes look at the making of and fascinating inspiration behind a timeless, Oscar-winning classic.
Stream Saving Mr. Banks on Disney+ here (opens in new tab).
Shadow Of The Vampire (Apple/iTunes Rental)
Desperate to make his unauthorized adaptation of Bram Stoker's Dracula as effective and authentic as possible, German filmmaker F.W. Murnau (John Malkovich) enlists an actual, undead bloodsucker (Oscar nominee Willem Dafoe) to star as the lead villain.
Why It's A Good Option for Mank Fans: Now, if you really want to talk about an exaggeration of the truth, Shadow of the Vampire is an intriguing and truly imaginative tale based on a legend that actor Max Schreck had more in common with his character Count Orlok from the silent 1922 horror classic Nosferatu than history would have you believe.
Rent it on iTunes here (opens in new tab).
Birdman (Amazon Rental)
A former superhero movie star (Michael Keaton) wrestles with his colleagues, family, and possible mental illness while attempting to make a comeback as the writer, director, producer, and star of a theatrical adaptation a Raymond Chandler story.
Why It's A Good Option for Mank Fans: Not counting its bold, self-referential satire, Alejandro Gonzáles Iñárritu's Birdman or (The Unexpected Virtue of Ignorance) it is not directly based on any infamous Hollywood stories, but is an uproariously funny, astonishingly unique, and all around beautifully crafted comedy about the battle over ego and ambition in the creative process which won four Academy Awards in 2015, including Best Picture.
Rent Birdman on Amazon here.
What do you think? Does even an obscure fictional story like Birdman deserve a place next to an historical like Mank as a deep, aesthetically rebellious analysis of where the struggles of artistry begin and end, or did you find neither of them remotely interesting? Let us know in the comments and be sure to check back for additional information and updates on David Fincher's acclaimed Netflix original, as well as even more of our owns recommendations of what you should stream or rent next based on your recent preferences, here on CinemaBlend.
Jason has been writing since he was able to pick up a washable marker, with which he wrote his debut illustrated children's story, later transitioning to a short-lived comic book series and (very) amateur filmmaking before finally settling on pursuing a career in writing about movies in lieu of making them. Look for his name in just about any article related to Batman.
Your Daily Blend of Entertainment News
Thank you for signing up to CinemaBlend. You will receive a verification email shortly.
There was a problem. Please refresh the page and try again.