Why Zack Snyder's Justice League Will Probably Be R-Rated, According To The Director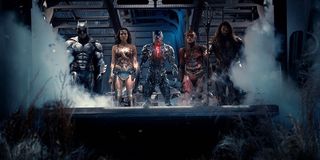 With the theatrical cut of Justice League failing to make much of a splash in 2017, next year will give interested parties the opportunity to see director Zack Snyder's fully realized vision for the superhero team-up story. It's been made abundantly clear that Zack Snyder's Justice League will be quite different than the Joss Whedon-driven version of Justice League, and it turns out that this will likely apply to its rating too. As Zack Snyder sees it, the new footage he's thrown into this extended cut will be enough to make the whole affair R-rated.
While speaking with EW, Zack Snyder noted that while the Motion Picture Association of America (MPAA) hasn't officially rated his version of Justice League yet, he suspects there's enough to push it from PG-13 to R territory. When pressed for specifics on how the Snyder Cut is more explicit compared to the theatrical cut, the filmmaker responded:
Considering how Ben Affleck's Batman uttered "Oh shit" when he thought he was going to be incinerated by Doomsday in Batman v Superman: Dawn of Justice, I can't say I'm surprised to hear he drops an f-bomb in Zack Snyder's Justice League. Throw that in with Cyborg presumably dropping some colorful language of his own and Steppenwolf's reign of terror being more graphic, and Zack Snyder believes this Justice League definitely won't be a PG-13 offering. So, parents, be advised that this is one superhero project that isn't necessarily something you should show your younger kids.
Of course, Zack Snyder is no stranger to directing R-rated movies, with Dawn of the Dead, 300 and Watchmen all carrying that classification. And if you widen the scope to home media releases, Sucker Punch and Batman v Superman: Dawn of Justice's extended cuts also carry R ratings. Snyder also has Army of the Dead coming up for Netflix, and if it's anything like his last zombie movie, we can count on it being all sorts of gory.
Coming in at approximately four hours long, Zack Snyder's Justice League will be presented on HBO Max as a four-part miniseries. However, Snyder also said that talks are underway to play the Snyder Cut in theaters at the same time it's on the streaming service, just like what's being done with Warner Bros' entire 2021 film slate. Whether that happens or not, while the basic premise of Zack Snyder's Justice League still sees Batman, Wonder Woman, Aquaman, Flash, Cyborg and Superman coming together to fight Steppenwolf and his Parademon army, there will be plenty of specific differences to spot as these events unfold, with Snyder describing this as an "Elseworlds" tale.
Stay tuned to CinemaBlend for more news concerning the Snyder Cut, which is expected to drop on HBO Max in the first half of 2021 (you can use the following link (opens in new tab) to sign up for the streaming service). If you're curious about what DCEU content is definitely heading to theaters, look through our DC movies guide.
Connoisseur of Marvel, DC, Star Wars, John Wick, MonsterVerse and Doctor Who lore. He's aware he looks like Harry Potter and Clark Kent.
Your Daily Blend of Entertainment News
Thank you for signing up to CinemaBlend. You will receive a verification email shortly.
There was a problem. Please refresh the page and try again.