Is Ant-Man And The Wasp: Quantumania Setting Up The Young Avengers?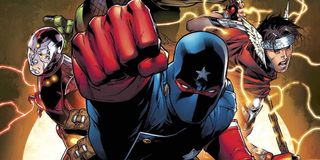 Thus far in the Marvel Cinematic Universe journey, audiences have been introduced to two chief superhero teams: the Avengers and the Guardians of the Galaxy, with its members coming together to fight Thanos and his minions in Avengers: Infinity War and Avengers: Endgame. With the MCU continuing to introduce new heroes and expand across both film and television, it's a good bet that other superhero teams will be established in the coming years. The Young Avengers (who were created by writer Allan Heinberg and artist Jim Cheung) especially look like they stand a good chance of forming in the MCU, and Ant-Man and the Wasp: Quantumania could be the movie to set them up.
Last week at Disney's news-packed investor call, not only was Ant-Man 3's official title revealed, but several bits of information were confirmed that make a strong argument for the movie paving the way for the Young Avengers, if not outright featuring them. Let's go over what we know about Ant-Man and the Wasp: Quantumania so far and how that pertains to the Young Avengers.
Cassie Lang Might Become A Superhero
Scott Lang's daughter Cassie was a small child when we met her in Ant-Man, and while she'd grown up a little when Ant-Man and the Wasp rolled around, the five-year time jump in Avengers: Endgame brought teen Cassie into the mix. Naturally Cassie Lang will be back for Ant-Man and the Wasp: Quantumania, but rather than Emma Fuhrmann reprising the character, it was announced that Kathryn Newton will take over the role. Newton's credits alone (which include Detective Pikachu, Freaky, Halt and Catch Fire and Big Little Lies) are enough to indicate that Cassie will likely have an expanded role in the third Ant-Man movie, one of the actress' social media posts also makes it sound like big things are in store for the character… figuratively and literally.
In the Marvel comics universe, just like Scott Lang, Cassie Lang is able naturally to increase and decrease her size thanks to years of repeated exposure to Pym particles. So Kathryn Newton saying that she "dreamed of being a superhero" has understandably ignited speculation that Ant-Man and the Wasp: Quantumania will see Cassie becoming a superhero in her own right, be it as Stature or Stinger. Furthermore, in the comics, Cassie learned that her powers existed while she was working with the Young Avengers. That's not to say that that will happen in the MCU, but once she's become empowered, Kathryn Newton's Cassie could start putting the team together after having tangled with the next person we're discussing.
Kang The Conqueror Is Coming
It was also confirmed last week that Lovecraft Country star Jonathan Majors will appear as Kang the Conqueror in Ant-Man and the Wasp: Quantumania. Hailing from the 31st century and packing an arsenal of advanced technology, Kang has caused trouble for all sorts of Marvel heroes over the years, but he's especially closely connected to the Young Avengers. You see, there are multiple alternate iterations of Kang that exist across the main Marvel continuity, one of which is Iron Lad, a younger Kang who learns that he's going to become a time-traveling despot and is desperate to avoid this fate. As a result, he travels to the present day to seek the Avengers' help in fighting his older self. When he discovers the team has disbanded, he assembled the Young Avengers to aid him on his mission.
With Kang the Conqueror reportedly being a major villain Ant-Man and the Wasp: Quantumania's rather than just briefly appearing from the shadows like Thanos did in The Avengers, then obviously we'll see Scott Lang and Hope van Dyne dealing with him. Thus, it's unlikely that the freshly-banded-together Young Avengers will swoop in at the last minute. Still, Kang is an important enough antagonist in Marvel's history that he could appear in multiple movies, so whatever happens in the third Ant-Man movie could set the stage for him facing off against Cassie and other young superheroes in a later movie or Disney+ series. Who knows, maybe Kang's fight with Ant-Man and the Wasp somehow directly leads to Cassie gaining her size-manipulating powers.
The Groundwork Has Been Laid For Other Young Avengers
Cassie Lang and Iron Lad are just two of the characters who made up the main Young Avengers lineup when they debuted in 2005. Originally Iron Lad recruited Hulking, Patriot and Wiccan (who initially went by Asgardian), but it wasn't long before Cassie Lang and Kate Bishop worked their way into the group. By the end of the debut story arc, Iron Lad left the Young Avengers to embrace his villainous destiny so the timeline would be restored (don't worry, this version of Kang would return), but a new version of the android Vision based on the original Vision's operating systems and Iron Lad's advanced technology was brought to life and joined the team. Other members over the years have included Wiccan's twin brother Speed, Kid Loki, Miss America, Marvel Boy and Prodigy.
It's a lot to ask for Ant-Man and the Wasp: Quantumania to introduce the Young Avengers outright, but even ignoring Cassie Lang and Kang the Conqueror's presence in the movie, a lot of groundwork's been laid elsewhere for other members to come to the forefront. Hailee Steinfeld is starring as Kate Bishop in Disney+'s Hawkeye series. WandaVision could set up Wiccan and Speed since in the comics, Scarlet Witch used her reality-warping powers to create the boys as her and Vision's children. That same show's events could also lead to a new Vision being created. Both the Kree and Skrulls have been established in the MCU, so that allows Wiccan to be brought in. Miss America, whose real name is America Chavez, is debuting in Doctor Strange in the Multiverse of Madness, and perhaps the Loki series will feature a Kid Loki. The point being that it's not as hard to start putting the Young Avengers together in the MCU as one might think, and Ant-Man and the Wasp: Quantumania can take the first legitimate steps to doing so.
Rest assured, if/when it's announced that the Young Avengers are coming to the MCU, we'll be sure to let you know. In the meantime, keep locked in on CinemaBlend for more Ant-Man and the Wasp: Quantumania news, and look through our Marvel movies guide to learn what else this superhero franchise is prepping for theaters.
Connoisseur of Marvel, DC, Star Wars, John Wick, MonsterVerse and Doctor Who lore. He's aware he looks like Harry Potter and Clark Kent.
Your Daily Blend of Entertainment News
Thank you for signing up to CinemaBlend. You will receive a verification email shortly.
There was a problem. Please refresh the page and try again.