Young Avengers: 7 Signs The Marvel Cinematic Universe Is Building The Fan-Favorite Team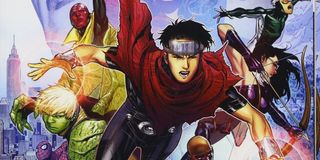 At present, the Marvel Cinematic Universe has a total of eight movies set to come out between now and July 2022 – but an interesting detail about that selection of titles is that the word "Avengers" isn't mentioned in any of them. It's surely a brand that the franchise isn't discontinuing, but for now the studio is remaining secretive about their future plans for the superhero team. Naturally, the state of things has led fans to speculate wildly about what's going on, and some ideas are pretty crazy, but one development that seems to become increasingly likely is the formation of the team called the Young Avengers.
Created by Allan Heinberg and Jim Cheung, the more youthful version of Earth's Mightiest Heroes was introduced in Marvel Comics in 2005, and while their group name is a bit silly, what is equally true is that the series brings together a collection of wonderful characters – including Kang The Conqueror a.k.a. Iron Lad, Kate Bishop a.k.a. Hawkeye, Elijah Bradley a.k.a. Patriot, Cassie Lang a.k.a. Stature, Teddy Altman a.k.a. Hulkling, Billy Kaplan a.k.a. Wiccan, Tommy Shepherd a.k.a. Speed, and Vision. In recent years there have been some moves made by the Marvel Cinematic Universe that suggest that we may see a live-action version of this team come together in the near future, and we've collected all the evidence of this unconfirmed development here for you to ponder:
Kang The Conqueror Is Reportedly Entering The MCU, Opening The Door For Iron Lad
Let's start with the news that inspired this piece, shall we? In mid-September 2020, trade reports delivered the news that Da 5 Bloods actor Jonathan Majors is now in talks to join the cast of the Ant-Man And The Wasp sequel, with the kicker being word that he is going to play the Marvel Cinematic Universe's version of the time-traveling villain Kang The Conqueror. This is exciting news all by itself, as Kang is one of the all-time great big-bads in the comics, but it's also the latest sign that a live-action Young Avengers is going to become a thing.
In the original run of Young Avengers in the comics, the team is both organized and led by a character named Iron Lad – who is revealed to be an alternate timeline version of Kang The Conqueror. According to the origin, a young Kang in the 30th century is visited by an older version of himself and told of all he will eventually accomplish as a supervillain. After receiving a special futuristic suit of armor, the kid rejects his fate and winds up accidentally traveling back in time to our present. Arriving during a period when the Avengers have disassembled, Iron Lad makes moves to form a brand new version of Earth's Mightiest Heroes.
Cassie Lang Is All Grown Up And Ready To Become Stature
The potential arrival of Kang The Conqueror is the latest reason why fans have speculated about the possibility of a live-action Young Avengers, but the truth is that chatter has been happening for years thanks to a character in the Ant-Man franchise: Cassie Lang. In the comics, Cassie is not only the daughter of Scott Lang a.k.a. Ant-Man, but a lifelong exposure to Pym Particles results in her gaining natural shrinking and growing powers – which opens the door to her becoming a member of the Young Avengers.
Cassie Lang has already been featured in three Marvel Cinematic Universe movies thus far, and it's her latest appearance that has us especially convinced that the franchise has some big plans for her. After being played by Abby Ryder Fortson in both Ant-Man and Ant-Man And The Wasp, Cassie was aged up as a character following the time jump in Avengers: Endgame. Now the character is played by teenage actor Emma Fuhrmann, and it could be that she will be getting her own superhero costume sooner rather than later.
The Hawkeye Series Will Be Introducing Kate Bishop
Kate Bishop has become one of Marvel Comics' most beloved modern characters, and while that is particularly thanks to her protégé relationship with Clint Barton in Matt Fraction and David Aja's Hawkeye series, it was actually in Young Avengers that the heroine was first introduced. Being both expertly trained with weapons as well as a realist, she is an essential part of the team, and it's exceptionally notable that we are now just a couple years away from seeing Kate enter the live-action realm.
During San Diego Comic-Con 2019, it was officially announced by Marvel Studios that the franchise is developing a live-action Hawkeye series that will air on Disney+, and that the story will center on Clint Barton training Kate Bishop as she prepares to take on his mantle. What the MCU plans to do with Kate following the events of this show (which won't arrive until 2022) is unclear, but hoping that she eventually joins an alternative version of Earth's Mightiest Heroes seems realistic.
Vision Is In A Prime Position To Be Rebooted
Remember what we were saying earlier about Iron Lad bringing the Young Avengers together as a team? Well, he doesn't exactly accomplish this purely through force of will – he has some help. Specifically, when Kang travels back from the future to the modern world he discovers a destroyed version of Vision and not only is able to successfully bring the android back to life, but uses his abilities to try and track down the best candidates for a new Avengers team. The reboot itself even makes Vision a proper member of the team (as he has all his skills but none of his memories, ostensibly making him a "kid"), and where things presently stand with the character in the MCU presently seems primed to set up this story.
Fans will remember that the last time we saw Paul Bettany's Vision was at the end of Avengers: Infinity War when Thanos pulled the Mind Stone from his head like a peach pit. He'll soon be making his franchise return in the Disney+ series WandaVision, and while the events of that show could establish how he is brought back to life, being an integral part of the development of the Young Avengers could be a great role for him in the near future.
The Twins Will Be Featured In WandaVision
The coolest thing about the original Young Avengers series is the way in which it first introduces its characters, and then, within a couple of issues, uses certain revelations to totally upend the way that audiences look at the heroes. The case of Billy Kaplan a.k.a. Wiccan and Tommy Shepherd a.k.a. Speed is a perfect example. Initially we get to know the former as an amateur spell-caster and the latter as a troubled speedster, but what we learn in the final issues of the stellar comic run is that they are actually the separated and lost twin sons of Scarlet Witch and Vision.
Explaining the full comic book history of the twins would require a lot more writing space than is present in this feature, but the facts to focus on are A) that Wiccan and Speed are twins, and B) that the twins will soon be featured in the Marvel Cinematic Universe. While they haven't specifically been revealed yet, it has been confirmed that the upcoming WandaVision series will explore Scarlet Witch's journey into motherhood. Could the Disney+ show be used to introduce Billy and Tommy and then springboard them into future Young Avengers shenanigans? We wouldn't bet against it at this point.
The Kree-Skrull War Lays The Foundation For Hulkling
When readers first meet Teddy Altman in Young Avengers, he is immediately a character who is easy to fall in love with. What's not to love about a shape-shifting teen who is also a Hulk fanboy? As the story continues, though, he only becomes more fascinating, as it turns out not only that he is the secret son of the Kree hero Mar-Vell a.k.a. the original Captain Marvel, but also the child of a Skrull woman, which makes him an unwitting pawn at the center of the long-running Kree-Skrull war.
This is particularly of note to Marvel Cinematic Universe fans, as it was just in 2019 that big screen audiences got some knowledge dropped on them about that particular intergalactic conflict via Captain Marvel. Could we soon learn that Annette Bening's Dr. Wendy Lawson a.k.a. Mar-Vell had a relationship with a Skrull during her time on Earth and that they had a kid? At this point we wouldn't be surprised.
A Notable Member Of The Falcon And The Winter Soldier Cast Could Lead To Patriot's Entrance
Last but certainly not least we have Elijah Bradley a.k.a. Patriot, who is a part of a key family bloodline in Marvel Comics. After all, Elijah is the grandson of Isaiah Bradley, who was a test subject in super soldier serum trials during World War II (a Marvel twist on the notorious Tuskegee Syphilis Study) and for a time carried the moniker Captain America. Admittedly to date there hasn't been any specific reference to either the character or his family's legacy in the Marvel Cinematic Universe, but there is reason to believe that may change within the next year or so.
In February 2020, it was reported that actor Carl Lumbly had signed on for a mystery role in the developing The Falcon And The Winter Soldier Disney+ series, and it's been speculated that he may be playing the Marvel Cinematic Universe version of Isaiah Bradley. It's certainly a stretch to assume anything at this point, but if that turns out to be the case, it could be the perfect thing to open the door to the introduction of Elijah, and that in turns provides the Young Avengers lineup with its leader.
What do you think of the argument we're presenting here? Do you think we'll see the Young Avengers come together – either on the big screen or the small – in the next few years? Hit the comments section with your thoughts, and, as always, stay tuned here on CinemaBlend for all of the latest news and updates about the future of the Marvel Cinematic Universe.
Your Daily Blend of Entertainment News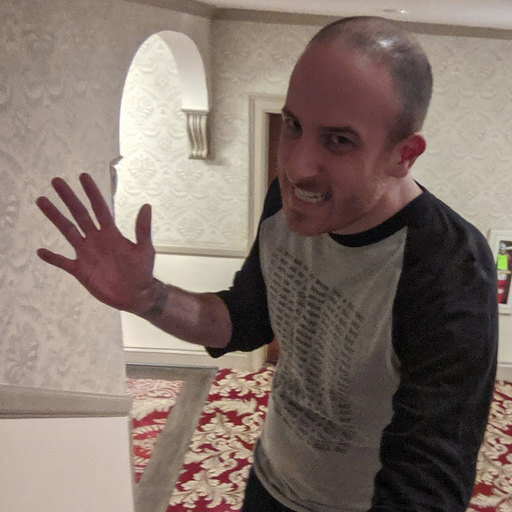 Assistant Managing Editor
NJ native who calls LA home and lives in a Dreamatorium. A decade-plus CinemaBlend veteran who is endlessly enthusiastic about the career he's dreamt of since seventh grade.