Ranking Every Movie George Clooney Directed, Including The Midnight Sky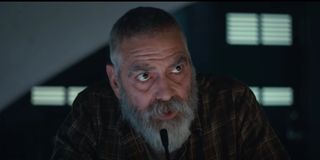 It's safe to assume that you're familiar with George Clooney, the actor. The A-lister is one of the most famous people on the planet, a celebrity the likes of which we rarely ever see anymore. But Clooney has gained a good bit of clout as a filmmaker over the past two decades, too, with his seventh feature, The Midnight Sky, now on Netflix. While Clooney's latest movie hasn't received the warmest response, this sci-fi/drama streaming release sees the actor returning to the director's chair and in front of the screen, as he hasn't starred in a movie since 2016's Money Monster.
Certainly, the actor/director has kept himself busy of late, notably with Suburbicon, Hulu's Catch-22, and his very lucrative tequila brand. Nevertheless, despite how some feel about The Midnight Sky, it's always nice to see George Clooney again — even if it's only on the small screen. With the recent release of this new film, let's take this moment to reflect on the seven movies Clooney has directed over nearly twenty years and rank all of them from worst to best.
7. The Monuments Men (2014)
Quite frankly, The Monuments Men's biggest sin is that it's unfortunately dull and forgettable, rarely serving as a fitting or even serviceable tribute. The tale of WWII Allied art collectors risking their lives to find and save several culturally-important monuments before they're destroyed by the Nazis, George Clooney's fifth directorial feature is expectedly good-looking and boasts a dependable A-list ensemble, including Matt Damon, Bill Murray, John Goodman, Bob Balaban, Jean Dujardin, Cate Blanchett, and Clooney himself. But its stiff narrative and oddly slack pacing make it a lackluster chore to sit through, particularly as it's missing the urgent emotional intensity of the titular Monuments Men's perilous mission.
Once expected to be an awards contender, The Monuments Men was pushed back to February 2014, resulting in a lukewarm box office and middling reviews. While it's nice to see a mature, adult-orientated historical blockbuster of this size and scale, Clooney's underwhelming film is left searching for its sense of purpose (if not its sense of dignity), making this movie easy to overlook — despite its notable star power.
6. Suburbicon (2017)
On paper, 2017's small-town dark comedy Suburbicon could've been a surefire success. Written by George Clooney's frequent collaborations, Joel and Ethan Coen, Clooney's sixth directorial feature had a wickedly mean-spirited premise, sharp period designs, and an outstanding cast, including Matt Damon, Julianne Moore, Oscar Isaac, and Noah Jupe. But what should've been a seething, straightforward social satire, filled with bumbling dolts striving for an idyllic lifestyle (even if that means a few people end up dying), became an uneven, mishandled juggling act where Clooney and fellow screenwriter/producer Grant Heslov uncomfortably attempt to squeeze in an extra subplot involving racial commentary and social prejudices, which is certainly well-meaning but ends up disjointed and frustratingly underdeveloped with our central plot.
Indeed, Clooney wants to make two movies at the same time, with Matt Damon's murderous main plot (clearly from the Coens' screenplay) being far more entertaining and engaging than Clooney and Heslov's good-natured but ultimately graceless attempt to have a serious discussion on racism and inequality. While not quite as awful as some reviews suggested, Suburbicon remains a missed opportunity.
5. Leatherheads (2008)
As a silly, slap-happy attempt to make a 1930s-era screwball satire, Leatherheads is an old-fashioned lark that wasn't meant to appeal to anyone over the age of, say, 35 (or, let's be honest, 45). It's no wonder, then, that it flopped, but there's a good bit to appreciate in George Clooney's third directorial feature. While Leatherheads rarely gets its comedic timing exactly right, our leads, John Krasinski, Renee Zellweger, and Clooney, are committed to the bit, bringing spunk, sassiness, and a good sense of humor to balance out Clooney's oddly rigid filmmaking (perhaps to mirror the stationary camerawork style at the time?). As a farce, it's a fumble. But as a period piece, it's filled with gorgeous sets and costumes and splashy production design. Clooney can dependably make a handsome-looking film, and he relishes recreating this lost time period.
There's ultimately not enough here to heartily champion, but Leatherheads isn't the type of movie you want to dismiss, either. Certainly, this triangular rom-com isn't without its sly, sharp pleasures, even when it veers into being cutesy and/or smug.
4. The Midnight Sky (2020)
Admittedly, what hinders The Midnight Sky, George Clooney's seventh directorial feature, the most is that it reminds you of so many other films in this genre, particularly from the past few years. There are elements of Interstellar here. The Martian as well. Not to mention 2019's Ad Astra and Gravity, too, which Clooney also starred in. But outside of its derivative elements, Netflix's emotionally-explorative sci-fi film is undeniably an earnest effort from Clooney as an actor and director, allowing him to tell a personal, emotional story — even with its overly-familiar narrative framework, including an end twist that's a little too easy to predict.
Adapted from Lily Brooks-Dalton's Good Morning, Midnight, this $100 million space-based tale is quite easily the biggest blockbuster that Clooney has directed to date, notably at it was shot in 65mm, which makes the irony that it was seen exclusively at home due to the pandemic a bitter pill to swallow. But this otherwise intimate, reflective story is often at its best when Clooney and newcomer Caoilinn Springall share the screen together.
3. The Ides Of March (2011)
A measured, well-acted ensemble piece based on screenwriter Beau Willimon's 2008 play, Farragut North, The Ides of March is a commendable fourth feature from director/co-writer George Clooney, providing a thoughtful, dramatically compelling piece of political cinema that served as a solid rebound after Leatherheads' underwhelming rollout. Starring a murder's row of excellent actors, including Ryan Gosling, Paul Giamatti, Evan Rachel Wood, Marisa Tomei, Jeffrey Wright, the late Philip Seymour Hoffman, and Clooney, this persistently pointed, well-helmed film balances the sizzle of the writing with the contemplative restraint of Clooney's direction, providing an outspoken depiction of contradictory liberal politics and the failures of the political system to match the hopeful idealism of young, indoctrinated, and enthusiastically motivated politicians. While it's arguably Clooney's most cynical moviemaking effort, his cool, commendable filmmaking serves this bitter story well.
While its commentary isn't as blisteringly profound as Clooney might hope as a director or screenwriter, the craftsmanship on hand here certainly makes up for its familiar and heavy-handed talking points. The Ides of March was a robust return from Clooney.
2. Confessions Of A Dangerous Mind (2002)
While George Clooney's directorial debut, 2002's Confessions of a Dangerous Mind, might not be the absolute best movie that he directed, it's probably my personal favorite. Based on The Gong Show host Chuck Barris' fictitious memoir, the freshman filmmaker came out of the gate swinging, providing a sparkly, energetic first film that crackles with style and wit. Aided heavily by the actual Barris, Clooney brings lots of zippiness, flash, and whiz to this (not-so-)true-life story, but it's not an empty spectacle. Through Sam Rockwell's dynamic portrayal of Barris, Clooney produces an unsuspectingly poignant faux-biopic with a devastatingly emotional ending. While the genre-friendly spy capper beats make the project appealing on paper, it's the depth and nuance that Clooney brings to Barris's character that truly makes this debut worthwhile.
While George Clooney is unabashedly "borrowing" (i.e. stealing) from collaborator Steven Soderbergh's style, his flourishes suit him well. Plus, that sense of pastiche feels fitting for this fabricated tell-all, producing an entertaining, engrossing, and layered character study showcasing the promising start to Clooney's burgeoning filmmaking career.
1. Good Night, And Good Luck. (2005)
Beautifully evocative and compellingly concise in its composition, Good Night, and Good Luck. is the movie that truly defined George Clooney's talents as a filmmaker, resulting in Clooney being nominated for Best Director and his sophomore film being nominated for Best Picture the same year he won Best Supporting Actor for Syriana.
A heartfelt tribute to his journalist father, while also being a taunt and tense historical account, Good Night, and Good Luck. proved to be an even more accomplished and distinguished effort from Clooney, the writer-director-producer, showcasing his dramatic talents while also bringing out great and enthralling performances from his talented ensemble, notably an Oscar-nominated David Strathairn for in impeccable lead performance as Edward R. Murrow.
From a production standpoint, Good Night, and Good Luck. retains Clooney's stellar eye for radiant art direction and outstanding attention-to-detail to time and place. But what really keeps the movie gripping is Clooney's hard-hitting screenplay with Grant Heslov, communicating the fraught intensity of Murrow's nightly newcast with equal parts conviction and due diligence. While it's not always historically accurate, Clooney created an enthralling film that showcased the heights of his formidable filmmaking talents.
What's your favorite film that George Clooney directed? Let us know below!
Your Daily Blend of Entertainment News
Will is an entertainment writer based in Pittsburgh, PA. His writing can also be found in The Playlist, Cut Print Film, We Got This Covered, The Young Folks, Slate and other outlets. He also co-hosts the weekly film/TV podcast Cinemaholics with Jon Negroni and he likes to think he's a professional Garfield enthusiast.
Your Daily Blend of Entertainment News
Thank you for signing up to CinemaBlend. You will receive a verification email shortly.
There was a problem. Please refresh the page and try again.