George Clooney's The Midnight Sky Reviews Are In, Here's What Critics Are Saying About The Netflix Film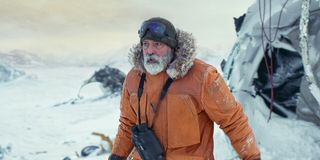 George Clooney doesn't work as much as he used to. The actor has accomplished a lot in his career and it seems quite clear that these days he has other things he's interested in, and so, we don't see him on the screen quite as often as we might like. However, because we don't seem him as much, when George Clooney does decide to get in front of a camera, or behind one, or in the case of the new Netflix film The Midnight Sky, both, there's an automatic hope that the movie we're getting is something special.
And yet, while many critics are glad to see George Clooney again, the response to The Midnight Sky is a bit divided. Some find the new film lackluster, but other critics think it's a solid, if predictable, turn for Clooney and company. The new Netflix movie may have the look of a blockbuster science fiction drama, but for some critics, the movie is surprisingly weightless. CinemaBlend's Eric Eisneberg reviewed the film and gave it two stars. While he complemented Clooney's performance, even that he found not to be particularly special...
The Midnight Sky sees George Clooney as one of the last people on planet Earth after most have evacuated due to a cataclysm. He has remained there to die of a terminal disease, but the equation changes when he finds a young girl who was apparently left behind. A second, connected, plot line follows astronauts returning home to Earth from deep space.
While that setup certainly has some promise, there are many critics who feel similarly to our own. The Guardian finds that The Midnight Sky's two competing plot lines ultimately do more harm to each other than help, and the big finish that the film spends its ntire runtime building toward simply doesn't hit as hard as it should...
However, while some critics may not have loved The Midnight Sky, that's not to say that nobody does, or will. Variety's critic ultimately finds that the film doesn't work, but is, at the same time, still willing to accept that the movie will probably work just fine for others...
Other critics, however, are far less faint with their praise. Deadline adored The Midnight Sky, calling it one of the best films for George Clooney, a man whose previous directorial works have seen significant Oscar love. Where some critics see a film that distracts from itself, others see a careful and deliberate pacing leading to powerful drama...
The larger issue with The Midnight Sky may be that, while it has elements that will appeal to many viewers, that's only because we've seen these elements appeal to viewers before. As EW puts it...
The Midnight Sky may not a triumphant return for George Clooney, though some critics clearly believe that it is. As per usual, viewers will have to be the final judge. The Midnight Sky hits Netflix December 23.
Your Daily Blend of Entertainment News
Content Producer/Theme Park Beat
CinemaBlend's resident theme park junkie and amateur Disney historian. Armchair Imagineer. Epcot Stan. Future Club 33 Member.
Your Daily Blend of Entertainment News
Thank you for signing up to CinemaBlend. You will receive a verification email shortly.
There was a problem. Please refresh the page and try again.