I Can't Get Enough Of Hearing Tom Felton Respond To His Dad Accidentally Calling Him A 'Slotherin'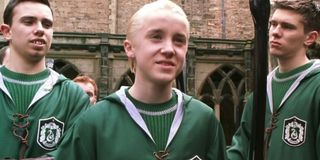 There are some actors who prefer to distance themselves from the projects that made them household names and others who embrace those projects thoroughly. Harry Potter franchise actor Tom Felton is one of the latter. Despite finding success in the Arrowverse and in TNT's Murder in the First, it's Harry Potter that still seems to have his heart. The actor shares Potter-related content on the regular, including a recently video about his Slytherin status I really can't get enough of.
Over the holiday week, Tom Felton met his real life dad Peter Felton and his movie dad Jason Isaacs (along with the rest of his family) on a video call for a night of holiday cheer and games. One of the things that came up during the "Holiday Home Party" was the fact that Tom Felton's dad and his brothers struggled to name the four prominent Hogwarts house, much to the actor's personal glee. He later shared one of his favorite moments in a short clip, including the moment his dad really struggled to figure out his character's house. Ridiculous. (Riddikulus?)
As you can see from this short clip, Tom Felton's dear old dad really struggled to get to the word "Slytherin," calling the house "Slotherin," which is a hilarious substitute if you think about the word sloth -- as in indolence, not the adorable animal. Felton also responds that it almost sounds like he's saying "slobberin" and it's a bit of merriment for both. On the bright side, his mom told him she could remember the houses, so brownie points to Momma Felton.
In the Instagram post itself, Tom Felton joked about the incident further and I don't really blame him. He was in the Harry Potter films over the course of 10 years. That's almost a third of his life in which he starred in movies as Draco Malfoy playing a Slytherin. Since the films ended, he then spent the next 10 years continuing to support the franchise via social media and more. You'd think at some point his dad would have gotten the whole "house" thing. I guess at least his onscreen dad is familiar with the famous Hogwarts house!
I guess a person can't expect their parents to know everything about the work. It would be easy to see how one might forget the names Hufflepuff or Ravenclaw if they weren't interested in that sort of thing. But Tom Felton's dad needs to get it together and learn what a Slytherin is moving forward. Otherwise his kid's likely going to mercilessly tease him about it on the Internet again!
Although really, if that happens I can't wait. Meanwhile, as noted prior the "Holiday Home Party," which was available on Veep, also featured Tom Felton's on-screen dad, Jason Isaacs, who plays Lucious Malfoy in the series. They also got on board with a game of "Head's Up," which is also delightful.
Next up, Tom Felton may be taking a break from Harry Potter content as he's currently filming and slated to star in a few movies. Right now, he's reportedly filming Canyon Del Muerto with Val Kilmer. He also has movies Lead Head and Burial coming up.
Reality TV fan with a pinch of Disney fairy dust thrown in. Theme park junkie. If you've created a rom-com I've probably watched it.
Your Daily Blend of Entertainment News
Thank you for signing up to CinemaBlend. You will receive a verification email shortly.
There was a problem. Please refresh the page and try again.