Wonder Woman 1984: The 'Most Important Thing' The Costumers Needed To Get Right With Her Golden Armor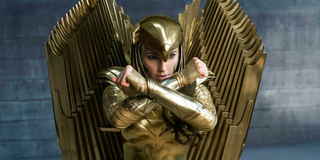 Wonder Woman 1984 recently premiered in theaters and on HBO Max, marking the first major Universal blockbuster to debut on the streaming platform. The second entry into the Wonder Woman series and ninth film in the DC Extended Universe is unique in its setting and costume design, taking place in 1984 rather than the modern alternate reality that most of the series is set in. With any period piece comes the challenge of capturing the look and feel of the time period, but it's even more difficult when you throw in a golden suit of armor from a mythical civilization, as the costumers recently noted.
The '80s setting offers a new lens into Diana Prince's backstory, exploring exactly what Gal Gadot's Wonder Woman was up to before becoming a member of the Justice League and where she got that sweet golden armor set. However, the armor proved to be a challenge for production. Costume Designer Lindy Hemming and the production crew went to some serious lengths to make it work in the film, noting,
In her interview with Variety, Lindy Hemming noted that there's a lot of work that goes into nailing a suit of that caliber, and the metallic nature made it all the more difficult. Despite the individual panel approach, Gal Gadot still had difficulties moving around in the suit of golden armor. Production also made sure that the on-screen suit was inspired by the original comic books:
When you are working to come up with a suit for a hero as iconic as Wonder Woman, it's important that it's done right. Fortunately for Lindy Hemming and the costumers behind Wonder Woman 1984 the hard work paid off, as Gal Gadot even took home an important piece of the suit as memorabilia.
While Wonder Woman 1984 is drastically different than its predecessor in both setting and tone; it proved to be a success for Warner and HBO Max, nabbing over 100 million at the box office. But some are still concerned, including Tenet director Christopher Nolan, about the dramatic approach the studio is taking with its upcoming slate of 2021 films, all of which will be following the same release structure as Wonder Woman 1984.
Regardless of Universal's decision, Wonder Woman fans will still be able to catch up with Diana Prince in the upcoming Zack Snyder's Justice League, which premieres on HBO Max in March. Perhaps reshoots will be able to bring the iconic golden armor back to the fold. Until then, keep tabs on the latest DCEU, Wonder Woman and Justice League news here at CinemaBlend.
Into tracksuits by Paulie Walnuts, the Criterion Channel and Robert Eggers.
Your Daily Blend of Entertainment News
Thank you for signing up to CinemaBlend. You will receive a verification email shortly.
There was a problem. Please refresh the page and try again.