4 Awesome Ways Gina Prince-Bythewood's The Old Guard Made Strides In Hollywood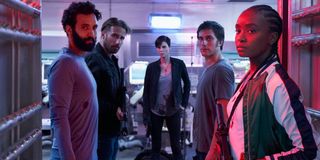 2020 may not have been a year defined by the big-screen action blockbuster, but it did prove that the genre can be viable over on streaming. After Netflix went all out with the Russo Brothers-produced, Chris Hemsworth-led flick, Extraction, in the spring, the studio came back around with The Old Guard, another graphic novel adaptation, this time starring Charlize Theron and directed by Love & Basketball's Gina Prince-Bythewood. The summer release may have come and gone, but it's rare slew of strides in Hollywood could be lasting and looked-to moving forward.
The Old Guard is an adaptation of Greg Rucka's comic book that is about a team of mercenaries who have secretly been alive for centuries. As they welcome a new member to their immortal ranks (KiKi Layne's Nile), they also become targets of a plan Chiwetel Ejiofor's Copley is hatching as he grieves for his late wife. The movie is packed with intense action sequences, rich backstories and memorable chemistry between its cast. Let's get into the specific strides it made in Hollywood:
The Old Guard Marks A Major First For Black Women Directors
The Old Guard being directed by Gina Prince-Bythewood makes the filmmaker the first Black woman to helm a major comic book movie, ever. It's a stride in the industry that certainly should have and could have happened years ago, but in Hollywood these leaps do seem to be slow and steady. What's cool about the honor going to Prince-Bythewood is the filmmaker has been around for quite some time and has consistently shown her talent. But, she hasn't often been given the opportunity to show it. The Old Guard was her first directing gig in six years, and looking years ahead, the director now has an exciting future carved out.
She was initially going to work on Spider-Verse spinoff Silver & Black before it fell through, but making her own mark on The Old Guard for Netflix ended up being the right choice for the filmmaker, and a unique addition to the comic book formula. Female directors in action movies are still a rarity, but it's starting to see a sea change. This past year, Cathy Yan released her Birds of Prey and Patty Jenkins her Wonder Woman 1984, and looking forward, Chloe Zhao's Eternals is on the way. Candyman's Nia DaCosta will be the second Black woman to direct a comic book property for the MCU's Captain Marvel 2.
The Netflix Movie's Post-Production Team Was Overwhelmingly Female
Another notable aspect of The Old Guard happened behind the scenes on the project. According to the director, her post-production team was made up of 85 percent women, which is completely unheard of. The film's editor was her Love & Basketball collaborator Terilyn A. Shropshire and her VFX supervisor was Sara Bennett, who also worked on Ex Machina. To place The Old Guard's post-production team in context with the industry at large, within 2019's 250 top-grossing movies, only 6 percent of VFX supervisors were women. Additionally, just 13 percent were female directors, and 23 percent were editors.
It looks as though Gina Prince-Bythewood made it her mission to hire more women for her project than usual. Seriously, a lot more. When on the press circuit for the movie, she said that she can "guarantee" that percentage has never happened on the set of an action film. She noticed the disparity had little to do with talent, but was more pinpointed to a greater number of opportunities simply going to male filmmakers and post-production workers. Again, The Old Guard doesn't have to be such an outlier in the industry, but here it stands.
Joe And Nicky Broke A Troubling Track Record For LGBTQ+ Romances
When it comes to Hollywood blockbusters, there's been a troubling track record for representation for the LGBTQ+ community over the years. A number of films of its pedigree have technically had same-sex relationships before, but they've shyed away from really being what they are head on, instead of queerbaiting its audience and frustrating the community.
It's easy to think back to franchises like Star Wars, where audiences were led to believe that Finn and Poe could be together by the end of it. J.J. Abrams teased LGBTQ+ representation ahead of Rise of Skywalker's release, but it ended up to be a blink-and-you-miss kiss in the background of a sequence at the end of the movie. In terms of The Old Guard, the action movie actually leaned into its gay romance and made the pairing matter without feeling like a stunt or the meeting of a quota. The Old Guard is a good example of what LGBTQ+ representation can look like in an action movie. There's definitely room for it for filmmakers that make it a priority, and put some love and care into these storylines with some effort.
The Old Guard Is One Of The Most Watched Netflix Originals Of All Time
All and all, with these strides in Hollywood in mind, it matters the most because so many people did watch it on Netflix. In its first month on the streaming service alone, it reached an estimated 72 million households, which places it among the top 10 most-viewed Netflix films ever. And out of the top 10, it's the biggest swing the service has taken representation wise. It's the only movie on Netflix's most-watched originals top 10 list that was directed by a woman, and infused with as much representation as it is.
If it hadn't been a streaming blockbuster none of these aspects would have held as much weight as they do, but now that we've seen it out of Gina Prince-Bythewood's The Old Guard, hopefully Hollywood can continue to grow and build off of its success. We're really excited to see what Gina Prince-Bythewood does next in her career, and she's already signed on to work with Viola Davis for a drama called The Woman King. Hopefully, The Old Guard will continue with a sequel at some point down the line, especially considering all the loose ends the action flick left us with. Did you like The Old Guard? Vote in the poll below!
This poll is no longer available.
YA genre tribute. Horror May Queen. Word webslinger. All her writing should be read in Sarah Connor's Terminator 2 voice over.
Your Daily Blend of Entertainment News
Thank you for signing up to CinemaBlend. You will receive a verification email shortly.
There was a problem. Please refresh the page and try again.