Eli Goree Shares 'Surreal' Experience Of Recording One Night In Miami ADR Days After George Floyd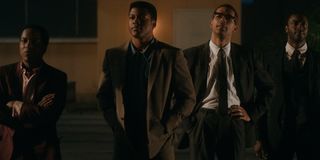 A lot of things happened in 2020, from the pandemic to the political protests and everything in between. For one star of One Night in Miami, the Black Lives Matter movement and protests against police brutality resonated particularly deep while he was working on the film. Eli Goree who portrays Cassius Clay (before he became Muhammad Ali) called his experience recording ADR for One Night in Miami days after George Floyd 'surreal.'
Directed by Regina King and starring Kingsley Ben-Adir as Malcolm X, Leslie Odom Jr. as Sam Cooke and Aldis Hodge as Jim Brown alongside Eli Goree's Cassius Clay, One Night in Miami packs a big punch. Not only are we treated with show-stopping performances by all members of the cast, but the script discusses civil rights in the eyes of each of these legendary men in 1964. The crazy part is many of the lines could've just as easily been talking about the world today. When asked about this in an interview with CinemaBlend, Eli Goree said:
Wow. I can't even imagine going over that dialogue days after George Floyd's death. The tension in the scene Eli Goree mentioned is palpable, and it almost doesn't matter if the actors have tapped that deeply into their character's feelings or if they broke character and were having the discussion on their own, because the gravity of the subject and the emotions are the same. It's great to have a timely and relevant film, but not so much when it holds relevance due to a negative part of history repeating itself.
That being said, actors are professionals, and even if it was hard they were able to emotionally connect with the material and deliver a really beautiful film. One Night in Miami is the feature film debut for Regina King after much experience directing television, and she told the hell out of this story. Most of the film takes place in a single hotel room with the four leading men, which gives a nice intimate feel. However, you'll notice the more complicated scenes with a lot more people, such as the boxing ring or the various venues where Sam Cooke performs, feel just as intimate.
One Night in Miami is available on Amazon Prime Video January 15. If you like this movie, check out these quintessential Black-led films and these that explore race and social justice.
Obsessed with Hamilton and most things Disney. Gets too attached to TV show characters. Loves a good thriller, but will only tolerate so much blood.