Simon Pegg Not-So-Fondly Remembers One Of Tom Cruise And Christopher McQuarrie's Unfortunate Mission: Impossible Ideas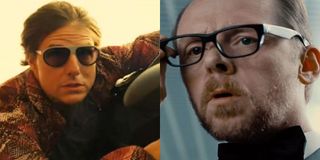 Simon Pegg has just been a fount of behind-the-scenes memories since he joined Instagram a few months ago. Right now, he's on hiatus from Mission: Impossible 7 (and 8, as they are filming back-to-back). As they say, absence makes the heart grow fonder, and Simon Pegg even recently looked back at his time filming the movies, revealing one har-har hilarious idea Tom Cruise and Christopher McQuarrie had for Mission: Impossible - Rogue Nation.
You may remember the moment: In the 2015 Mission: Impossible film, Simon Pegg's Benji is tasked with hiding out in camouflage to keep tabs on Tom Cruise's Ethan Hunt as he embarks on a stunning plane stunt. The mission? To obtain a package on a plane, a package Benji is only able to keep eyes on because he remains camouflaged in the grass nearby. The scene is full of comic relief, but it also seems as if it was a hilarious ploy between Cruise and director Christopher McQuarrie to put Pegg into a not-so-wonderful costume situation. Per Pegg:
I mean, lol. That scene in general plays out with a fair bit of comedy, but I always loved that Simon Pegg was game to throw on "grass" as a form of camouflage. As it turns out, it wasn't his idea, but that of his Mission: Impossible overlords, Tom Cruise and Chris McQuarrie. Or as Pegg put it, they decided it would be a fun idea to make Pegg look like "a hapless fucking clown."
Even if you are someone who doesn't remember Simon Pegg's camouflage in the scene, there's a very good chance you remember the major stunt Tom Cruise accomplished for Mission: Impossible Rogue Nation. At the time the movie was coming out, he even described it as "undoubtedly the most dangerous thing he's ever done." It's a memorable movie moment from an actor known for creating memorable movie moments.
After being unable to obtain the "package" Jeremy Renner's William Brandt keeps going on and on about, Ethan Hunt decides to take things into his own plans and jump onto the moving plane himself. Which means, of course, that Tom Cruise did a crazy stunt that involved jumping onto a moving plane himself and later hanging off the side of said plane. Take a look.
Simon Pegg also recently reflected on being on the scene when Tom Cruise gets up to his usual Mission: Impossible shenanigans, calling watching this stuff on set "nail-biting" and also noting:
Luckily, in between Tom Cruise being Tom Cruise, it seems there are moments of levity for the cast and crew on set--even when those sets seem pretty serious. Occasionally, Simon Pegg even seems to be the butt of the joke. And while he may not have enjoyed that particular Rogue Nation costume, I'm sure glad he wore it. That's one of my favorite scenes from the franchise as a whole and I'm glad this week I got to learn a little more about it.
Now, when we learn a little more about when Mission: Impossible 7 will be returning to set, we'll be sure to keep you updated as well. For now, we do know Mission: Impossible 7 is expected to transport into theaters on November 19, 2021.
Amazing Race & Top Chef superfan with a pinch of Disney fairy dust thrown in. If you've created a rom-com I've probably watched it.