Curly Hair Landed Jamie Perez A Better Role On Netflix's We Can Be Heroes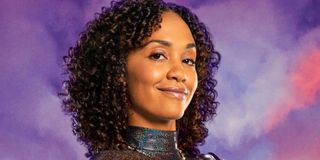 A lot of people might assume that actors and actresses are hand-picked for certain roles due to their audition tapes or performances. But that's not always the case at all. In fact, a lot of times, directors will decide on the fly that some actors or actresses would be better suited for a specific role because of their resemblance to another actor or actress on the set. That's actually what happened during filming for the hit Netflix movie, We Can Be Heroes.
Jamie Perez, who plays the superhero parent, Invisi Girl, to Lyon Daniel's character, Noodles, actually had a very different role initially from the one she eventually got in the Robert Rodriguez feature film. In an interview with CinemaBlend, her co-star, Lyon Daniels, had this to say:
This is something that I wondered about as well while watching the movie, which I have now seen more times than I would like to admit since my kids love We Can Be Heroes. In the movie, each of the parents of the superhero kids looks somewhat similar to their movie children counterpart. And since most of the parents, such as The Fast and the Furious's Sung Kang, who plays Blinding Fast (Ah, I get it), have some kind of power connection to their children, I wondered what the connection was between Invisi Girl, who has invisibility powers, and Noodles, who can stretch.
For example, Blinding Fast's son is a character named Slo-Mo, played by Dylan Henry. Slo-Mo has the opposite ability as his father as he's super slow, so his character growth at the end of the movie is that he moves much faster. This isn't the case for all of the parents and children (Wild Card, played by Nathan Blair, has random, uncontrollable abilities, while his father, Tech-No, played by Christian Slater, has technology powers), but it is the case for the most part. So, it made me wonder, what is the connection between Invisi Girl and Noodles then, and the ultimate answer is this—they both have curly hair!
Obviously, I've spent way too much time overanalyzing We Can Be Heroes, but what can I say? The more I watch it, the more things I pick out.
We Can Be Heroes is currently streaming on Netflix. Oh, and by the way. Which is your favorite superpower in the movie? Let us know in the comments section down below!
Lover of Avatar (The Last Airbender, not the blue people), video games, and anything 90s, he will talk your ear off about Godzilla, so don't get him started.
Your Daily Blend of Entertainment News
Thank you for signing up to CinemaBlend. You will receive a verification email shortly.
There was a problem. Please refresh the page and try again.