Why Weta Opted For Practical Elements On The Set Of The Christmas Chronicles 2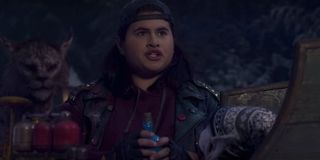 Throughout Netflix's big holiday sequel The Christmas Chronicles 2, there are plenty of impressive sights to see when Kurt Russell's Santa and Goldie Hawn's Mrs. Claus make their way through another holiday of mishaps and mayhem. Part of those wondrous visions are thanks to the work of the special effects masters at Weta Digital, a studio that's helped many visionary directors bring worlds to life in films like The Lord of The Rings franchise, James Cameron's Avatar movies, and Robert Rodriguez's Alita: Battle Angel. But rather than keep things 100% digital in director Chris Columbus's sequel to The Christmas Chronicles, there was an insistence that practical elements also be used on set so as to aid the performances of the actors all the better.
On behalf of CinemaBlend, and in celebration of the release of The Christmas Chronicles 2, I was given the honor to speak with not only with Visual Effects Supervisor Martin Hill, but also with the actor who played the mischievous villain Belsnickel, Julian Dennison. Through our conversation, I learned a lot about several aspects to last year's follow-up to The Christmas Chronicles 2, and the outrageous set-pieces employed to one-up its predecessor. After hearing the following story from Hill about one of the most outrageous cases of CGI and practical reference colliding on this project, I have to admit that the effects used to bring Jola, the Yule Cat to life sounded the most impressive. Said the filmmaker,
Of course Julian Dennison's Belsnickel is an actor that definitely has the skills to pretend to be licked by a 10 foot tall Yule Cat. It's almost par for the course, with his resume also including huge effects-driven movies like Deadpool 2and Godzilla vs. Kong. However, when there's care taken to give an actor as much physical reference as possible, that makes the job all the easier to do. And this is one of the many instances where actual on-set references helped things along, which also included everything from physical rigs that simulated the stirring of hot chocolate by the many CGI elves Santa employed, to a set of gimbals that let Dennison and Kurt Russell look like they were bumping sleighs in a race to see who could control Christmas.
Jola's lick was another important touch of reality to be included in the filmmaking process, and that lick was almost a bit slimier. Martin Hill had intended to use a mixture that would have been uber sticky for Jola's sign of affection. That approach was nixed, however, because by time Julian Dennison was filming this moment it was the last shot of the last shooting day. Clean-up time and resetting in-between shots would have taken way too long, so according to Martin Hill the simple approach of using a wet sponge was enacted. It certainly worked for Dennison, as his acting process benefited from those techniques. Said the actor,
Now you might be wondering just why The Christmas Chronicles 2 is coming up at this particular point in time. While it's true the film was released in time for the holiday season we celebrated at the end of 2020, there's been a bit of a late breaking story attached to the Kurt Russell/Goldie Hawn film. Recently, franchise producer/sequel director Chris Columbus shared some news in reference to just how well The Christmas Chronicles 2 did on Netflix. More specifically, the following Instagram announcement pertains to the first four weeks of the film's release last fall, which pegs the viewership at a pretty impressive rate:
Part of that great success came from the effects work that Martin Hill and the folks at WETA Digital did, thanks to practical solutions and computer generated magic that married the practical with the digital. Those imaginative scenarios allowed Julian Dennison's performance as Belsnickel to shine, no matter what form his character would eventually take in the finished product. And considering The Christmas Chronicles 2 had some wildly different concepts envisioning what his adversarial presence would look and act like, having these tools available only helped imagine the nebulous concept of this major CGI character.
There was still quite a bit of imagination required on Dennison's part, as even with those references, Jola the Yule Cat was a character that could only be realized by computer aided wizardry. All told, Julian Dennison's experience was a positive one, as he had the following remarks to offer summing up The Christmas Chronicles 2's process:
With two entries in the can and a ton of ideas still on the table, there's still a question of when we'll be given a confirmation of if and when we should expect The Christmas Chronicles 3 to head to Netflix. Should that very possibility be confirmed, it can almost be certain that Weta Digital will be on hand to keep the action moving, and Julian Dennison's Belsnickel will get to shine once again. Sixty-one million true believer families can't be wrong when they support a movie such as this, and Netflix has been good at recognizing that super quickly.
CinemaBlend's James Bond (expert). Also versed in Large Scale Aggressors, time travel, and Guillermo del Toro. He fights for The User.