Epic Godzilla Vs. Kong Image Shows How Much King Kong Has Grown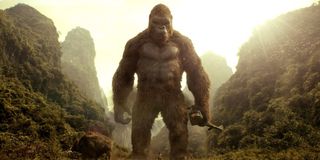 We've had to wait a long time for its arrival, but the MonsterVerse's biggest clash yet is now just a few months away. Having previously been set for a May release, Godzilla vs. Kong is now dropping in theaters and on HBO Max at the end of March, and unlike what happened in 1962's King Kong vs. Godzilla, there will be a victor this time around.
That's made abundantly clear in the new Godzilla vs. Kong poster that's debuted to tease the premiere of the first trailer this coming Sunday. More importantly, this latest look at the fourth MonsterVerse movie shows how much King Kong has grown since we last saw him in Kong: Skull Island.
Remember, Kong: Skull Island was set in 1973, so while it hasn't been officially announced what year Godzilla vs. Kong is set in, basically around five decades will have passed within the MonsterVerse since the giant gorilla's previous adventure. And to be sure, Kong was no lightweight in Kong: Skull Island, standing at approximately 104 feet tall. But this was an adolescent Kong, so he wasn't fully grown yet.
As such, the decades between Kong: Skull Island and Godzilla vs. Kong saw the simian Titan growing significantly. We don't know specifically how tall he is now, but he's clearly dwarfing those buildings in the above poster. Furthermore, the brief Godzilla vs. Kong footage that's made its way online showed us that King Kong is now around Godzilla's height, who stood at approximately 393 feet in Godzilla: King of the Monsters. So size-wise, we don't need to worry about seeing Godzilla squish a comparatively pipsqueak Kong to death.
Of course, size is just one thing that factors into a brawl like this, and considering that Godzilla is also incredibly durable and can unleash atomic breath on his enemies, one could logically assume that this means he'll have the edge of King Kong. However, as director Adam Wingard noted in 2019, this could be a "potential underdog fight," and along with his growth spurt, King Kong has speed, agility and the ability to use tools on his side. It's still hard to say who will emerge victorious in Godzilla vs. Kong, but at the very least, we're guaranteed an epic battle or two.
Along with the two eponymous beasts coming to blows, Godzilla vs. Kong will also see the scientific organization Monarch embarking on a journey to uncover clues about how Earth's Titans came to be, while elsewhere, there's a conspiracy underway to eradicate these creatures, both good and bad. The movie's cast includes Alexander Skarsgård, Millie Bobby Brown, Kyle Chandler, Zhang Ziyi, Rbecca Hall, Brian Tyree Henry, Eiza González, Julian Dennison and Demián Bichir. Eric Pearson and Max Borenstein penned the screenplay off a story hashed out by Terry Rossio, Michael Dougherty and Zach Shields.
Godzilla vs. Kong will wreak havoc in both a theatrical setting and on HBO Max starting March 26 (use the following link to sign up for the streaming service). Read through our 2021 release schedule to learn what other movies are slated for this year.
Connoisseur of Marvel, DC, Star Wars, John Wick, MonsterVerse and Doctor Who lore. He's aware he looks like Harry Potter and Clark Kent.
Your Daily Blend of Entertainment News
Thank you for signing up to CinemaBlend. You will receive a verification email shortly.
There was a problem. Please refresh the page and try again.