John Boyega Calls Big Franchise Work 'Luxury Jail' For An Actor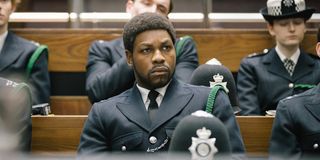 Love them or hate them, big movie franchises work. Whether it's heroes like in Star Wars and the MCU or whirlwind romances like Fifty Shades of Grey and Twilight, these films get to start with built-in fandoms, gain new fans along the way, and offer job security for the actors. Part of being an actor is the constant search for your next gig, so it seems like being part of a long-running franchise would be the dream, but according to Star Wars' John Boyega, that's not always the case.
John Boyega's most recent film credit is Leroy Logan in Steve McQueen's Small Axe: Red, White and Blue. The movie tells the true story of a Black policeman who joined the force in London to try and change racially biased attitudes from within. This is very different from Boyega's role of Finn in the Star Wars franchise, and he made a comparison while discussing the experience of working on Small Axe at a Q&A in support of the film. In his own words:
This is a point of working on a huge film franchise I hadn't thought about before, and it makes perfect sense. There's the luxury of job security and of course the pay, but also the restriction of spending so much time with one character. Just like working out, actors need to flex different muscles, if you will, for each character that they play. I see how spending so much time on one character would be stifling, and it's great that John Boyega got the opportunity to work on such a new and different character.
John Boyega's performance in Small Axe: Red, White and Blue is stunning. He captures the depth of Leroy Logan being a new father, truly caring about his job even though he is not accepted by his co-workers, and dealing with his family disproving of his choices. The story itself is hard to take in, but it's honest and necessary, as are the other four films in Steve McQueen's Small Axe anthology. Together, the collection of five films tell personal stories from the West Indian Community in London between the late 1960s and the mid 1980s. You can watch Small Axe on Amazon Prime Video.
I'm curious, if you were an actor, do you think you'd prefer playing as many different characters as possible or really perfecting one, perhaps on a long-running TV show? Let me know in the comments section.
Your Daily Blend of Entertainment News
Obsessed with Hamilton and most things Disney. Gets too attached to TV show characters. Loves a good thriller, but will only tolerate so much blood.