George Clooney Compares His Work On Netflix's Midnight Sky To His Iconic Time On ER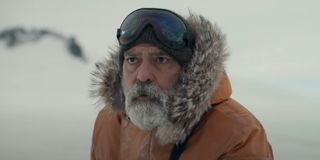 George Clooney has been a movie star for a long time, with his most recent appearance on the film front being in Netflix's The Midnight Sky, which he also directed. However, there was a time when Clooney was most well-known for his TV work, particularly his role as Dr. Doug Ross in the NBC series ER. On the surface, ER and The Midnight Sky don't have much in common, but Clooney is able to drawn a thread between his character from the former to who he plays in the latter.
The Midnight Sky sees George Clooney playing Augustine Lofthouse, a scientist in an apocalyptic future who finds himself having to look after a young girl during his efforts to contact outgoing space missions to warn them about how Earth has been ravaged. During Clooney's recent interview with The Los Angeles Times, it was noted how it's through the "silences" that we get to know Augustus best. Here's what the actor had to say about that:
You can't blame George Clooney for not wanting to memorize a lot of lines for The Midnight Sky considering how he was also sitting in the director's chair. And given the recent Netflix movie's premise, it was certainly easier to make that happen here compared to one of Clooney's past directorial efforts, like Good Night, and Good Luck or The Monuments Men. As far The Midnight Sky's loose connection to ER goes though, Clooney is on point mentioning how both Doug Ross and August Lofthouse are tied together by their search for redemption, and both their searches involving kids.
Of course, in Doug Ross' case, in the midst of his mess of a personal life, it was his professional calling to treat help children, whereas with Augustine Lofthouse, him protecting young Iris happened inadvertently. So the through line between those two characters isn't completely solid, but at least that portion of The Midnight Sky's plot helped George Clooney with avoiding having to guide the audience through the story in the typical manner. And needless to say that Clooney had a lot more time to explore Doug Ross' redemption saga, with his main tenure on ER lasting from 1994 to 1999, followed by guest appearances in 2000 and 2009.
The Midnight Sky is the seventh movie on George Clooney's directing resume, and his costars included Felicity Jones, David Oyelowo, Kyle Chandler, Demián Bichir and Tiffany Boone, among others. Released to Netflix on December 11, The Midnight Sky has been met with mixed critical reception, but according the movie was watched by an estimated 72 million households during its first four weeks of availability on the streaming service.
There's no word yet on what George Clooney's next movie will be, as in September 2020, both he and John Cena dropped off the Steve Soderbergh feature No Sudden Exit. Once we learn when Clooney heads back the cinematic realm, be it for a theatrical release or another streaming outing, we'll be sure to let you know. In the meantime, browse through our 2021 release schedule to learn what's on the way later this year.
Connoisseur of Marvel, DC, Star Wars, John Wick, MonsterVerse and Doctor Who lore. He's aware he looks like Harry Potter and Clark Kent.