As George Clooney And John Cena Drop Out, Steven Soderbergh's Next Movie Has Flip-Flopped To Very Different Leads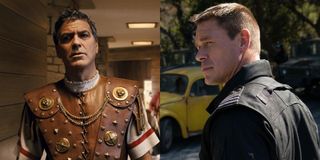 Steven Soderbergh's latest foray into the crime drama has taken a few twists and turns in production, mostly thanks to current events. His next movie, titled No Sudden Move, saw the exit of George Clooney, John Cena and Sebastian Stan. And it's made an apparent shift by casting very different leads instead.
Typically, if a script has a certain character written in a certain way, they would try to cast an actor who fits those characteristics. But perhaps Steven Soderbergh has something else in mind? According to a recent press release, No Sudden Move is hopping into production with newcomers David Harbour, Brendan Fraser and Noah Jupe. Assumably these three will be replacing George Clooney, John Cena, and Sebastian Stan, but it's still unknown what roles they will be playing.
Those three actors will be joining an already locked and loaded all-star cast. Don Cheadle, Benicio Del Toro, Amy Seimetz, Jon Hamm, Ray Liotta and Kieran Culkin, among many others, will be playing a role in the crime drama set in Detroit.
Production was originally set to start earlier this year, before having to shut down. The shutdown is reportedly the reason George Clooney, John Cena and Sebastian Stan had to leave the project.
Written by Bill & Ted's Face the Music's Ed Solomon, No Sudden Move, previously titled Kill Switch, follows a group of small-time criminals in 1955 Detroit who are hired to steal what they think is a simple document. When their plan goes wrong, they search for who hired them and what the purpose of the job was.
No Sudden Move officially starts production today. Like all other movie productions operating today, they'll be working under strict safety protocols due to current events.
Of course, if you need a crime drama and heist thriller done right, Steven Soderbergh is the man to do it. With directing past projects like Out of Sight, Ocean's Eleven and Logan Lucky, he'll no doubt make quite a picture with this high-profile cast.
Steven Soderbergh, who took a bit of a hiatus from directing for a while, seems to be back in the swing of things. But while his own project was on standby, he had been staying busy on other very different kinds of projects, including Bill & Ted's Face the Music, where he served as an executive producer.
No Sudden Move is intended to land on HBO Max (opens in new tab) when it finally wraps and is ready to go. When that will be has yet to be confirmed. For more movie news on No Sudden Move and more, be sure to stay tuned to CinemaBlend, and don't forget to look through our 2020 release schedule to keep track of the movies still to arrive this year.
Your Daily Blend of Entertainment News
Your Daily Blend of Entertainment News
Thank you for signing up to CinemaBlend. You will receive a verification email shortly.
There was a problem. Please refresh the page and try again.