Cyberpunk 2077 Players Are 'Having Sex' With Keanu Reeves, And The Studio Isn't Happy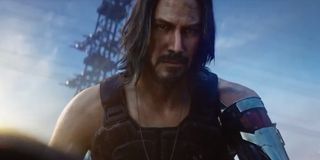 Video games have become truly incredible in recent years. The technology has progressed to the point where characters look absolutely real. Players' ability to interact in those virtual worlds is unparalleled, and there's basically nothing you can't do. However, just because you can do something in a video game does not mean you should. To that end, would everybody please stop having sex with Keanu Reeves in Cyberpunk 2077?
To be fair, having sex with Keanu Reeves in the new video game is not something you're supposed to be able to do. While an incredibly faithful likeness of Keanu is part of the game and the John Wick actor voiced the character of Johnny Silverhand for CD Projekt Red's Cyberpunk 2077, having sex with the character isn't part of the game. However, having sex with other characters is, and so it didn't take much for people to mod the PC version of the game to simply swap the character models.
And if players had swapped out the character models for literally any other made-up character, it's unlikely that developer CD Projekt Red would have an issue. However, since Keanu Reeves is an actual person, the developer tells PC Gamer that the rules are a bit different and asks people not to have sex with Keanu,
One assumes Keanu Reeves had a clear understanding of what his character would be doing (and not doing) in Cyberpunk 2077, before he agreed to voice the character and do the motion capture work. He wouldn't want his character doing something he had an issue with, and for that reason, gamers making the character do other things is certainly an issue.
Which is not to say any of this is particularly surprising. Cyberpunk 2077 isn't shy when it comes to sex in general. Deciding how you want your character's various private regions to look is part of standard character creation in the game and, as previously noted, sex is something that happens as part of normal gameplay.
Beyond that, mods like this are par for the course for basically every video game that comes out. People modded the original Tomb Raider to remove Lara Croft's clothes back when she barely looked like a person. You can be sure that mods to modify, or simply add, sex are going to be available as soon as possible. CD Projekt Red probably should have seen this coming. Of course, Cyberpunk 2077 has a lot of issues that the developer probably should have seen coming, so we can just add this one to the list.
Content Producer/Theme Park Beat
CinemaBlend's resident theme park junkie and amateur Disney historian. Armchair Imagineer. Epcot Stan. Future Club 33 Member.
Your Daily Blend of Entertainment News
Thank you for signing up to CinemaBlend. You will receive a verification email shortly.
There was a problem. Please refresh the page and try again.