Spider-Man 3 Set Photos Just Revealed A Strange Poster, And Now I Have Even More Questions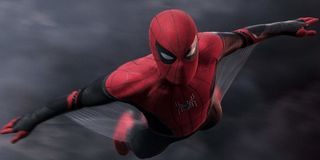 Marvel Studios and Sony's Spider-Man 3 (at least, that's what we call it right now) is currently one of the most anticipated films of the year. As always, Marvel is remaining mum on any specific plot details, which only leaves fans with the ability to speculate on the story. The superhero threequel is currently filming in Atlanta and, during production, some interesting set photos have leaked that may give fans a better idea of what to expect. A new batch recently made their way to the internet, and they happen to reveal a strange poster that only provides more questions than answers.
Previously leaked Spider-Man 3 set photos revealed a series of posters that reference the events of Spider-Man: Far From Home, specifically Quentin Beck's status as a "martyr." Others set pics have shown flyers that show support for Spidey, who was framed for the villain's death and his attack on London.
Now, however, new set photos, which included Tom Holland's stunt double, were shared by the Spider-Man Brasil Twitter account and they revealed an interesting poster in the background. The large ad shows a waving Spider-Man and includes an interesting caption, "Photos & Autographs Free!"
This is definitely a head-scratcher and that only makes me ask more questions. Why would Spider-Man be reaching for publicity if he's an assumed murderer? Wouldn't he want to be keeping a low profile in the aftermath of Far From Home?
Well, there are a couple of possibilities when it comes to this development. One is that Peter Parker and a PR team, possibly assembled with the help of Stark Industries, are working to improve the wall-crawler's image following the events of the second film. In theory, helping Spidey regain any of the public's trust would be an uphill battle but not entirely impossible.
There's another potential cause for this that's a bit more involved. It's been reported that Doctor Strange will be playing a role in Spider-Man 3 and that the film will have ties to his sequel -- Doctor Strange in the Multiverse of Madness. Maybe, through either magic or the multiverse, Strange manages to alter the timeline and undo the damage done to Spider-Man's reputation. And maybe as a result, the hero is now more popular than ever. Such a development would bear some resemblance to the 2007 crossover, "One More Day," which saw Parker's life altered by the demon Mephisto after the explosive events of Civil War.
Both theories could be totally off the mark, but they are worth considering. It's kind of hard to believe this isn't even the biggest thing fans still need to speculate about. There's also the matter of the rumored returns of Tobey Maguire and Andrew Garfield's Peter Parkers and the potential inclusion of Charlie Cox's Daredevil. Did I even mention the reports of returning villains?
Right now, it's almost impossible to decipher what's what in Spider-Man 3, but things are sure to become clear in time. The movie is currently set to open in theaters on December 17, 2021, and it's one of the biggest releases on our 2021 movie schedule.
Your Daily Blend of Entertainment News
Covering superheroes, sci-fi, comedy, and almost anything else in film and TV. I eat more pizza than the Teenage Mutant Ninja Turtles.
Your Daily Blend of Entertainment News
Thank you for signing up to CinemaBlend. You will receive a verification email shortly.
There was a problem. Please refresh the page and try again.