Wait, Could Charlie Cox's Daredevil Actually Appear In Spider-Man 3?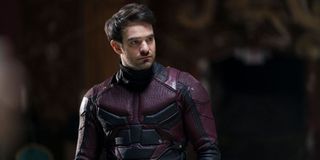 A little over two years ago, the Netflix series Daredevil concluded, but there's been plenty of clamor since then for Charlie Cox to reprise Marvel's Man Without Fear. The main way fans have been hoping for this to happen is through the third Marvel Cinematic Universe-set Spider-Man movie, informally known as Spider-Man 3. After all, not only are Peter Parker and Matt Murdock close friends in the comics, but Tom Holland's Peter could use a lawyer following the events of Spider-Man: Far From Home. Well, new information has come in suggesting that a Cox appearance in the next Spider-Man movie might not be a pipe dream.
Comicbook.com's Brandon Davis revealed on the inaugural episode of the Phase Zero podcast (opens in new tab) that he's heard that Charlie Cox was seen on the Spider-Man 3 set. Assuming this is true (and also assuming Cox wasn't visiting that production because he happened to be in the neighborhood), it's unclear if he was in his Daredevil guise or just appearing as Matt Murdock. It also remains to be seen if the Matt Murdock that might potentially appear in Spider-Man 3 is the exact same one who starred in the Daredevil TV show, or a version who's more in line with the main MCU, considering how the Marvel Netflix shows' connections to the MCU movies were loose at best.
If Daredevil does indeed show up in Spider-Man 3, this will mark the character's first cinematic appearance since 2003, when Ben Affleck brought Matt Murdock to life on the big screen. Given how much is being packed into Spider-Man 3, whether this is the original Charlie Cox-portrayed Matt Murdock or a slightly tweaked version, we might not want to get too excited about him donning the crimson costume. After all, this is a Spider-Man film first and foremost, so while it would be great to finally see these two characters team up in live action, the Web-Slinger still needs to be the one firmly in the spotlight.
Fortunately, Matt Murdock's skills as an attorney are just what Peter Parker needs right now. In the Spider-Man: Far From Home mid-credits scene, not only was Peter's secret identity outed to the public, but he was also framed for Mysterio's death and the Elemental attack on London. So now the teen superhero finds himself in legal trouble, and Matt might be just the person to prove his innocence. Unfortunately, the secret identity outing is likely a problem too great for Matt/Daredevil to handle, but perhaps that's where another Marvel hero could come in handy.
While no specific Spider-Man 3 plot details have been revealed yet, the story will involve Peter Parker reuniting with Benedict Cumberbatch's Doctor Strange, with the two of them having previously teamed up in Avengers: Infinity War and Avengers: Endgame. Perhaps Strange's magic could be just the thing to make everyone in the world forget Peter is Spider-Man. Of course, given that Spider-Man 3 will also reportedly incorporate multiveral trouble by featuring Jamie Foxx's Electro and Alfred Molina's Doctor Octopus, perhaps Spider-Man and Strange will be too busy to properly fix Peter's life.
As for Charlie Cox's Daredevil, even if it turns out that he's not in Spider-Man 3, that doesn't necessarily mean we'll never see that incarnation of the character again. It's also been speculated that Matt Murdock could show up in Disney+'s She-Hulk series since Tatiana Maslany's Jennifer Walters is also a lawyer, and it's been confirmed the show will have scenes set in a courtroom. Rest assured, if/when it's officially announced that Daredevil, whether he's played by Charlie Cox or another actor, will appear in the MCU proper, we'll let you know.
For now, Spider-Man 3 is currently filming and set to swing into theaters on December 17. Keep track of other Marvel movies on the way with our comprehensive guide.
Your Daily Blend of Entertainment News
Connoisseur of Marvel, DC, Star Wars, John Wick, MonsterVerse and Doctor Who lore. He's aware he looks like Harry Potter and Clark Kent.