The Biggest Regret Michelle Pfeiffer Has From Turning Down Silence of The Lambs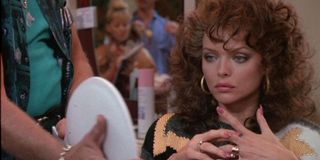 The Silence of The Lambs is considered by many to be one of the greatest horror films of all time. The psychological thriller starring Anthony Hopkins, Ted Levine and Jodie Foster crushed at the box office and the 64th Academy Awards, ultimately taking home five Oscars. Despite Jodie Foster earning her second Academy Award at just 28, the role of FBI agent Clarice Starling was originally intended for Michele Pfeiffer, who, in a recent interview, shared her biggest regret from turning down The Silence of The Lambs.
Elaborating on why she she walked away from The Silence of the Lambs despite having the first offer from director Jonathan Demme, Michelle Pfeiffer said:
During her interview with The New Yorker, Michelle Pfeiffer mentioned her initial hesitation came from just how evil the film was, which is no surprise considering the brutal subject matter and ending of The Silence of the Lambs. Director Jonathan Demme offered Pfeiffer the role after the pair's first film together, Married to the Mob.
Despite its violence, The Silence of the Lambs went on to earn over $272 million at the box office. For a horror movie working off a $19 million budget, that's not too shabby. The Clarice Starling role is one of Jodie Foster's most memorable, and it helped launch her already impressive career to new levels, including a move to the director's chair.
Michelle Pfeiffer wasn't the only other actress considered to star alongside Anthony Hopkins either. Jodie Foster reportedly beat out Laura Dern and Meg Ryan, among others, after Pfeiffer passed on the role.
It's easy to see where Michelle Pfeiffer is coming from. It couldn't have been easy to pass up on the opportunity to be in such an iconic film, but she hasn't done bad for herself either. Ahead of The Silence of the Lambs she earned two consecutive Academy Award nominations. Later, she also starred as Catwoman alongside Michael Keaton and Danny DeVito in Tim Burton's Batman Returns. In recent years, she has joined the ranks of the MCU as the original Wasp in Ant-Man and the Wasp.
Those wishing to revisit the evil world of Clarice Starling and Dr. Hannibal Lecter can watch The Silence of the Lambs on Showtime. As for more modern movie fare, be sure to check out CinemaBlend's 2021 Movie Release Schedule for the latest on this year's film slate.
Your Daily Blend of Entertainment News
Into tracksuits by Paulie Walnuts, the Criterion Channel and Robert Eggers.