Is Spider-Man 3 Hinting At The Villain?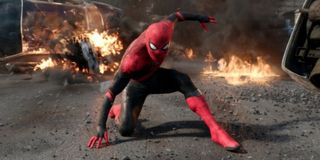 Spider-Man 3 is currently in production, and fans barely have any idea of what to expect. While set photos have seemingly confirmed the film's setting and a few interesting Easter eggs, we only have reports to go on for information. One aspect of the film fans are likely hoping to learn is the identity of the villain(s). So far, Jamie Foxx's Electro and Alfred Molina's Doctor Octopus have been reported to have roles, but could a recent marketing tidbit be hinting at another antagonist for Peter Parker?
Fans of Marvel Studios' Spider-Man franchise likely know Tony Revolori's Flash Thompson is a massive fan of the web-slinger. Marvel has since capitalized on this by creating an actual Instagram account that appears to belong to the character. Recently, a post in the character's Instagram stories included a "This or That," which compared classmates Betty Brant and Ned Leeds. The image had additional scribblings around the characters' faces, and Ned was interestingly given an orange doodle above his head, which resembles the Hobgoblin hood worn by the character in the comics. Check it out below:
"
The Hobgoblin is one of Spider-Man's most notable enemies, and many have taken on the villainous mantle since the character was first introduced in The Amazing Spider-Man back in 1983. Leeds was the third character to ever don the goblin outfit but, unlike his counterparts, he was brainwashed into the role. He was used as stand-in for the criminal and was ultimately killed before he could reveal the identity of those who framed him.
Jacob Batalon, who plays the MCU's Ned Leeds, is aware of the fact that many fans would love to see him suit up as Hobgoblin, and he's actually "an advocate" of the idea. Marvel Studios and Sony have given no clear indication as to whether or not the character will be used. And because he's such an iconic villain, there's a chance the companies may hold off on bringing him in. There's also the fact that this Leeds -- a school friend of Peter's -- is vastly different from the original, a Daily Bugle reporter.
With so many rumors surrounding Spider-Man 3, it's hard to say what will and won't come to pass. Though if Peter's BFF really does take a dark turn, it'll be yet another major problem for Parker to deal with.
Spider-Man: Far From Home ended with Parker getting framed for the murder of Quentin Beck/Mysterio. Not only that, but Beck also managed to set Parker up as the mastermind behind his own drone attack on London. So you can imagine Peter's world will already be upside down before Ned would hypothetically become a villain.
On the surface, the odds of Jacob Batalon's Ned becoming the Hobgoblin seem slim, but anything can happen in the MCU. We'll just have to wait and see how things pan out for Peter Parker's "guy in the chair."
Spider-Man 3 is currently set to hit theaters on December 17, 2021.
Covering superheroes, sci-fi, comedy, and almost anything else in film and TV. I eat more pizza than the Teenage Mutant Ninja Turtles.
Your Daily Blend of Entertainment News
Thank you for signing up to CinemaBlend. You will receive a verification email shortly.
There was a problem. Please refresh the page and try again.