I'm Glad Chadwick Boseman Got A Nomination For Da 5 Bloods, But Where's Delroy Lindo?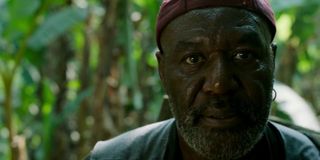 The late Chadwick Boseman's Oscar chances just received another boost with the announcement of nominees for the 27th Screen Guild Awards. The actor, who passed away in August 2020, has broken the previous record with a total of four SAG film award nominations, with two of those coming from Spike Lee's Da 5 Bloods. While he has no doubt left a lasting legacy in Hollywood, there is one all-star performance from the Spike Lee joint that isn't getting the awards attention that it deserves.
Delroy Lindo, who co-starred with Chadwick Boseman in Da 5 Bloods, drummed up quite a bit of buzz for his incredible performance as Paul, a Vietnam veteran suffering from PTSD. But since the major awards circuit has started, Lindo has been notably absent from the nominations.
Chadwick Boseman's performance as Stormin' Norman was certainly impressive, and I'm happy he earned another nomination. However, I simply don't understand how the SAG voters could watch Da 5 Bloods and not have Delroy Lindo on the short list for best male performance of the year.
In addition to his supporting nomination, Chadwick Boseman, who is perhaps best known for Black Panther, beat out Delroy Lindo in the Outstanding Performance by a Male Actor in a Leading Role category with Ma Rainey's Black Bottom. The other nominees in the category include Riz Ahmed, Gary Oldman, Anthony Hopkins and Steven Yeun.
I just don't get it. In an already confusing year, some of these nominations continue to mystify me. Delroy Lindo's performance made a big splash after Da 5 Bloods released in June of 2020. His monologue alone, which can be seen towards the end of the film, was easily one of the most powerful scenes of the year. Shortly after its release on Netflix, fans were clamoring online for Lindo to receive awards recognition.
Because of those initial reactions, Netflix decided to start the Oscar campaign process for Delroy Lindo's performance, according to Variety. But the streaming service's efforts seem to have come up short, at least for two of the major awards shows. It's no surprise that Hollywood veterans such as Gary Oldman and Anthony Hopkins were nominated for their performance, especially considering the Golden Globe nominations that were announced earlier this week.
Still, I'm disappointed that Delroy Lindo has yet to receive a nomination from any of the major awards organizations. Late last year, he garnered a bit of attention with wins on the smaller circuit, netting awards from both the New York Film Critics Circle and the National Society of Film Critics.
While I'll be keeping my fingers crossed that the Academy gives Delroy Lindo some much deserved awards attention, it's not likely considering his absence from both the Golden Globes and SAG. If anything, I encourage you to revisit his monologue from the film, which is streaming on Netflix, and decide for yourself if Lindo deserves to be up there with Gary Oldman and Anthony Hopkins. Let us know what you think in the poll below.
This poll is no longer available.
Your Daily Blend of Entertainment News
Into tracksuits by Paulie Walnuts, the Criterion Channel and Robert Eggers.