Jennifer Lawrence Suffers Injury On Set Of Adam McKay's New Movie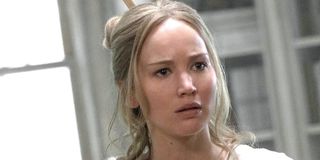 Jennifer Lawrence's highly-anticipated new Netflix film, Don't Look Up, had to temporarily halt production this week when the Oscar-winning actress was reportedly injured on set. The Adam McKay-helmed comedy has been shooting on location in Massachusetts -- and this was the latest delay, albeit a temporary one, that the film has endured.
Don't Look Up has been in production since November. According to The Boston Globe, the set was shut down early in the morning on Friday, February 5 after debris from a special effects explosion struck Jennifer Lawrence. While there's no official word as to the extent of her injuries, sources told the newspaper that she was hit with fragments after a trash can went through a window. A medic was called, and Jennifer Lawrence was taken off the set. She was seen holding her face, and the injury may have been near or in her eye.
The Boston Globe also reported that Jennifer Lawrence's team has not responded to questions about the incident. There is speculation from the crew that production may resume next week.
Don't Look Up is Adam McKay's first film since the Oscar-nominated Vice, and Jennifer Lawrence's first film since 2019's Dark Phoenix. It's the first time the director-writer and actress have worked together -- though since they both have a knack for irreverent comedy, it seems like a great potential pairing.
Jennifer Lawrence is no stranger to big action sequences, obviously -- starring in The Hunger Games and X-Men franchises has given her plenty of experience with on-set special effects. What might be surprising is that she was navigating them on the set of a comedy film. However, the synopsis makes it a little bit clearer as to why that might be the case.
Don't Look Up centers on a pair of astronomers who launch a media tour to inform the world that it's about to be hit by a huge asteroid. However, they struggle mightily in getting the word out, because no one takes them seriously. While it's hard to say for sure how the special effects that led to Jennifer Lawrence's injury fit into this story, any "end of the world" scenario in a movie usually comes with at least a couple of big explosions.
Adam McKay and Jennifer Lawrence's new movie was first announced in February 2020. Late last year, we learned that she will lead an intriguing all-star cast including Leonardo DiCaprio, Ariana Grande, Kid Cudi, Meryl Streep and Jonah Hill. Production was initially slated to begin in the spring of 2020 but, like many other films, it was delayed due to the COVID-19 pandemic.
Don't Look Up is currently scheduled to premiere on Netflix in 2021, though there's no word as to whether any of the delays in production will change that.
Your Daily Blend of Entertainment News
Thank you for signing up to CinemaBlend. You will receive a verification email shortly.
There was a problem. Please refresh the page and try again.