Natalie Portman Claps Back After Rumor Mill Claims She's Pregnant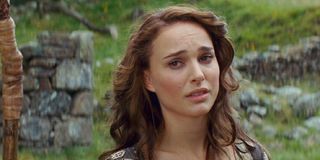 Natalie Portman has become famous the world over as an actress, filmmaker and activist. She's proven that she's not afraid to set boundaries regarding her personal life, speak her mind, or call out people in power when she feels they've stepped out of line. So it should come as no surprise that she responded to recent rumors that she is pregnant -- and made sure to let everyone know exactly how she felt about the invasive speculation.
The actress is currently on location in Sydney, Australia for Thor: Love and Thunder. After she was photographed out and about, some tabloids, including The New York Post, speculated that she had inadvertently revealed a baby bump. Headlines questioning whether she was pregnant began to crop up.
While she was in no way required to respond to the rumors, Natalie Portman chose to set the record straight. She updated her Instagram story over the weekend to make an announcement -- and call out those who chose to feed the rumor mill:
Natalie Portman also called on the media outlets who ran with the headline to "Do better." While she was speaking directly to her personal experience with having her body objectified, the fact that she referenced women, in general, in her response makes it seem as though the actress is hoping the media will reassess its approach altogether. For years, the actress has been a staunch advocate for better representation for women in the media. As one of the most vocal figures in the #TimesUp movement, she's called out Hollywood multiple times, so her candor on this matter is far from shocking.
She's also maintained a fierce hold over her privacy since she was young -- and given her rise to fame thanks to the Star Wars prequels, that was a wise move. She even adopted a stage name as a child actress. While she has been happy to share fun tidbits about her life as a mother, she has largely protected her children from the media.
The way women's bodies are discussed in the media has been an ongoing topic for years. Changes in weight can go viral on social media, and stars like Rebel Wilson and Blake Lively have been increasingly open about their experiences with losing and gaining weight and the differences in how they were treated, or perceived themselves.
At this point, it's too early to tell whether Natalie Portman's rebuke will lead to any changes in how women are covered in the media. Thor: Love and Thunder is still in production and expected to hit theaters on May 6, 2022.
Your Daily Blend of Entertainment News