What To Watch On Streaming If You Like Jason Segel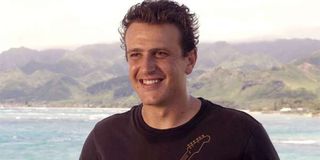 CinemaBlend participates in affiliate programs with various companies. We may earn a commission when you click on or make purchases via links.
Whether you know him best from How I Met Your Mother, Forgetting Sarah Marshall, The Muppets (2011), or any of his various other projects from the past two decades, it's safe to assume that you're familiar with Jason Segel. The film-television actor has kept a consistently active profile — at least, until recently when he started working on smaller, more intimate projects that suit his creative ambitions. Nevertheless, Segel returned to the spotlight with last year's anthology series, Dispatches From Elsewhere, which he also created, wrote, and directed, and last month's buddy dramedy, Our Friend.
Now that Freaks and Geeks is finally on Hulu, though, let's take a look at what other notable Jason Segel projects are available to stream, especially if you're a fan of the multi-talented performer. Here's what you should check out if you love Jason Segel!
Forgetting Sarah Marshall (Peacock)
Following a devastating break-up with his TV star girlfriend, Sarah Marshall (Kristen Bell), heartbroken musician Peter (Jason Segel) decides to travel to an exotic resort, only to discover that his ex is there, alongside her cool new boyfriend (Russell Brand).
Why It's A Good Option For Jason Segel Fans: Following several years of success as a TV star and reliable supporting player, Jason Segel finally found his own star vehicle with Forgetting Sarah Marshall, a heartfelt, heartwarming, and refreshingly honest romantic comedy that served as a great showcase for Segel as an actor and writer.
Based on Jason Segel's personal experiences, this winning blend of raunchy comedy, emotional sincerity, and even some puppet silliness proved to be a poignant mix, blending the familiar pleasures of your traditional studio rom-com with debauched R-rated goofiness and well-developed characters. While Segel holds his own as the lead, he's surrounded by a strong cast of dependable co-stars, including Kristen Bell, Mila Kunis, Russell Brand, and Jonah Hill. This is a rom-com you won't want to forget.
Stream It On Peacock Here.
The Muppets (Disney+/Netflix)
Devoted fan Walter and his human friends (Jason Segel, Amy Adams) must reunite The Muppets to save the Muppet Theater from businessman Tex Richman (Chris Cooper).
Why It's A Good Option For Jason Segel Fans: It's time to play the music. It's time to light the lights. It's time to meet The Muppets again with their 2011 smash hit, The Muppets, which became a wonderful reprisal for this beloved puppet-based franchise, with Segel's loving assurance providing a steady hand as an actor and screenwriter.
Championing the project through every step in the process, The Muppets (2011) is certainly Jason Segel's baby, and you can feel his affection and dedication to this property throughout this emotionally gratifying, immensely engaging cinematic return. While it didn't signal the bright, prosperous second life for the brand that many fans (like myself) wanted, Disney's reboot gave us one of the finest Muppet movies in ages. Certainly, it's among the best Muppet movies since the 1980s, which is no small feat.
Stream It On Netflix Here And On Disney+ Here.
The End Of The Tour (Showtime/Hoopla)
Based on David Lipsky's memoir, a Rolling Stone journalist (Jesse Eisenberg) conducts a five-day interview with acclaimed author David Foster Wallace (Jason Segel).
Why It's A Good Option For Jason Segel Fans: The late David Foster Wallace is an imposingly large literary figure, filled with mountains of wit and tragedy. The wise, even mythic author behind Infinite Jest wasn't an easy personality to fully understand or comprehend. Likewise, he's not an easy persona to embody. Nevertheless, Jason Segel dutifully stepped up to the challenge in 2015's excellent character-based drama, The End of the Tour, resulting in quite arguably his finest performance yet, drama or otherwise, while also demonstrating the subtle depths of his grounded acting talents.
Though it's hard to know how truthful this correspondence between David Foster Wallace and David Lipsky is in its cinematic depiction, Jason Segel and Jesse Eisenberg infuse enough realistic emotional honesty to sell it immensely. You get immersed in their thoughtful, soul-searching pondering throughout this prolonged conversation.
Stream It On Showtime Here, On Kanopy Here, And On Hoopla Here.
Jeff, Who Lives At Home (CBS All Access/Amazon Prime)
Slacker Jeff (Jason Segel) starts to find himself when he spends the day with his unhappily married brother (Ed Helms), tracking down the latter sibling's potentially adulterous wife (Judy Greer).
Why It's A Good Option For Jason Segel Fans: Though it plays heavily into the Sundance formula, Mark and Jay Duplass' Jeff, Who Lives At Home carries a tender heart and an appropriately homey feel, thanks to its bright writing, sensitive direction, and sharp lead performances from Jason Segel as our titular housebound brother and Ed Helms as his emotionally-fraught brother.
Having established himself as a comedic star who excels at playing carefully-crafted earthbound characters, this aimless character felt right at home (hardy har) with Jason Segel's skillset, while also giving him more flexibility to play loose and comfortably with Jeff's unspecified motivations. This movie isn't anyone's best work, but it's certainly a good film. And it makes for an appealing and endearing watch, especially while you're snuggled up on the couch.
Stream It On CBS All Access Here And On Amazon Prime Here.
Knocked Up (Peacock)
A drunken one-night-stand between fun-loving stoner Ben (Seth Rogen) and career-driven Alison (Katherine Heigl) becomes serious when she gets pregnant.
Why It's A Good Option For Jason Segel Fans: For my money, Knocked Up remains Judd Apatow's finest film. The prolific writer-director-producer has a keen talent for spotting up-and-coming talent and giving them plenty of opportunities to shine in his high-profile projects. While this movie is undeniably Seth Rogen's showcase, his Freaks and Geeks co-star, Jason Segel, is quite a scene-stealer with all of his raunchy, ball-busting retorts.
Though he's strictly a supporting character in this sophomore feature, Jason Segel makes the most of every moment he's on-screen, demonstrating the promising untapped star power that would be realized in his own movie, Forgetting Sarah Marshall, the following year. There are several reasons why Knocked Up is one of the better studio comedies to come out in the past decade-plus, and Segel's slacker charm in this unconventional rom-com is only one of them.
Stream It On Peacock Here.
Freaks And Geeks (Hulu)
An ace student (Linda Cardellini) hangs out with a group of burnouts (Seth Rogen, James Franco, Jason Segel), while her freshman brother (John Francis Daley) navigates the tribulations of high school with his fellow geeks (Samm Levine, Martin Starr).
Why It's A Good Option For Jason Segel Fans: Before he found fame with How I Met Your Mother and Forgetting Sarah Marshall, Jason Segel got his early start on the cult-favorite coming-of-age NBC dramedy series, Freaks and Geeks. Through his affable screen presence, Segel established his easygoing charm, which would carry over into numerous other projects to come.
From executive producer Judd Apatow, Paul Feig's series only aired 12 episodes before the network pulled the plug (there were 18 episodes altogether), but it helped jumpstart the careers of Seth Rogen, James Franco, and Linda Cardellini. Likewise, Jason Segel's protective, weed-smoking "freak" became an early favorite, showing his talents for playing commonmen who wear their flaws openly but try to do right by others. This early role shaped Segel's career as we now know it.
Stream It On Hulu Here.
How I Met Your Mother (Hulu/Amazon Prime)
Through a series of extensive flashbacks, a father (Josh Radnor) recounts to his teenage kids (Lyndsy Fonseca, David Henrie) the story of how he met their mother.
Why It's A Good Option For Jason Segel Fans: Admittedly, How I Met Your Mother's clout has since waned, mainly due to its egregiously terrible series finale that stole a lot of the sitcom's comfortable goodwill. Nevertheless, while the finale is one for the ages (and not in a good way), the majority of the show is generally fun-loving, agreeable, and sweet-natured throughout.
While it does rely heavily on sitcom tropes, the likability of our five leads, Josh Radnor, Cobie Smulders, Neil Patrick Harris, Jason Segel, and Alyson Hannigan, constantly wins you over, particularly as they mine lots of believable sincerity and affectionate care from these familiar characters. Certainly, this winsome quality makes the early seasons so enjoyable to discover (or revisit). Similarly, Segel's talents for playing a dorky, endearing everyman were often well-showcased in these seven seasons.
Stream It On Hulu Here And On Amazon Prime Here.
The Discovery (Netflix)
After the afterlife is scientifically proven, a man (Jason Segel) helps a woman (Rooney Mara) break away from her dark past.
Why It's A Good Option For Jason Segel Fans: Of late, Jason Segel has ventured away from his affable comedy persona into darker, more sophisticated dramatic depths. While some of these subdued projects are better than others, one of his more underrated dramatic roles comes from Netflix's The Discovery, an inquisitive, intelligent sci-fi character study with a nicely understated leading man performance from Segel.
While its pompous philosophizing can get in the way of its grounded character work, Jason Segel, Rooney Mara, and Robert Redford each bring their own gentle dignity to their melancholy characters, resulting in a moody-but-mindful cerebral journey that raises some interesting questions and gets solid mileage out of its heady premise. If you love Segel for his laughs, you won't find The Discovery to be a divine affair. But if you like contemplative introspection, notably with Segel providing one of his most quietly curious performances, this movie is worth discovering.
Stream It On Netflix Here.
The Five-Year Engagement (HBO Max)
A time-spanning romantic dramedy that follows the multi-year engagement between Tom (Jason Segel) and Violet (Emily Blunt).
Why It's A Good Option For Jason Segel Fans: Though not without its shortcomings, including an uneven tone, overlong narrative, and a barrage of hit-and-miss jokes, all of which are highlighted by its overarching storyline, The Five-Year Engagement also celebrates Jason Segel's strengths as an actor and screenwriter alike, presenting an agreeable lead caught in extraordinary circumstances, while bringing enough believable heart and emotional honesty to keep it from completely falling off-the-rails. The actor/writer also works well with an appealing Emily Blunt, who's very capable of handling the movie's comedic and dramatic moments with equal assurance.
While this Forgetting Sarah Marshall reunion between Nicholas Stoller and Jason Segel can get too caught up in its own mopiness to keep the laughs plentiful, the director and actor/writer duo remain commendably good at finding the core heart of this ill-fated romance, while presenting a well-established couple who are easy to engage with.
Stream It On HBO Max Here, and if you're not an HBO Max subscriber, you can sign up for it here.
Come Sunday (Netflix)
A dramatized retelling of evangelist Carlton Pearson's (Chiwetel Ejiofor) ostracizing from his church and religious community after he preaches that there's no Hell.
Why It's A Good Option For Jason Segel Fans: Though its narrative structure could use some divine intervention, favoring an uninspired template that doesn't venture away from its conversational-but-conventional storyline, Netflix's Come Sunday is, nevertheless, an investing watch, thanks to its commanding lead performance from Chiwetel Ejiofor as a real-life evangelist who was shunned by his church and followers when he preached the notion that Hell doesn't exist. He captures the confusion and confoundment of his central character, though he's also aided by his dependable supporting cast, which includes LaKeith Stanfield, Martin Sheen, Danny Glover, Condola Rashad, and Jason Segel.
When it comes to Jason Segel's doubtful supporting turn, the actor doesn't get a ton of time to shine, but his reliable insecurities play a heavy role in establishing funneling doubts and moral questioning that our preacher faces in his uneasy new spiritual journey.
Stream It On Netflix Here.
Do you love Jason Segel? Which movie or TV show is your favorite? Let us know below!
Your Daily Blend of Entertainment News
Will is an entertainment writer based in Pittsburgh, PA. His writing can also be found in The Playlist, Cut Print Film, We Got This Covered, The Young Folks, Slate and other outlets. He also co-hosts the weekly film/TV podcast Cinemaholics with Jon Negroni and he likes to think he's a professional Garfield enthusiast.