What To Watch On Streaming If You Like Amy Adams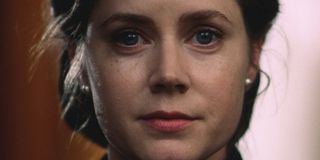 As an extraordinary actress capable of tackling multiple genres with exceptional range, Amy Adams is undeniably one of our finest working actresses. As a comedic, dramatic, musical, or even sci-fi star, Adams constantly finds new ways to stand out and make an impression on the big and small screen, showcasing the vast wealth of her fine talents through several strong roles — even in some not-so-great movies. As her profile rises, we'll hopefully only continue to see more compelling and enriching performances from this great talent — though if you're a fan of the six-time Oscar-nominated actress (as well you should be), there are currently several great titles available on streaming. Here are a few movies and performances that you should check out if you love Amy Adams.
The Master (2012)
An oversexed, PTSD-stricken Navy veteran (Joaquin Phoenix) is lured into the promises of grandeur provided by a charismatic leader (Philip Seymour Hoffman).
Why It's A Good Option for Amy Adams Fans: In Paul Thomas Anderson's masterpiece, The Master, Amy Adams does wonders alongside Joaquin Phoenix and Philip Seymour Hoffman — all of whom put forth some of the strongest performances of their respective careers. Though Phoenix's turn as Freddie Quell is revolutionary and Hoffman gives one of the most stunningly captivating performances of his tragically short career, Adams shapes an ingeniously subtle and sharply layered character who only grows richer the more you reflect on the film. She's one of its biggest puzzle pieces, and as you dissect the movie more, you can see more clearly how much she drives the ship. It's most certainly worthy of Adams' fourth Oscar nomination.
Stream it on Netflix here (opens in new tab).
The Fighter (2010)
Professional boxer Micky Ward (Mark Wahlberg) tries to escape the shadow of his older half-brother, Dicky (Christian Bale), and strives for greatness.
Why It's A Good Option for Amy Adams Fans: While The Fighter was Mark Wahlberg's commendable passion project, this biopic often finds the actor/producer outshined by his supporting cast, including Christian Bale, Melissa Leo (both giving Oscar-winning performances), and Amy Adams. Playing Micky's confident partner, Adams plays slightly against type by providing a sexy, mature character at a time when she was commonly associated with her child-friendly performances in Enchanted and Night at the Museum: Battle of the Smithsonian. The result is another electrifying performance from the terrific actress, earning her third Oscar nomination. As a David O. Russell production, the ensemble is predictably sharp, but Adams stands out and packs a wallop of a punch in this dynamic dramatic role.
Stream it on HBO Max here (opens in new tab).
Her (2013)
A lonely writer (Joaquin Phoenix) forms an unlikely relationship with a personality-driven operating system voice (Scarlett Johansson).
Why It's A Good Option for Amy Adams Fans: In Her, Spike Jonze's ultra-unconventional romantic drama, we explore the innate complexities of human relationships in an ever changing world in a compellingly original and inventive fashion. While Joaquin Phoenix's central performance understandably earned the majority of the movie's praise, along with Scarlett Johansson's voice-only role, Amy Adams' portrayal of Amy shouldn't be overlooked. As the friendly neighbor with whom our lead character finds a meaningful physical relationship, one that doesn't provide the same interpersonal fractions found in his courtship with the operating system voice, Adams really helps bring out the heart and soul of Jonze's adventurous concept. For as intriguing as the movie's central focus can be, she's the one who really brings it home in an effective way.
Stream it on SundanceNow here.
The Muppets (2011)
Muppet superfan Walter, along with his two human friends (Jason Segel, Amy Adams), must reunite the Muppets to prevent an evil oil mogul (Chris Cooper) from taking down a lifelong treasure.
Why It's A Good Option for Amy Adams Fans: Following an extended down period for the generation-jumping brand, The Muppets (2011) marked a triumphant return for the lovable felt fellows, anchored by Jason Segel's winning sincerity as both an actor and screenwriter, along with James Bobin's bubbly direction and Amy Adams' charming performance. As Mary, an elementary school teacher in a long-time relationship with Segel's non-committal Gary, Adams isn't given as many chances as her co-stars — human or otherwise — to shine here, but her character is radiant with the film's beautiful beating heart that helps this meta-return avoid too many bouts of melancholy. Plus, she gets to sing!
Stream it on Disney+ here (opens in new tab) and Starz here (opens in new tab).
Sunshine Cleaning (2008)
To pay for her son's private school tuition, a determined mother (Amy Adams) starts a biohazard removal/crime scene clean-up service with her unreliable sister (Emily Blunt).
Why It's A Good Option for Amy Adams Fans: As a late '00s Sundance dramedy, Sunshine Cleaning doesn't stray too far beyond formula, but it's benefitted nicely by its central two performances from Amy Adams and Emily Blunt. Both comedically and dramatically, these two actresses provide the goods — with Adams, in particular, showcasing her versatile talents in this prominent leading role. Her sibling dynamic with Blunt is engrossing and investing, allowing the characters to find their emotional truths despite the screenplay's habit of favoring indie cliches. And Adams often matches her character's determination, providing a nicely layered performance which helps the emotional beats hit as they should. She really shines (pardon the pun).
Stream it on Tubi here, PlutoTV here, and Hoopla here.
Vice (2018)
A darkly satirical biopic detailing how Dick Cheney (Christian Bale) became the most powerful Vice President in U.S. history.
Why It's A Good Option for Amy Adams Fans: As both a darkly seething biopic of a political figure from our recent past and an unapologetically biting political commentary, Adam McKay's Vice is scattershot and broad-reaching in its approach. Its presentation is punchy and sense of indignation is impassioned, but outside of its squared attack against former Vice President Dick Cheney, it's not entirely focused in its execution, favoring several different filmmaking tones and methods to visually and narratively communicate the depths of Cheney's depravity. While the film itself is flawed, there is no denying the excellence of its central performances. While Christian Bale's transformative turn received the lion share of the praise, Amy Adams' Oscar-nominated Lady Macbeth-esque portrayal of Lynne Cheney is similarly terrific.
Stream it on Hulu here (opens in new tab).
Doubt (2008)
Based on John Patrick Shanley's Pulitzer Prize-winning play, Doubt follows a Catholic school principal's (Meryl Streep) moral quandary whenever a sister (Amy Adams) informs her that the priest (Philip Seymour Hoffman) may have an ambiguous relationship with a troubled student (Joseph Foster).
Why It's A Good Option for Amy Adams Fans: Extraordinary plays don't always make the smoothest cinematic transitions, but Doubt does a tremendous job of capturing the livewire dramatic intensity of its original source material through its outstanding cast, including Meryl Streep, the late Philip Seymour Hoffman, Viola Davis, and Amy Adams. While Adams' supporting performance isn't as explosive as the ones from Streep and Hoffman can be, Adams' second Oscar-nominated performance brings a quiet dignity and an emotional reckoning that drives home the film's troubling thematics.
Stream It On HBO Max here (opens in new tab).
Catch Me If You Can (2002)
A cat-and-mouse game between a seasoned FBI agent (Tom Hanks) and a successful young con man (Leonardo DiCaprio) who swindles millions of dollars by posing as an airplane pilot, a doctor, and more.
Why It's A Good Option for Amy Adams Fans: Admittedly, in this pre-fame role, Amy Adams doesn't get as much screen time as some of her famous co-stars. But in typical Amy Adams fashion, she certainly made the most of every minute she's in during this Steven Spielberg picture. As Brenda Strong, a braces-wearing hospital worker whom Frank (Leonardo DiCaprio) falls for while posing as a doctor, the talented young actress brought a bright presence to this enchanting crime film, with this role serving as a fine introduction for her future as one of Hollywood's most valued A-list actresses. Looking back, she was clearly meant to be a star.
Stream It On SundanceNow here.
Nocturnal Animals (2016)
A wealthy art gallery owner (Amy Adams) finds herself haunted by a novel written by her first husband (Jake Gyllenhaal), finding parallels to their former relationship.
Why It's A Good Option for Amy Adams Fans: Director Tom Ford's sophomore feature was notably polarizing upon release, baffling audiences and earning a mixed reception among critics. While the movie's bleak, nihilistic approach left some audiences cold, Ford's craftsmanship as a filmmaker was continuously impressive, bringing out marvelous performances from his starry A-list cast, including Amy Adams, Jake Gyllenhaal, Michael Shannon, and Aaron Taylor-Johnson, to name a few. Some people were more receptive to the novelistic side, in which Ford dramatizes the intense book read by our lead character, but there's something oddly compelling about the cold demeanor of the movie's real-world side, guided with compelling intrigue by Adams' searching, intuitive, and sometimes darkly funny performance.
Stream It On HBO Max here. (opens in new tab)
Junebug (2005)
An art dealer (Embeth Davidtz) travels to North Carolina to meet her new in-laws, challenging their equilibrium in the process.
Why It's A Good Option for Amy Adams Fans: Though her talents weren't ever denied, it wasn't until 2005's resonant Sundance dramedy Junebug that Amy Adams' extraordinary acting skills were finally recognized, earning the first of six Oscar nominations to her name. While Adams' work in this suburban indie is remembered more so than the movie itself, director Phil Morrison makes a tenderly evocative arthouse ensemble piece with healthy bouts of heart and humor. The dialogue is bright, the characters are nuanced, and the performances are winning, but Adams undeniably steals the show, providing the observant wit and warmth that turns this little indie charmer into a winner. No matter how big or small the movie, Adams always found a way to make it count.
Stream It On SundanceNow here.
Night At The Museum: Battle Of The Smithsonian (2009)
Security guard Larry (Ben Stiller) infiltrates the Smithsonian Museum in an attempt to rescue Jedediah (Owen Wilson) and Octavius (Steve Coogan) following a shipping mishap.
Why It's A Good Option for Amy Adams Fans: While it's not the performance that she'll likely be remembered for, Amy Adams steals the show as Amelia Earhart in this family comedy. Providing a plucky, charmingly persistent take on the missing aviation pioneer, the Academy Award-nominated actress brings lots of spunk and goodwill to this blockbuster sequel, resulting in an entertaining comedic performance that — you guessed it — soars.
Stream It On Starz here. (opens in new tab)
Drop Dead Gorgeous (1999)
A small-town beauty pageant turns deadly when someone will go to any lengths to win.
Why It's A Good Option for Amy Adams Fans: Though it wasn't a critical or commercial hit upon release, Drop Dead Gorgeous has since become a cult favorite, particularly thanks to its excellent performances from its entertaining cast, including Kirsten Dunst, Ellen Barkin, Allison Janney, Denise Richards, Kirstie Alley, and Amy Adams in her film debut. Right off the bat, Adams had the chops, providing some of the movie's biggest laughs and showcasing her early talents in this supporting turn. While many audiences would recognize her acting prowess in the decade to follow, it was clear to this movie's admirers that she was ready for stardom — even if Hollywood wasn't too quick to recognize it. It was only a matter of time.
Stream It On HBO Max here (opens in new tab).
What are your favorite Amy Adams movies? Be sure to let us know in the comments!
Your Daily Blend of Entertainment News
Will is an entertainment writer based in Pittsburgh, PA. His writing can also be found in The Playlist, Cut Print Film, We Got This Covered, The Young Folks, Slate and other outlets. He also co-hosts the weekly film/TV podcast Cinemaholics with Jon Negroni and he likes to think he's a professional Garfield enthusiast.
Your Daily Blend of Entertainment News
Thank you for signing up to CinemaBlend. You will receive a verification email shortly.
There was a problem. Please refresh the page and try again.