Benedict Cumberbatch Reveals When Doctor Strange In The Multiverse Of Madness Is Filming, And It's Soon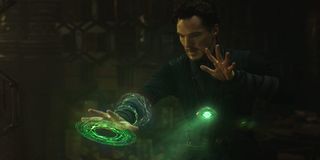 With Avengers: Endgame in the rearview mirror, Benedict Cumberbatch is one of the many MCU actors moving forward into Phase Four. And it doesn't sound like he'll be taking much of a break, as he's already working on pre-production for Doctor Strange in the Multiverse of Madness and revealed recently that the project will begin filming very soon.
While there's been plenty of rumors about the upcoming Doctor Strange sequel, one thing is for sure—we now know when they plan to start filming. Benedict Cumberbatch is busy on two other movie projects that are in post-production, and as the actor told WatchTime, he'll be shifting gears into production on Doctor Strange in the Multiverse of Madness very soon:
That is indeed exciting! Considering 2020 had a considerable MCU movie drought, Marvel fans are chomping at the bit for more MCU movies to come sooner rather than later. So, if Doctor Strange in the Multiverse of Madness is about to film this fall, hopefully that means it'll be able to meet the target release date.
While what we know about Doctor Strange in the Multiverse of Madness is sparse, the three most prevalent things are that Sam Raimi will be directing, it could be the closest thing to a horror movie the MCU has had and the "multiverse" is the keyword you should keep your eye on. That last concept could potentially set it up to be a big turning point in the next phase of the MCU.
As you may recall, Scott Derrickson directed Doctor Strange, but he has been replaced by acclaimed Spider-Man director Sam Raimi for the sequel. Sam Raimi, of course, is a powerhouse director, so the fact that he'll be hopping into the director's chair for this film might indicate the sheer importance of it. It also energizes a great deal of Marvel fans who are still in love with Raimi's Spider-Man films.
Of course, Sam Raimi also has a long history in the horror genre, which is something that might come in handy with this Doctor Strange sequel. While there has been pushback against the idea that Doctor Strange in the Multiverse of Madness will be a horror film, Kevin Feige has admitted that it will include scary sequences. So, it sounds like we can at least expect a few frights.
Perhaps the most interesting element of the movie is the "multiverse," which has sparked a lot of discussion of what that might mean for the MCU and if Marvel can successfully pull it off. The multiverse could open up all sorts of wild possibilities, like introducing Tom Cruise as an alternate Tony Stark.
Whatever the case may be, I know I'm excited to hear that the Doctor Strange in the Multiverse of Madness cast and crew is gearing up to kick off principal photography soon. For more movie news, be sure to stay tuned to CinemaBlend.
Your Daily Blend of Entertainment News
Thank you for signing up to CinemaBlend. You will receive a verification email shortly.
There was a problem. Please refresh the page and try again.