Iron Man And 6 Other MCU Characters Who Need To Stay Dead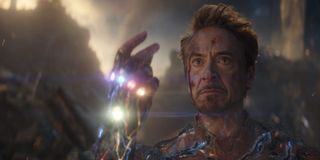 Marvel took a bold swing with the last two Avengers films when the franchise simply let half of civilization die with Thanos' snap, dusting away many of the near and dear superheroes we'd been introduced to over the course of a decade. Following the jaw-dropping conclusion of Infinity War, Endgame allowed its heroes to reverse Thanos' grand plans, but not without more cost to the MCU. There have been a lot of casualties thus far, including Iron Man's heartbreaking death, and Captain America's dance into the sunset. And, sometimes, that's OK.
There's an element of excitement about the Marvel universe having the power to bring back certain characters in mysterious and creative ways if it wants to. Such as how Tom Hiddleston's Loki is still in play in the MCU, with an upcoming Disney+ show, through a time travel loophole even though Thanos totally killed him in Infinity War. Or how Paul Bettany gets to keep playing Vision on WandaVision even though his character was also a sacrifice of the war. While we're all for MCU characters cheating death every once in a while, here are the exceptions that we don't want to see resurrected in Phase 4.
Iron Man
Alright, so we love Robert Downey Jr's Tony Stark 3000 and we'd watch the actor play the role for years longer if we could. But, Avengers: Endgame gave him a valiant death. Iron Man saved civilization with a single snap and thus completed his arc and went from becoming a selfish playboy to a true, self-sacrificial hero. Since the character's death there's been some conversation about whether he should return. But, Marvel should confidently stand by its Endgame endings for Iron Man and Captain America. Fans were given a truly great finale for the two founding Avengers, and bringing them back would cheapen it.
Black Widow
This also goes for the third major death in Endgame. While Black Widow's sacrifice was not treated with as much care as Cap and Iron Man's, the death was still vital to the Endgame mission and Marvel should not go back on it. We are getting a (hopefully) proper sendoff for the character with the upcoming Black Widow film, and that does have its issues, considering we never really got enough Natasha until she died, but it does feel like the right time is coming to say goodbye to the Avenger. She'll always be an important part of the fabric of the franchise, but it's time to usher in a new era of female heroes, such as Florence Pugh's Yelena, who could carry on the torch.
The Ancient One
As we get ready for the sequel Doctor Strange in the Multiverse of Madness, let's talk for a moment about Tilda Swinton's character. The actress played The Ancient One in the origin story before dying in a fight at the end of the film. She does come back to Stephen in her astral form to give him some advice, and appear in the 2012 sequence in Avengers: Endgame thanks to time travel, and she could theoretically come back into the mix because magic. Although the Ancient One was pivotal for the hero, many believe the character was cast all wrong and it doesn't seem like she can serve the story much more by returning.
Ego
Now, this one seems unlikely to resurface, but let's keep it that way, huh? Guardians of the Galaxy 2 found an intriguing plot in introducing us to Peter Quill's Celestial dad, Ego, played by Kurt Russell. As the movie revealed, Peter's birth was all part of Ego's larger plan to remake the universe in his own image, which was foiled thanks to Star-Lord's rage upon learning that he purposely gave his mom cancer. The story of Ego was a good one and something that seriously moved forward Star-Lord's story, but we're all good with that being that for the Celestial. Now, The Eternals will involve the Celestial race, since Eternals are off-spring of Celestials. Ego could somehow play a role here, but how about "no" to more of the a-hole dad.
Yondu
To jump off Guardians of the Galaxy 2 a bit further, another character who died in the James Gunn movie is Michael Rooker's Yondu. It was a sad death, considering Quill had just found out that Yondu was his true father figure all this time. Yondu sacrificed himself for Peter at the end of the film by giving him the space suit he'd need to survive. Yondu's death is one of those moments in the MCU that should stick with us and hold weight, instead of being simply erased because Marvel finds a way to bring him back. We miss you Mary Poppins, but we'd rather have his death matter.
Aldrich Killian
Let's throw it way back to Iron Man 3's villain, Guy Pearce's Aldrich Killian, a.k.a. the closest the universe had been able to get to the Mandarin. Killian was one of the weakest villains (thematically) in the MCU, and he died fair and square at the end of the movie by Pepper Potts' hands. Moving forward, Aldrich Killian could maybe play a part in Shang-Chi and the Ten Rings, since the film is set to introduce the real Mandarin, to be played by Tony Leung. There could be a connection of some sort between the characters, because Aldrich assumed his title in Iron Man 3, but how about we don't look back, and just keep Killian in that film.
Thanos
And finally, to end our Marvel "stay dead" list, is Josh Brolin's Thanos. This big purple dude caused some serious damage to the universe and our Avengers in the MCU. And although he will go down in history as one of Marvel's most infamous adversaries, we're so traumatized by everything he did and do not want to see him for a single second more in the franchise. He was well utilized in the universe, and does not need any more screen time after all the havoc he wrought with the Avengers. Please. Stay. Dead.
On the flipside, we're crossing our fingers that a few dead characters do actually end up being alive in the MCU moving forward. Hopefully Vision somehow gets resurrected through the events of WandaVision! We'd follow Peggy Carter anywhere! And, please, please bring back Michael B. Jordan's Killmonger for Black Panther 2, Marvel!
YA genre tribute. Horror May Queen. Word webslinger. All her writing should be read in Sarah Connor's Terminator 2 voice over.
Your Daily Blend of Entertainment News
Thank you for signing up to CinemaBlend. You will receive a verification email shortly.
There was a problem. Please refresh the page and try again.