Henry Cavill: What To Watch Streaming If You Like The Superman Actor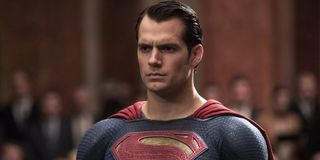 CinemaBlend participates in affiliate programs with various companies. We may earn a commission when you click on or make purchases via links.
Superman has been around for decades, and many actors in the past have taken on the challenge to accurately portray the famous superhero for fans to enjoy. Most recently, Henry Cavill has signed on to that role, and while some of the movies he has been in have been questionable (ah, Batman V. Superman), there's no denying that Cavill fits the part.
However, Cavill is known for plenty of other roles besides playing the red-caped superhero, most that fans of the actor should watch if they want to get a taste for what Cavill can do. From big films like Justice League to hit TV shows like The Witcher, this is what you should watch if you like Henry Cavill.
The Witcher (Netflix)
Well, obviously I have to put The Witcher on here. Arguably, the fantasy series is one of Cavill's biggest successes, as it should be. The Witcher tells the story of Geralt of Rivia, one of the last known Witchers (basically a monster hunter) in the world, and the adventures of his life, told over hundreds of years in a medieval-esq kingdom full of monsters, sorcery, and evil men and women.
Henry Cavill has taken on the main role as Geralt and has done a great job of it. I think what makes The Witcher great to watch more so is that Cavill is actually a big fan of the series, both the books and the games, so he was extremely dedicated to getting this part just right. And, obviously, it's one of the most-viewed original series' ever on Netflix, so the fans are there.
Stream it on Netflix here.
Enola Holmes (Netflix)
Switching over from a TV show to a movie, Enola Holmes is a surprisingly interesting and fun film that Cavill rocks in. Enola Holmes tells the story of the youngest of the Holmes siblings, Enola, and how she wants to live up to the legacy of her brother, the famous Sherlock Holmes, while trying to run away from the pressures that society puts on her.
Cavill portrays Sherlock, and at first, I was a bit skeptical, considering I never thought of Sherlock as this big, muscly man. But, the movie (and Cavill himself) do a great job of showing that amount of intrigue and brilliance that the character is known for. Plus, he's just a side-character.
Stream it on Netflix here.
The Tudors (Showtime)
Arguably what made Henry Cavill famous, The Tudors is all about the reign and the marriages of King Henry VIII – otherwise known as the man who basically invented divorce in England. The series covers the drama that came with his reign, and the repercussions of his actions.
The actor portrayed Charles Brandon, the first Duke of Suffolk, and more importantly, the brother-in-law to Henry VIII. There's a reason why Cavill received many roles after this show, and it's because he did a great job at portraying the historical figure. Even though this part of English history is dramatized frequently on TV due to the craziness of it all, it's fun to watch a series really lean in to the insanity of what went down, even if the show does take some liberties with history now and then.
Stream it on Showtime here.
The Cold Light Of Day (Showtime)
Cavill really does have some range, because we are moving away from historical dramas and stepping into an action thriller with The Cold Light of Day. The story follows the tale of Will, who has to take matters into his own hands when his family is kidnapped by foreign agents, who were searching for a briefcase which Will's father stole.
When I look at Cavill, I always instantly think of an action-movie man, because he has that sort of charisma where he's very easy to cheer on. Not only that, the man really knows how to fight. In addition, the movie also stars some big names alongside him, like Bruce Willis and Sigourney Weaver, so it's worth a shot to watch just for the cast.
Stream it on Showtime here.
Mission Impossible - Fallout (Hulu)
Moving onto another action film, Cavill lent his skills over to the Mission Impossible franchise by joining the cast of Mission Impossible – Fallout. If you don't know what this series is, you've truly been living under a rock, considering it's been going for decades now. Tom Cruise leads this spy franchise, showing off his moves in numerous crazy stunts, to continue the story of Ethan Hunt.
However, even if Cruise is the main star, Cavill does a fantastic job playing August Walker. Not only do you get to see his action skills once more (improved at this point because he's been Superman for some time now), you get to see him as the type of character he doesn't normally portray. I won't give away too many spoilers, but it's certainly a change. Plus, you get to see him with a sick mustache. Totally worth the watch.
Stream it on Hulu here.
Night Hunter (Amazon Prime)
Moving on to a psychological thriller, Cavill continued to expand his work by joining the cast of Night Hunter. The tale follows a police department and a vigilante getting caught up in a scheme which involves a man who was recently arrested after being linked to years of female abductions.
While it's not Cavill's best film to date (in my opinion), I personally think it is super cool to see him take on this genre, and in a role that I had never seen him in before previous to my viewing of this film. Even so, there are plenty of other stars like Stanley Tucci, Alexandra Daddario, and Nathan Fillion to watch alongside Cavill, so there's no denying the star power that comes with the film. Night Hunter might be worth a shot if you're into thrillers.
Stream it on Amazon Prime here.
Sand Castle (Netflix)
Now, moving onto a war drama (I wasn't joking when I said Cavill has dipped his toes into everything), we take a look at the Netflix original movie, Sand Castle. The film, based on the true events of the film's writer, takes place during the 2003 Iraq War and follows the story of a young rifleman named Matt Ocre.
While there are so many war movies out there, I think what makes this one stand out is that it talks about one of the more recent wars. Most war films I've seen focus on World War 1 or 2, or the Vietnam War but this one touches a much more recent conflict. Cavill, who portrays a captain leading a Special Forces unit, does a good job of showing the dangers of war and the horrors that can come from it. Sand Castle is definitely worth the watch if you're into war movies.
Stream it on Netflix here.
Man Of Steel And His Other DCEU Movies (HBO Max)
Alright, I might have said earlier that some of Cavill's films in the DCEU haven't been the best (just because of Batman V. Superman: Dawn of Justice), but that doesn't mean that he's not good in them. In fact, Cavill is actually really great as Superman/Clark Kent. You can also see him in Justice League, as well as Man of Steel, which kicked off the DCEU. In both of these, Cavill does a great job of showing off the awesomeness that is Superman.
Even so, with Zack Snyder's Justice League set to come out on HBO Max soon, what better time than now to catch up on Cavill's other DCEU work? I think it would quite an enjoyable afternoon. While many reports have come out saying Cavill could still reprise the role, these movies are definitely worth the time to see where he began with the iconic character.
Stream all the DCEU movies on HBO Max here. And if you're not an HBO Max subscriber, you can sign up here.
It's clear that Cavill has acting chops to spare in multiple genres. Only time will tell where he goes next, but, hopefully, it will be the completion of The Witcher Season 2.
Your Daily Blend of Entertainment News
Big nerd and lover of Game of Thrones/A Song of Ice and Fire. Will forever hate season eight. Superhero and horror geek. And please don't debate me on The Last of Us 2, it was amazing!