How Tom Holland's Spider-Man 3 Can Do The Multiverse Without Tobey Maguire And Andrew Garfield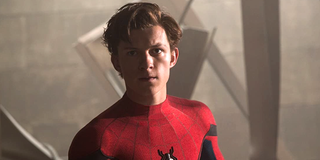 Tom Holland's recent comments regarding former Spider-Man Tobey Maguire and Andrew Garfield, and the supposed confirmation that neither would appear in the as-yet-untitled Spider-Man 3, set off a bit of a firestorm in the fanbase. Spidey junkies who had allowed themselves to believe in the possibility of a generational Spider-Man team up drank too much of the Kool-Aid, setting themselves up for possible disappointment if and when Maguire and Garfield don't join Holland on screen for a theatrical Multiverse adventure through the Spider-Man universes. It would be a team-up for the ages…
… but you don't need Tobey Maguire and Andrew Garfield. At least, not yet.
Think about this for a second. Marvel and Sony have been sharing the character of Spider-Man since Tom Holland made his debut in Marvel Studios' Captain America: Civil War back in 2016. Spidey's appearances in the MCU have benefitted both studios, and on paper, it makes sense to build to a point where the MCU Spider-Man can cross over with the existing Sony-only Spider-Men (Tobey Maguire, Andrew Garfield) in a big-screen adventure that's worthy of all three Spider-Men.
Spider-Man 3 is not that film. I say that knowing full well that none of us are aware of what the storyline in the untitled Spider-Man 3 is going to be. Hell, Tom Holland had this to say to Esquire magazine during that now famous cover story:
In other interviews, Holland has described his Spider-Man 3 as ambitious, and he teased fans about the need to "buckle up" for when they finally are able to witness something he was lucky enough to film in Atlanta. We have no clue, but if we take Holland at his word, it's not his Peter Parker meeting two other Peter Parkers from alternate Spider-Man universes.
But there's a very simple way that Marvel and Sony can bridge the gap towards a Multiverse movie for Spider-Man, and it's staring at us in the casting news. They can tease the villains from existing Sony Spider-Man movies -- like Jamie Foxx's Electro and Alfred Molina's Doctor Octopus -- and use THEM to establish the existence of other Spider-Man worlds. Then use that tease to build to the need to bring Tobey Maguire and Andrew Garfield into the MCU.
Like a Sinister Six movie.
Let's picture this in context with Marvel's current WandaVision show. Episode five of the program ended with a portal into the mutant Multiverse, as Quicksilver showed up at Wanda and Vision's fictional sitcom door… only, it wasn't MCU actor Aaron Taylor Johnson. It was Fox's mutant Quicksilver, played by Evan Peters. The possibility of "recasting" landed on the table, and characters who were stuck at studios not named Marvel now are available, thanks to corporate cooperation.
This can work in Spider-Man 3, using Jamie Foxx and Alfred Molina instead of Tobey Maguire and Andrew Garfield. Imagine this. We know that Benedict Cumberbatch is due to play Doctor Strange in the third Spider-Man movie. We don't know how badly Wanda (Elizabeth Olsen) is going to damage the MCU by the end of WandaVision, but imagine she starts deteriorating the fabric that separates multiple universes. Doctor Strange is trying to repair the damage, but two villains from OTHER Spider-Man universe break through, landing in Tom Holland's world the way that Evan Peters' Quicksilver landed in Wanda's world.
Now these versions of Doctor Octopus and Electro are Tom Holland's problem. In addition to Vulture (Michael Keaton), Mysterio (Jake Gyllenhaal), Scorpion (Michael Mando) and either Morbius (Jared Leto), Venom (Tom Hardy) or a villain we might meet in Spider-Man 3. Tom Holland's Peter can't face these six villains alone. He'd need help.
And then you roll Tobey Maguire and Andrew Garfield in for a Sony-produced Sinister Six standalone movie. This makes sense from a studio perspective. Sony has bent over backwards to lend its most important asset, Spider-Man, to Marvel Studios. And it has worked out well for all involved, which is why the deal got extended after nearly falling apart in 2019. But I don't see Sony also handing over Maguire and Garfield when they are blatant Sony properties. Sinister Six has been a dream project for Sony for some time. Pitting three Spider-Men against that rosten of villainy? That's Avengers: Endgame level geekiness for Spider-Man fans around the globe.
And it shouldn't all be squeezed into one Spider-Man movie that still has to pick up the pieces of the bombshell that Mysterio dropped on Peter in the end-credits of Spider-Man: Far From Home.
Here's how I would do it. Let this third Spider-Man movie bring the "Home" trilogy to a close. Settle Peter's issue with his identity, and develop his relationship with MJ (Zendaya), Aunt May (Marisa Tomei) and his classmates. Give him a full-blown New York adventure with a classic Spidey villain. Kraven the Hunter makes sense, though you would think by now we would have heard some rumblings of casting on that front. Man, this production has a tight lid.
But tighten up the Multiverse by teasing Molina and Foxx as Doc Ock and Electro, setting the stage for a Sinister Six movie. And THAT is where you bring in Tobey Maguire and Andrew Garfield. Don't try to hide their involvement. Announce it in advance, make it an event, and then bask in the glory as you lay out this massive team up, dropping in theaters in 2024.
Or not. Who knows? Tom Holland can't even tell you what's going on, so this is pure speculation from me. I've been right before, because the future of Spider-Man on screen means the world to me. And this is how I would do it. How would you do it? Let me know in the comments, and then bookmark our Spider-Man 3 preview page, because all of the latest webslinging news is going to land there as soon as we publish.
Sean O'Connell is a journalist and CinemaBlend's Managing Editor. He's frequently found on Twitter at @Sean_OConnell. ReelBlend cohost. A movie junkie who's Infatuated with comic-book films. Helped get the Snyder Cut released, then wrote a book about it.
Your Daily Blend of Entertainment News
Thank you for signing up to CinemaBlend. You will receive a verification email shortly.
There was a problem. Please refresh the page and try again.