Doctor Octopus: 6 Things To Know About The Spider-Man Villain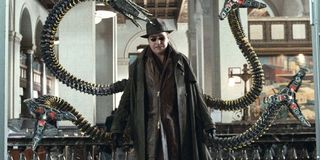 Of all the villains that one might have expected to see in the tentatively titled Spider-Man 3, it does not sound like too much of a stretch to imagine Doctor Octopus as one of the main baddies. However, it is the way they are apparently inducting him into the Marvel Cinematic Universe continuity, by having Alfred Molina reprise the character, that has fans weaving a tangled web of questions.
The news of the Golden Globe-nominated, 67-year-old Brit's return to his role from Sam Raimi's 2004 sequel to Spider-Man arose after an announcement that the MCU threequel would also star Jamie Foxx, once again playing his villainous The Amazing Spider-Man 2 part, Electro. Not to mention, both of those updates would follow rumors of Tobey Maguire and Andrew Garfield joining Tom Holland as three cross-dimensional Peter Parkers that seem more likely each day. It almost sounds too insane of an idea to work, but if it does, just imagine the opportunities it could bring to the franchise - especially with the equally insane twists in Doc Ock's story from the comics.
In case you are not aware of the iconic moments I am referring to, allow me to give you a refresher. It just might come in handy for when Alfred Molina officially comes back for more mechanical mayhem in the MCU. The following are six essential facts that every Spider-Man fan should know about Doctor Octopus, starting at the very beginning.
Doctor Octopus Was An Esteemed Nuclear Physicist
Created by Stan Lee and Steve Ditko, Otto Gunther Octavius first appeared in The Amazing Spider-Man #3 in July 1963. Despite his rough upbringing with a violently abusive construction worker father and domineering mother, the Schenectady, New York native grew up to be a gifted and respected expert in nuclear physics with a Ph.D. and honorary biochemistry doctorate from M.I.T. to prove it.
In fact, the nickname Doctor Octopus was initially coined by his co-workers out of admiration for the set of four mechanical arms he developed to more safely perform his work. Unfortunately, it was a breach in safety that caused Octavius' invention and his playful alias to become associated with evil.
Personal Tragedy Led To The Accident That Made Doctor Octopus A Supervillain
While working at the U.S. Atomic Research Center, Otto Octavius struck up a romance with colleague Mary Alice Anders, whom he eventually proposed to - much to his mother's chagrin. After breaking off the engagement, he quickly grew to resent his mother (also named Mary) for forcing him into it. An angry confrontation caused Mary to suffer a fatal heart attack.
Holding himself responsible for his mother's death, Octavius struggled to distract himself from his guilt by focusing on his work. However, one night, he overlooked essential safety protocols, causing a radiation leak that nearly killed him, but instead resulted in his mechanical arm harness fusing to his body. He also suffered irreversible brain damage that, while allowing him to control his arms telepathically, also gave him a superiority complex that fueled his criminal lifestyle as Doctor Octopus.
Spider-Man 2 Changes Doctor Octopus' Origin Slightly
If the above summary sounds unfamiliar, your only exposure to Doctor Octopus' story may come from Spider-Man 2. Indeed, Sam Raimi does take a few liberties with his depiction of the that are quite distinct, but at least get the point across.
Alfred Molina plays Otto Octavius as a tragic figure, but due to death of his wife, Rosalie (future Tangled actress Donna Murphy), and from the same accident that permanently fuses his mechanical arms to him. Plus, the film makes him the victim of his apparently sentient tentacles' mental control, instead of the other way around, luring him into a life of crime to fund an even more dangerous experiment than before. The reinterpretation raises questions of how it will translate in the MCU, not to mention what bringing this character back could mean for the future of Sony's own universe of Marvel-based movies.
Doctor Octopus Founded The Sinister Six
Fans have been waiting to see the Sinister Six (the collective partnership of the worst in Spider-Man's rogues gallery) brought to life on the big screen for years. There was a time when Sony was close to making it a reality, until the lackluster reactions to The Amazing Spider-Man 2 killed its chances. However, the return of Doctor Octopus suggests another chance at life for the villainous crew since he was the one who brought them together. Realizing that defeating Spider-Man is a feat he could not achieve alone, Otto Octavius enlisted the help of Vulture, Electro, Kraven the Hunter, Mysterio, and the Sandman to form the first grouping of the Sinister Six. With most of those baddies already cast and a Kraven the Hunter solo film reportedly on the way, perhaps we should anticipate the announcement of Thomas Haden Church of Sandman fame in the latest Spider-Man sequel, too?
Doctor Octopus Once Swapped Bodies With Spider-Man
Once, a lone Doctor Octopus was able to take down Spider-Man after figuring out a way to transfer his consciousness into the Peter Parker's body and vice versa. Equipped with the webslinger's memories, Otto Octavius decided the best way to defeat Spider-Man was to become him, but better, as part of the Superior Spider-Man comic arc.
It is a story of many intriguing occurrences, including Octavius putting away the Sinister Six, improving Parker's relationship with J. Jonah Jameson (mayor of New York then), and absorbing the Symbiote to become Superior Venom and quickly losing control of himself. That actually becomes one of the many reasons he decides to switch back with Parker (whose consciousness had essentially been haunting Otto almost the entire time), thus resurrecting the Amazing Spider-Man and ultimately ending Doctor Octopus' story in Marvel Comics.
Doctor Octopus And Aunt May Almost Got Married
Of course, there is one Doctor Octopus moment from the comics that just about blows Superior Spider-Man out of the water in terms of unsettling obscurity. That moment would have to be when he and Peter Parker's own aunt came sickeningly close to tying the knot.
Apparently, in 1974, sweet, old May Parker came down with a whopping case of Stockholm Syndrome after Otto Octavius used her as bait to trap Spidey, which turned to love, and then an engagement. Of course, this was all really part of a plan to get his dirty tentacles on a small Canadian island housing a commercial nuclear reactor that had Aunt May inherited - which would explode after Hammerhead interrupted the wedding, inciting a chase and vicious brawl nearby.
What do you think? Is an engagement between Alfred Molina's Doc Ock and Marisa Tomei's Aunt May something you would be interested in seeing in the MCU, or should that story stay in the vault? Let us know in the comments and be sure to check back for additional information and updates on this upcoming Spider-Man sequel, as well as even more inside looks into the origins of your favorite comic book characters, here on CinemaBlend.
Jason has been writing since he was able to pick up a washable marker, with which he wrote his debut illustrated children's story, later transitioning to a short-lived comic book series and (very) amateur filmmaking before finally settling on pursuing a career in writing about movies in lieu of making them. Look for his name in just about any article related to Batman.
Your Daily Blend of Entertainment News
Thank you for signing up to CinemaBlend. You will receive a verification email shortly.
There was a problem. Please refresh the page and try again.