10 Great Animated Movies And TV Shows Centered On Black Characters, While We Wait For Soul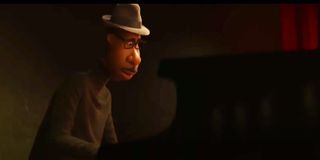 Disney and Pixar planned to release the new animated film Soul in 2020, but the fate of the movie's release is now unknown. Pixar's Soul is about a teacher who loves jazz and dreams of becoming a jazz musician. He finally got his big break only to have his soul separated from his body after an accident. He then arrives at The Great Before, where he must work to try to reunite his soul with his body. Soul features the voice acting of Jamie Foxx, Tina Fey, Angela Bassett, Daveed Diggs, and many more.
Soul is set to be Pixar's first animated feature with a black lead character. This is exciting because Pixar is known for making really heartfelt and captivating animated features, and seeing more diversity from Pixar may inspire other companies to follow its example. As revolutionary as Soul is for the world of Pixar, it's far from the first animated film with a Black lead. There are many entertaining animated TV shows and movies with black main characters. Let's take a look at some of them.
The Princess And The Frog
The Princess and the Frog is Disney's first animated film featuring a Black princess. Tiana (Anika Noni Rose) dreams of opening a restaurant in New Orleans, but she gets drawn into the world of magic and princes when she meets Prince Naveen (Bruno Campos). He gets turned into a frog and believes she's the princess who can save him. He kisses her and they both become frogs.
The film also features voiceovers by Keith David, Jenifer Lewis, and Oprah Winfrey. It's a vibrant animated film that pays tribute to the bold and lively nature of New Orleans, while also adding a unique spin to The Frog Princess tale. Tiana is a charismatic, hardworking, and intelligent princess that gives little girls, especially ones of color, someone to admire.
Stream it on Disney+ here.
Spider-Man: Into The Spider-Verse
Miles Morales (Shameik Moore) is bitten by a radioactive spider, and then he encounters the Spider-Man of his world, voiced by Chris Pine. Soon, he meets various Spider-men and women from various universes. The Spider-Man: Into the Spider-Verse voice cast includes Jake Johnson, Hailee Steinfeld, Mahershala Ali, Brian Tyree Henry, Nicolas Cage, Kimiko Glenn, and John Mulaney.
Spider-Man: Into the Spider-Verse won the 2019 Academy Award for Best Animated Feature. Anyone who has seen the film can see why it is engaging, with an effortless blend of comedy and drama, and visually compelling animation. Miles Morales is a biracial character who has African-American and Puerto Rican heritage. Miles' race and identity don't play a huge part in his storyline in the movie (at least not on a surface level), but I'm sure little kids of all ages and races loved seeing such a diverse hero on the screen.
Stream it on Netflix here.
The Proud Family
The Proud Family is a Disney Channel animated series that aired from 2001 to 2005. It followed the Proud family, with the main focus on Penny Proud (Kyla Pratt). It included the adventures of all the family members, but mainly Penny dealing with the woes of being a teenage girl, friends, school, and family. The Proud Family voice cast includes Karen Malina White, Tommy Davidson, Soleil Moon, and Paula Jai Parker.
The Proud Family also had a movie that served as the series official finale. In 2020, Disney+ announced plans to bring the series back for a continuation series. The Proud Family was full of wacky characters and life lessons, which made it a must-see animated show for those growing up in the early 2000s.
Stream it on Disney+ here.
Hair Love
Hair Love is a short animated film by Matthew A. Cherry. It won the 2020 Academy Award for Best Animated Short. It follows a father as he tries to tackle the complicated world of doing his daughter's hair. It's a tribute to the beauty of black hair and the love between a father and daughter. Issa Rae is the only voiceover in this film as the little girl's mother.
Hair Love is only six-minutes long but it tells a very captivating story of a family who is dealing with a major turmoil and coping with it to the best of their ability. It also speaks to the Black culture in its depiction of Black hair and teaching young girls to love and not fear it. Their hair is a part of their culture, identity, and uniqueness.
Stream it on YouTube here.
Bebe's Kids
This 1992 animated feature is based on comedian Robin Harris' stand-up comedy act. He's voiced in the film by Faizon Love. The Bebe's Kids voice cast includes Vanessa Bell Calloway, Marques Houston, Tone Loc, and Nell Carter. It's a movie about a man who takes his girlfriend, her son, and her friend Bebe's kids to a day at the amusement park. Bebe's kids are little terrors so they create havoc the entire day.
Bebe's Kids is an adult cartoon that's both really funny and heartfelt. Bebe's kids create destruction wherever they go, but the movie explains why they're so dysfunctional, and like Robin, you start to care about these kids and their happiness. It's also partly a musical, so it includes some really fun tunes like "I Ain't' Havin' It."
Stream it on Pluto TV here.
The Cleveland Show
The Cleveland Show is a spin-off of Family Guy and follows Cleveland Brown as he moves back to his hometown and marries his high school crush Donna Tubbs. The show follows the blended family of Donna and Cleveland. It's created by Seth MacFarlane, Richard Appel, and Mike Henry. The voice cast includes Sanaa Lathan, Nia Long, Reagan Gomez-Preston, and Mike Henry.
If you like Family Guy and American Dad, basically any of Seth MacFarlane's animated shows, then likely you'll enjoy The Cleveland Show because it falls right into that genre of dysfunctional families with outrageous characters and a dad who is a bit dimwitted. The Cleveland Show aired from 2009 to 2013, and the character then returned to The Family Guy.
Stream it on Hulu here.
The Boondocks
The Boondocks is an animated series created by Aaron McGruder. It follows the Freemans as they live in Woodcrest, an overall white suburb. The Boondocks satirized social classes, stereotypes, and Black culture. It aired from 2005 to 2014. The main voice cast included Regina King and John Witherspoon.
The Boondocks was a hilarious Adult Swim series that discussed American culture in a way that criticized it and showed how it's viewed from a Black perspective. It often parodied major Black films or figures, like the movie Juice and the R. Kelly trials. HBO recently announced plans to reboot the series and already gave it a two-season order.
Stream it on HBO Max here.
The PJs
Eddie Murphy, Larry Wilmore, and Steve Tompkins created this stop-motion sitcom about life in a public housing project (PJs for short). Eddie Murphy starred as Thurgood Orenthal Stubbs, the superintendent of the Hilton-Jacobs projects. The PJs got most of its comedy from Thurgood and the weird and wonderful tenants. The PJs voice cast also included Loretta Devine, Ja'net Dubois, Shawn Michael, and Cheryl Francis Harrington.
The PJs aired from 1999 to 2001, it was produced by Ron Howard and Brian Grazer. The show was controversial because social activities, like Spike Lee, accused the series of racist stereotypes of those living in the projects.
Stream it on Pluto TV here.
Happily Ever After: Fairy Tales For Every Child
Happily Ever After: Fairy Tales For Every Child is an HBO anthology series that aired from 1995 to 2000. Robert Guillaume acted as the narrator. The series followed different fairy tales and folklore with different cultural twists, and it included voiceovers by a variety of celebrities.
Happily Ever After: Fairy Tales for Every Child was HBO's attempt of diversifying the world of fairy tales by depicting them under a different culture landscape and included a diverse body of actors. For example, the Rumpelstiltskin episode had a Jamaican twist and included voiceovers by Jasmine Guy, Robert Townsend, and Denzel Washington. Among the many actors that appeared in episodes are BD Wong, Danny Glover, Rosie Perez, Nestor Carbonell, Margaret Cho, Will Smith, and Maya Angelou.
Stream it on HBO Max here.
Kirikou And The Sorceress
Kirikou and the Sorceress is a French animated feature directed and written by Michel Ocelot. It takes inspiration from West African folklore. The film starts with the birth of Kirikou and follows his journey as a newborn who constantly finds ways to help and save his village from the evil witch Karaba. It's because of Kirikou's small stature that he's able to fix many of the village's problems, but it is his brave heart that pushes him through.
I don't know much about West African culture, so I cannot say if the film is a fair, accurate, or flattering portrayal of it. I can say that the film is unique and brings some attention to West African folklore. It's not a kid-friendly film as all the female characters are nude, as is baby Kirikou, but most of the messages about being kind to others, not judging people by their size, and forgiveness, are all messages that appeal to younger audiences.
Stream it on Amazon Prime here.
The future of Pixar's Soul is still to-be-determined, but right now it's still set for a November 20, 2020 release date. Even if it is moved to 2021, hopefully, some of these animated films keep your attention until its release.
Spent most of my life in various parts of Illinois, including attending college in Evanston. I have been a life long lover of pop culture, especially television, turned that passion into writing about all things entertainment related. When I'm not writing about pop culture, I can be found channeling Gordon Ramsay by kicking people out the kitchen.
Your Daily Blend of Entertainment News
Thank you for signing up to CinemaBlend. You will receive a verification email shortly.
There was a problem. Please refresh the page and try again.