Ryan Reynolds Responds To Rumor That His Green Lantern Will Appear In The Snyder Cut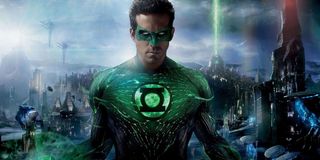 CinemaBlend participates in affiliate programs with various companies. We may earn a commission when you click on or make purchases via links.
This year marks the 10th anniversary of Green Lantern, the movie starring Ryan Reynold's as ring slinger Hal Jordan that was supposed to kick off a film series. Alas, the first cinematic outing for DC Comics' Emerald Knight was not well received, and Reynolds has since moved onto green superhero pastures by playing Deadpool. Nevertheless, every now and then, there's talk of if Reynolds will ever reprise Green Lantern, with the latest rumor claiming that he'll show up in Zack Snyder's Justice League, a.k.a. the Snyder Cut.
To provide some context, in a recent interview, Zack Snyder said that he reshot the ending for his version of Justice League to include a hero cameo that will "blow hard-core fans' minds." Naturally speculation is rampant on who this hero could be, with a lot of fans thinking it's Green Lantern. Voice actor Jon Bailey took it a step further by amusingly stating Ryan Reynolds will appear in the Snyder Cut, leading Reynolds to debunk that claim with the following on Twitter:
So there you have it, folks. Ryan Reynolds will not reprise Green Lantern in Zack Snyder's Justice League, so his Emerald Knight costume will continue to rest within the digital closet. Considering how Reynolds is keeping the Deadpool train chugging along over at Marvel Studios, not to mention how often he's made fun of Green Lantern over the years, this shouldn't come as that much of a shock. Still, it's nice to finally put this rumor to rest once and for all. Oh, and as a reminder, Reynolds' Green Lantern will not appear in Black Adam either. Just make peace with the fact that his time as Green Lantern was a one-and-done affair, even though that mid-credits scene with Sinestro was clearly laying the groundwork for Green Lantern 2. But hey, critically and commercially underperforming at the box office has a tendency in overhauling plans.
A general Green Lantern appearance in Zack Snyder's Justice League, on the other hand, should be expected. A Green Lantern did appear in the theatrical cut of Justice League through the flashback depicting Steppenwolf's invasion of Earth, and in late 2019, Snyder confirmed this same Lantern appears in his cut of the movie. However, he also clarified that this wasn't the Green Lantern that viewers should keep an eye out for during the four-hour movie. Furthermore, earlier in 2019, Snyder shared a picture of Ray Fisher's Victor Stone seeing a vision of himself fully human next to his parents, and when a fan inquired if an alien spaceship in the background was Apokoliptan, the filmmaker responded, "#GreenLantern."
So it definitely seems like Zack Snyder's Justice League will have a heavier Green Lantern presence, although whether it's one of the main human Lanterns, like Hal Jordan or John Stewart, or another alien Lantern, like Kilowog, who shows up remains to be seen. This also still doesn't guarantee that this will be the aforementioned hero cameo at the end of the movie, although considering that Green Lantern is often depicted as a founding member of the Justice League, that certainly gives him better odds. We know the Green Lantern Corps exists in the DCEU, and following Steppenwolf's defeat, you'd think the Guardians of the Universe, would at least have whoever's protecting Sector 2814 to check out how Earth is doing in the aftermath of the invasion.
As for what's in store for the Green Lantern property in live-action beyond Zack Snyder's Justice League, Green Lantern Corps remains in development for the DCEU, although there's been no update on its progress lately. HBO Max also has a live-action Green Lantern series in the works that will star Alan Scott, Guy Gardner, Simon Baz and Jessica Cruz, among others. The Arrow series finale also depicted John Diggle seemingly receiving a green power ring, and since he's appearing in several Arrowverse shows in the near future, naturally folks have been wondering if this is when he'll officially debut as Green Lantern.
Whatever the future holds in store for the Green Lantern mythos on the big and small screens, we here at CinemaBlend will keep you updated about it all. As for Zack Snyder's Justice League, it will premiere in theaters and on HBO Max on March 18, and you're welcome to sign up for the latter streaming service using this link (opens in new tab).
Connoisseur of Marvel, DC, Star Wars, John Wick, MonsterVerse and Doctor Who lore. He's aware he looks like Harry Potter and Clark Kent.
Your Daily Blend of Entertainment News
Thank you for signing up to CinemaBlend. You will receive a verification email shortly.
There was a problem. Please refresh the page and try again.