Why The US vs Billie Holiday Should Be Shown 'In Every Classroom'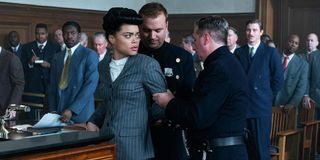 Legendary jazz singer Billie Holiday had the odds stacked against her when she was alive. Her story is being told in Hulu's The United States vs. Billie Holiday with Andra Day taking on the titular role. There is much to learn from the film and life of Billie Holiday, and one cast member thinks the movie should be shown in every classroom.
Being a Black artist was hard enough during the time Billie Holiday rose to fame, but she was also a drug addict lacking the proper resources and care to get well. Harry Anslinger, the first commissioner of the U.S. Treasury Department's Federal Bureau of Narcotics, had a heavy hand in Billie Holiday's prison time due to personal bias he held against her. I sat down with Garrett Hedlund, who portrays Anslinger in the film, for an interview with CinemaBlend, and he shared why he thinks The United States vs. Billie Holiday is such an important educational piece:
As Garret Hedlund said, even the cast learned a lot while making The United States vs. Billie Holiday. Whether it's about addiction, the music industry, different sectors of the government and how they are operated, or trust and bias between humans, this film has something to teach about all of it. It is just as entertaining as it is informative because the audience takes a journey with Billie Holiday as she navigates who she can and can't trust through different stages of her life.
The United States vs. Billie Holiday is now streaming on Hulu (opens in new tab). If you like courtroom dramas, check out these options to rent or stream. We also have documentary series recommendations if you enjoy learning more about real people.
Obsessed with Hamilton and most things Disney. Gets too attached to TV show characters. Loves a good thriller, but will only tolerate so much blood.
Your Daily Blend of Entertainment News
Thank you for signing up to CinemaBlend. You will receive a verification email shortly.
There was a problem. Please refresh the page and try again.