How Keanu Reeves Used His Matrix And John Wick Experience To Pitch His Comic Series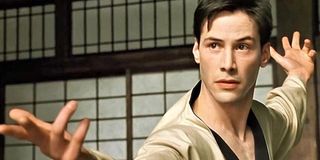 It's probably safe to say that Keanu Reeves is one of the most iconic action stars in Hollywood. From his incredible portrayal of Neo in The Matrix to his grizzled work in John Wick, the guy has a seriously impressive resume. It was recently revealed that he used his action experience to successfully pitch his latest venture into the world of comic books.
Boom! Studios President Stephen Christy recently shared that Keanu Reeves used his experience on The Matrix and John Wick franchises as contrast to the new fighting style he wanted for his BRZRKR series. In Christy's words:
Stephen Christy originally shared the story with The Washington Post, and it sounds like the meeting went well since Keanu Reeves went on to sign a 12-issue deal with Boom! Studios. Reportedly, the John Wick star also got into character and threw a few moves around while pitching. Talk about a show.
BRZRKR is the iconic action star's first foray into comic book territory. He co-wrote the series with prominent comic book author Matt Kindt. The series follows an immortal warrior only known as Berserker, who teams up with the U.S. government in exchange for a way out of his brutal existence. The character is also modeled after Reeves and sports his signature long black hair and beard that fans of the John Wick series may recognize. The first edition of BRZRKR was released today.
Keanu Reeves is fresh off another venture into new territory, lending his likeness and voice to Johnny Silverhand of the Cyberpunk 2077 video game. While the game has been plagued with issues since its release, players are still having a bit of fun with his in-game character.
Over his career Keanu Reeves has proven he has the chops to be more than just an action star, but many of his most iconic characters are from the genre. He is set to reprise his role as Neo in the upcoming Matrix 4, which is scheduled to release later this year.
While those involved have been relatively tight lipped about the long-awaited project, Keanu Reeves has already teased fans about the film's message. He's set to star alongside Carrie Anne-Moss, who will reprise her role as Trinity, alongside newcomers Neil Patrick Harris and Priyanka Chopra. Reeves will also delve back into the world of assassins for John Wick: Chapter 4.
Fans looking forward to Keanu Reeves doing what he does best (kicking ass) can check out more information on the first issue of BRZRKR at Boom! Studios' website. As for the action icon's upcoming film appearances, be sure to check out all of the projects on the actor's busy schedule.
Your Daily Blend of Entertainment News
Into tracksuits by Paulie Walnuts, the Criterion Channel and Robert Eggers.