Disney's Raya And The Last Dragon Surprisingly Underperformed At The Box Office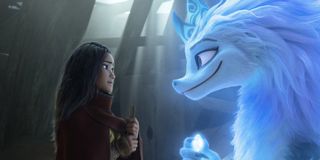 Last weekend, box office prognosticators received a significant shock. Tim Story's Tom and Jerry, which simultaneously debuted in theaters and on HBO Max, had a stunningly successful weekend selling tickets (at least relatively, during the pandemic). It became only the second film since mid-March 2020 to make north of $10 million in its opening weekend, and it well exceeded that benchmark with a domestic total of $13.7 million. The big win had Hollywood puzzling over the contributing factors – but now seven days later we have a fresh mystery, as Carlos López Estrada and Don Hall's Raya And The Last Dragon, the latest feature from Walt Disney Animation Studios, was only able to earn a fraction of what the Warner Bros. release did.
Deadline has reported the box office numbers from Raya And The Last Dragon's first three days playing theatrically, and they don't exactly look impressive when compared to Tom and Jerry... nor next to other similar releases of the last six months. Playing in 2,045 locations, the new feature only made $8.6 million, which is not only less than last weekend's big release, but also less than what Joel Crawford's The Croods: A New Age made when it premiered with $9.7 million in November 2020.
So what are the reasons behind the film underperforming? There are a couple of notable factors, but the one that seems to stand out the most is the fact that Raya And The Last Dragon was also made available (for a premium price) on Disney+ this past weekend. It's hard to say specifically what kind of impact the availability on streaming had on the numbers, mostly because Disney has not yet released any data about the debut, but one imagines that households around the country interested in the movie performed a calculus in the last few days – discerning whether or not the $30 "Premier Access" price on the subscription service was worth it when compared to a family trip to the local cinema.
Obviously the fact that Tom and Jerry was also simultaneously released on streaming adds an interesting wrinkle when comparing the box office results – but the comparisons are additionally complicated by HBO Max and Disney+ having different audience sizes and subscription costs (not only do the streamers have different monthly fees, but the cat and mouse movie didn't/doesn't require any additional payment).
Another huge factor in Raya And The Last Dragon's underwhelming box office performance is the fact that it didn't play on screens owned by some of the biggest theatrical chains in the United States. Cinemark, which is the third biggest chain in the country, and Harkins Theaters couldn't come to an agreement with Disney regarding the movie's day-and-date release on streaming, and as a result the animated blockbuster didn't show in any of their combined hundreds of locations. That's a factor that would take a bite out of any feature's ticket sales.
The trade report additionally says that Raya And The Last Dragon premiered in 24 other countries this past weekend, and that thus far the film has made $26.2 million globally. Given that Walt Disney Animation Studios releases typically have reported budgets north of $150 million, the box office numbers would suggest that the release has a long way to go before it breaks even – but, again, we don't yet know how much money the movie made from those $30 charges on Disney+.
Raya And The Last Dragon has certainly generated a lot of positive buzz, with our own Dirk Libbey giving the film a perfect five-stars in his review, so we'll have to wait and see where the movie will ultimately stand in Disney's notable legacy of releases.
NJ native who calls LA home; lives in a Dreamatorium. A decade-plus CinemaBlend veteran; endlessly enthusiastic about the career he's dreamt of since seventh grade.
Your Daily Blend of Entertainment News
Thank you for signing up to CinemaBlend. You will receive a verification email shortly.
There was a problem. Please refresh the page and try again.