Of Course Nomadland's Frances McDormand Cleaned 'Grody' Toilets With Her Co-Stars To Make The Movie Feel Real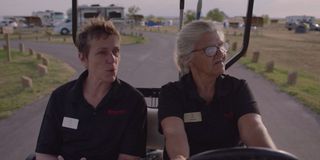 Actors can be a very particular lot, especially when it comes to what they decide to do in order to make a role feel real. In writer/director Chloe Zhao's Nomadland, the reality of the stories from Jessica Bruder's nonfiction best-seller is anchored by two very important fixtures. Part of that winning formula comes from the casting of some of the real-life subjects of Bruder's work, such as acting newcomer Linda May. But the other part comes from the fact that acting legend Frances McDormand not only connected with her co-stars on a very personal level, but she dove head first into tasks like cleaning very "grody" camp toilets without pretense.
I learned these facts firsthand when I was given the honor of interviewing Linda May for CinemaBlend. Covering the Nomadland press day shortly after the film's big Golden Globes wins for Best Director and Best Picture in the Drama category, those successes were even more of a delight to behold. With Chloe Zhao's quiet examination of McDormand's protagonist Fern in the world of nomadic living, the organic approach to the subject matter helps the audience connect with the material all the better. And as Ms. May told me during our talk, Frances McDormand's approach was just as personal:
Some of Nomadland's most powerful moments are the ones where we get to see Fern going through everyday life with the slightly fictionalized versions of real nomads Linda May, Swankie and Bob Wells. The fictional narrative of Frances McDormand's character drifting through life after loss weaves through some extremely personal accounts from the actual figures that the 2017 source text makes its home in. By extension, McDormand the "housewife" is the glue that makes the entire project work as well as it does, as we don't see the Academy Award-winning actor on screen in Nomadland, but rather, we see Fern.
The friendships between Fern and her fellow campers is certainly a crucial component to making Nomadland's efforts to straddle the line between fiction and reality work. Which makes the fact that Frances McDormand wasn't given a lot of time ahead of shooting to prep with her reality based co-stars even more impressive. As she and Linda May had such an excellent rapport on screen, I had to know just how they became such great friends on and off screen. May credits that authentic nature to a couple of things; the first of which she describes below:
If you're a first time actor, and you're diving into actual chores beside an award winning actor who isn't afraid to get dirty on camera, that feels like a shortcut to getting to know an actual person as your co-worker. Which, to be completely honest, doesn't fee like a surprise, as Frances McDormand isn't the type that buys into the usual hype and pomp that a Hollywood production carries with it. Nomadland benefits from that fact above all else, because McDormand sells Fern to audience member and co-star alike with only the utmost verisimilitude.
But perhaps the greatest symbol of Frances McDormand's giving nature as an actor has to come through how she aided the performance of her co-star. Seeing as Nomadland is Linda May's first feature film role, the fact that she's playing herself doesn't mean it was just going to be a walk in the park. As such, this led to the greatest bonding opportunity for May and McDormand, as the latter helped the former with her performance through an act of kindness:
Acting is rarely ever a solo quest, as casts need to collaborate, no matter how great the size of their role, in the name of making the entire piece come to life. Nomadland proves this point in one of the most spectacular examples of reality making for better, more believable fiction. In both employing real people like Linda May to portray themselves on screen, as well as top notch actors like Frances McDormand and David Strathairn to play a similar reality through fictionalized personas, everything meshes together into one of the most memorable film experiences from 2020. You can see the finished product for yourself, as Nomadland is in theaters where available, as well as streaming through Hulu.
CinemaBlend's James Bond (expert). Also versed in Large Scale Aggressors, time travel, and Guillermo del Toro. He fights for The User.
Your Daily Blend of Entertainment News
Thank you for signing up to CinemaBlend. You will receive a verification email shortly.
There was a problem. Please refresh the page and try again.