How To Watch Promising Young Woman, Nomadland And Other 2021 Golden Globe Nominated Movies Streaming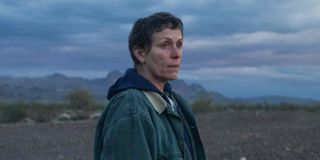 CinemaBlend participates in affiliate programs with various companies. We may earn a commission when you click on or make purchases via links.
It is common when moviegoers, by the middle of Awards Season, have not had the chance or even access to see all the nominees, but in the case of the 2021 Golden Globes, they have little to no excuse. This year, it is easier to get your hands on the most acclaimed frontrunners - such as the beautiful Nomadland, David Fincher's love letter to Old Hollywood in Mank, or Carey Mulligan at her most badass in Promising Young Woman - than ever before and we are going to show you how. The following is quick, convenient guide of how to watch each film nominated for Best Picture (and other categories) on streaming or for a digital rental, starting with a healthy dose of drama.
2021 Golden Globe Nominees For Best Motion Picture - Drama
The Father
Sir Anthony Hopkins is nominated for his role as a man struggling to accept his daughter's (fellow Golden Globe nominee Olivia Colman) help when he begins to suffer memory loss. French playwright Florian Zeller directs The Father, an adaptation of his own acclaimed play, which hits theaters Friday, February 26, but will be on VOD March 26.
Mank
Speaking of fathers, David Fincher honored his late father, Jack, by turning a screenplay he wrote in the 1990s into a film with spirit and look of a Golden Age production. Mank - the story of Citizen Kane's lesser-known co-writer, Herman J. Mankiewicz (Gary Oldman) - is a Netflix original, available to stream since December 4. Stream Mank on Netflix here. (opens in new tab)
Nomadland
Director Chloé Zhao turned Jessica Bruder's book about the rise of traveling jobseekers following the 2008 recession into a raw, intimate, gorgeously shot portrayal of personal resiliency in the face of widespread collapse. Frances McDormand gives a stunning performance, alongside actually "nomads" as themselves, in Nomadland, which hit Hulu on February 19. Stream Nomadland on Hulu here (opens in new tab).
Promising Young Woman
Speaking of stunning performances, Carey Mulligan is an absolute force to be reckoned with as a woman on a quest for vengeance over a tragedy in her past. Actress Emerald Fennell makes a promising feature-length debut as writer and director of Promising Young Woman, which is now available on Amazon as a 48-hour VOD rental. Rent Promising Young Woman on VOD here (opens in new tab).
(Promising Young Woman will be available to purchase on digital on March 2, with the Blu-ray set to be released (opens in new tab) on March 16.)
The Trial Of The Chicago 7
A group of peaceful Vietnam War protestors became victims of discrimination and a corrupt justice system after violent conflict with police in 1968. Politically-charged writer and director Aaron Sorkin adapted the events that transpired into the highly entertaining and fascinatingly poignant Netflix exclusive The Trail of the Chicago 7, starring an epic ensemble cast including Yahya Abdul-Mateen II and Sacha Baron Cohen. Watch The Trial of the Chicago 7 on Netflix here (opens in new tab).
2021 Golden Globe Nominees For Best Motion Picture - Musical or Comedy
Borat Subsequent Moviefilm
Speaking of Sacha Baron Cohen, the comedian resurrected his most famous character to capture a frighteningly honest portrayal of modern America, featuring a few unwitting participants. The notoriously crude Kazakhstanian journalist made Amazon Prime his "very nice" home for Borat Subsequent Moviefilm. Watch Borat Subsequent Moviefilm on Amazon Prime Video here (opens in new tab).
Hamilton
Disney+ became the exclusive home to stream a recording from the original Broadway run of Lin-Manuel Miranda's history lesson set to rap, Hamilton. While some may argue against calling a document of a live stage performance a "movie," it is hard to deny this intimate capturing of the exhilarating Tony-winner is one of 2020's most thrilling achievements. Watch Hamilton on Disney+ here (opens in new tab).
Music
After writing and directing the reverberative videos for many of her own hit songs, pop sensation Sia helms her first feature-length film with the aptly-titled Music. The story of the young, autistic title character (Maddie Ziegler) as she is put into the care of her newly sober half-sister (Kate Hudson) can be found on Amazon as a digital rental. Rent or buy Music on Amazon here (opens in new tab).
Palm Springs
The story of Palm Springs is one I am not at liberty to discuss at the risk of spoiling the experience for those who have yet to see it. That being said, I recommend hopping onto Hulu to stream this cleverly bizarre, riotously funny, and thoroughly invigorating romantic comedy starring Andy Samberg and Cristin Milioti to see what you are missing out on before the surprise is ruined. Watch Palm Springs streaming on Hulu here (opens in new tab).
The Prom
A teenager (Jo Ellen Pellman) missing out on her conservative town's school dance after requesting permission to accompany her girlfriend (Ariana DeBose) inspires four has-been theater performers (Meryl Streep, Nicole Kidman, James Corden, and Andrew Rannells) to come to her aid in The Prom. This bright, energetic adaptation of a Tony Award-nominated Broadway musical is the latest Netflix exclusive production from producer and director Ryan Murphy. Watch The Prom streaming on Netflix here (opens in new tab).
Other 2021 Golden Globe Nominated Movies
I Care A Lot
Rosamund Pike earns her third Golden Globe nomination as a scam artist who meets her match in the comedic crime thriller I Care A Lot, which became one of the most popular Netflix exclusive films at the time it premiered on the streaming platform in February. Watch I Care A Lot streaming on Netflix here (opens in new tab).
Judas And The Black Messiah
The shocking true story of an FBI informant (Lakeith Stanfield) infiltrating Chicago's Black Panther Party led by Fred Hampton (Golden Globe-nominee Daniel Kaluuya) in Judas and the Black Messiah was released simultaneously in theaters and on HBO Max, where it is now streaming until March 14. Watch Judas and the Black Messiah streaming on HBO Max here (opens in new tab).
If you're not an HBO Max subscriber, you can sign up here (opens in new tab).
La Llorona
Inspired both by real-life political unrest in Guatemala and a chilling legend of Spanish folklore is the acclaimed Shudder exclusive La Llorona, which could become a rare case of a horror flick taking home the Golden Globe for Best Foreign Language Film. Watch La Llorana streaming on Shudder here (opens in new tab).
Ma Rainey's Black Bottom
Chadwick Boseman could posthumously win a Best Actor Golden Globe for his final performance in Ma Rainey's Black Bottom, a Netflix original adaptation of August Wilson's play inspired by racial tension during the 1920s Chicago blues scene. Watch Ma Rainey's Black Bottom streaming on Netflix here (opens in new tab).
One Night In Miami
This Amazon Prime original adaptation of Kemp Powers' play inspired by racial tension in the 1960s, One Night in Miami, earned nominations for first-time director Regina King and star Leslie Odom Jr., both for his performance as Sam Cooke and and his original song with Sam Ashworth "Speak Now." Watch One Night In Miami streaming on Amazon Prime Video here (opens in new tab).
Soul
Kemp Powers also co-wrote and co-directed Soul, Pixar's Golden Globe-nominee for Best Animated Feature that sheds light on the afterlife through they eyes of Jamie Foxx' aspiring jazz pianist, which skipped theaters in the United States in exchange for a Disney+ release on Christmas Day in 2020. Watch Soul streaming on Disney+ here (opens in new tab).
Sound Of Metal
Riz Ahmed's heartbreaking lead performance as an aspiring rock drummer who begins to lose his hearing in the Amazon Prime exclusive Sound of Metal earned him his second Golden Globe nomination. Watch Sound of Metal streaming on Amazon Prime Video here (opens in new tab).
The United States Vs. Billie Holiday
Andra Day's heartbreaking performance as a legendary jazz singer who begins to lose her privileges due to racial discrimination and a crippling drug addiction in the Hulu exclusive The United States vs. Billie Holiday earned the Grammy nominee her first Golden Globe nomination, plus another for the original song "Tigress & Tweed" with Raphael Saadiq. Watch The United States Vs. Billie Holiday streaming on Hulu here (opens in new tab).
Wolfwalkers
The uniquely animated fantasy adventure Wolfwalkers, released on Apple TV+, is the first in co-director Tom Moore's trilogy of films inspired by Irish Folklore to receive a Golden Globe nomination for Best Animated Feature. Watch Wolfwalkers streaming on Apple TV+ here (opens in new tab).
Looks like there is plenty of catching up to do before the Golden Globe Awards ceremony, emceed by returning hosts Tina Fey and Amy Poehler, airs Sunday, February 28, 2021, on NBC. If you happen to have the pleasure of seeing any of the nominees mentioned above, which one would you consider to be the best (or at least your favorite)?
This poll is no longer available.