Borderlands: An Updated Cast List, Including Kevin Hart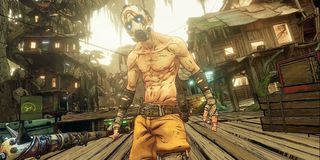 While video game movies haven't had the greatest track record in Hollywood, studios are still keen on finding gaming franchises to adapt for the big screen. The last few years have seen releases like Tomb Raider, Detective Pikachu and Sonic the Hedgehog, and the Mortal Kombat reboot, the Resident Evil reboot and Uncharted are arriving in the near future. But let's also not forget about Borderlands, which has been in development since 2015 and has been making steady progress forward over the last year.
Horror heavyweight Eli Roth is directing the Borderlands movie and Chernobyl's Craig Mazin is writing the script, so clearly there's some major talent behind the cameras of this project. But who's making up the on-camera talent for this film adaptation of the popular sci-fi, first-person shooter video game series from Gearbox Software and 2K Games? Let's go over the actors who will star in Borderlands, starting with a man who knows his way around video game worlds: Kevin Hart.
Kevin Hart
Back in the '90s, Jumanji was a mystical board game, but nowadays, it sucks its players into a video game realm. Kevin Hart has starred in the last two Jumanji movies, Welcome to the Jungle and The Next Level, as the Franklin "Mouse" Finbar avatar, and Hart also collected some action-related experience on Central Intelligence and the upcoming The Man from Toronto. So Borderlands will be relatively familiar territory for him, although this adventure definitely won't anywhere near as family-friendly as the recent Jumanji installments given that as of 2016, the plan was to make Borderlands R-rated. Hart has been cast as Roland, a skilled solider who used to serve the Crimson Lance, the private military of the Atlas Corporation.
Jack Black
Look at that, Borderlands is also serving as a Jumanji reunion! Jack Black also took part in Welcome to the Jungle and The Next Level by playing the Professor Sheldon "Shelly" Oberon avatar, and you might have also seen him in recent years starring in the Goosebumps movies or The House with a Clock in Its Walls, which was directed by Eli Roth. For Borderlands, Black will voice Claptrap, an overenthusiastic robot manufactured by the Hyperion corporation that's been met with mixed reception by Borderlands players over the years, with many describing him as annoying. Still, it wouldn't feel like a Borderlands story without Claptrap involved, so maybe Black's performance might improve the character's reputation.
Cate Blanchett
Borderlands has yet another reunion lined up, as Jack Black and director Eli Roth will be working their The House with a Clock in Its Walls collaborator Cate Blanchett. As far as major franchises go, Blanchett is best known for playing Galadriel in the Lord of the Rings and Hobbit movies, Irina Spalko in Indiana Jones and the Kingdom of the Crystal Skull, Hela in Thor: Ragnarok and Lou in Ocean's 8. Blanchett was the first actor to sign on for Borderlands; she'll star as Lilith, a Siren thief who boasts incredible superpowers and is affiliated with the Crimson Raiders.
Jamie Lee Curtis
Following her reprisal of Laurie Strode in 2018's Halloween and its upcoming two sequels, as well as her turn as Linda Drysdale-Thrombrey in Knives Out, Jamie Lee Curtis has boarded the Borderlands movie. She'll take part in this video game adaptation as Dr. Patricia Tannis, an archaeologist specializing in Eridian artifacts and technology who provides missions to the players and assist the Vault Hunters. The official description for Curtis' version of Tennis states that she may have the key to finding the sought-after vault containing priceless treasures on Pandora, but her complicated relationship with Cate Blanchett's Lilith will cause problems.
Ariana Greenblatt
She may be the youngest cast member in Borderlands, but Ariana Greenblatt has assembled an impressive filmography over the last half decade, from starring in the Disney Channel series Stuck in the Middle to playing Young Gamora in Avengers: Infinity War and Minnow in Love and Monsters. For the video game movie, Greenblatt will play Tiny Tina, an unstable, teenaged explosives expert who's seeking revenge against the man who sold her and her parents to be experimented on by the Hyperion corporation.
Florian Munteanu
Boxer Florian Munteanu made the jump to acting in 2018 playing Ivan Drago's son, Viktor, in Creed II. We'll next see him as Razor Fist in Shang-Chi and the Legend of the Ten Rings, and after that, Munteanu is delving into the Borderlands world as Krieg, who's described by THR as "the musclebound, rhetorically challenged protector of Tiny Tina." So expect Munteanu and Ariana Greenblatt to share a lot of screen time with each other.
Haley Bennett
Unlike the other people who've been listed so far, Haley Bennett isn't playing a character who originated from the Borderlands video games, but has instead been tapped for a brand-new role, per IGN. The only details that have been provided about this mysterious individual is that they'll be "key to the past of Cate Blanchett's character, Lilith." Bennett's notable credits include The Equalizer, The Magnificent Seven, The Girl on the Train, The Devil All the Time and, most recently, Hillbilly Elegy.
Edgar Ramirez
As if there wasn't enough on Pandora to give Borderlands' heroes trouble, there will also a villain further complicating things. Edgar Ramirez, who's appeared in movies like The Bourne Ultimatum, Zero Dark Thirty and Bright, has been cast as Atlas, a business titan and arms manufacturer. With Atlas' daughter missing on Pandora, Cate Blanchett's Lilith is hired to retrieve the girl, who may hold they key to unimaginable power. Atlas already fits the antagonist mold by pitting so many parties against one another in the Borderlands universe, so it wouldn't be surprising if Atlas isn't so much concerned about his daughter's well-being as wanting to obtain this mysterious power.
Olivier Richters
But wait, we're not done talking about bad guys in Borderlands just yet. Olivier Ritchiers has been cast as Krom, the leader of the psycho bandits that rule Pandora, making it an even more chaotic environment. This is the latest high-profile project that Ritchiers, a pro bodybuilder, has lined up. He's next appearing in the next MCU movie Black Widow, followed by The King's Man, the Kingsman franchise's World War I prequel. Ritchiers also scored a role in the Gareth Evans-created series Gangs of London, which is returning for a second season.
Janina Gavankar
Here's another actor joining Borderlands who won't be playing an established character from the video games. Janina Gavankar has come aboard to play Commander Knoxx, although as of right now, it's unclear where her allegiances lie. TV viewers might recognize Gavankar from shows like The League, True Blood, Sleepy Hollow, The Mysteries of Laura and The Morning Show, while on film, she's popped up in Blindspotting and The Way Back.
Gina Gershon
There's no question that Mad Moxxi, the hostess of the Colosseum matches in the Underdome, is one of the most recognizable characters from the Borderlands video game series, so to have her sit out the Borderlands movie would have been a baffling decision. While it remains to be seen if she'll be as visually distinctive on the big screen, Moxxi will be played by Gina Gershon, who's popped up in movies and TV shows like Showgirls, Face/Off, The Insider, Rescue Me and Riverdale.
Cheyenne Jackson
In the Borderlands video game universe, Jakobs is a weapons manufacturer that primarily churns out firearms styled after Old Western guns. The company is a family business, and evidently in the Borderlands movie, we'll meet at least one of those individuals. Broadway star Cheyenne Jackson, whose on-screen credits include Glee, American Horror Story and Call Me Kat, has been cast as the simply-named Jakobs. It hasn't been clarified yet which Jakobs Jackson will bring to life, though assuming he's not popping up in flashbacks, it's likely he'll be the current CEO of the weapons company.
Charles Babalola
If you've seen movies like The Legend of Tarzan or Gretel & Hansel, or TV shows like Broadchurch or Thirteen, then you're familiar with Charles Babalola. For the Borderlands movie, he's been brought aboard as Hammerlock, or Sir Hammerlock in the video games. Hammerlock is distinguishable by his Victorian fashion (including a monocle) and his artificial appendages. It's unclear if Babalola's version of Hammerlock will look similar to his video game counterpart or if they're going in a different visual direction with the character.
Benjamin Byron Davis
Benjamin Byron Davis has been around the movies and TV block, with his appearances ranging from The Belko Experiment and Ant-Man and the Wasp to Bones and How I Met Your Mother. Davis will star in Borderlands as Marcus, who is an arms dealer in the video games and shows no mercy towards those who interfere with his business. If film Marcus is anything like the one from the games, the main characters will need to be careful not to get on his bad side.
Steven Boyer
Along with appearing in movies like The Wolf of Wall Street, Bridge of Spies and Hustlers, Steven Boyer has assembled an impressive lineup of TV credits, such as Trial & Error, Chicago Fire and two of the FBI shows. Now he's getting in on the Borderlands action as Scooter, the son of Mad Moxxi and a mechanic who provides her services at various warehouses on Pandora in the video games. Presumably he'll be just as handy with machinery on the big screen.
Ryann Redmond
You may not be familiar with Ryann Redmond from movies or TV shows, but she's proven herself as a tremendous talent on stage. For instance, she originated the role of Bridget in Bring It On the Musical, and she also had a brief tenure as Olaf in the Frozen musical before the COVID-19 pandemic shut Broadway down. Sadly, Frozen will not reopen, but Redmond has now joined the Borderlands movie as Ellie, Mad Moxxi's daughter and Scooter's sister who also has a lot of mechanical experience under her belt.
Bobby Lee
Like Haley Bennett and Janina Gavankar, MadTV and Splitting Up Together alum Bobby Lee isn't playing an established character in Borderlands. Instead, he's been cast in the new role of Larry, though no details were provided about him. So while it's easy enough for fans of the Borderlands video games to deduce how the other characters will play into the narrative, when it comes to Larry, they'll be just as much in the dark as the newbies.
Borderlands doesn't have an official release date yet, but it is currently in the midst of filming. Keep checking back with CinemaBlend for more casting news concerning the video game movie and any other major updates.
Your Daily Blend of Entertainment News
Connoisseur of Marvel, DC, Star Wars, John Wick, MonsterVerse and Doctor Who lore. He's aware he looks like Harry Potter and Clark Kent.