I'm Happy For LaKeith Stanfield And Daniel Kaluuya's Oscar Noms, But What The Heck Is Going On There?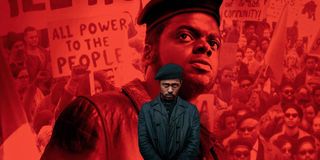 Awards season nominations can be weird, especially when it comes to classifying where a particular performance and film should go. The Golden Globes have had their controversies, when movies like The Martian are classified as Comedies, and the Oscars are no stranger to such abnormalities. In particular, the difference between a performance for lead and supporting actors/actresses has led to some interesting scuffles, and the nominations for the 93rd Academy Awards are no exception. While both LaKeith Stanfield and Daniel Kaluuya being nominated for Judas and the Black Messiah is a well deserved honor to their performances, the fact that they're both nominated for Best Supporting Actor has me wondering what the heck is going on.
The core of Judas and the Black Messiah's narrative is the true story of Bill O'Neal (LaKeith Stanfield) and how he infiltrated and compromised the chapter of the Black Panthers led by Fred Hampton (Daniel Kaluuya.) Director/co-writer Shaka King's telling of this story aims its primary focus on O'Neal's efforts to undermine the revolutionary group on-behalf of the FBI, while a profile of Hampton's personal life is more of a supporting focus for the tale being told. In that recap alone, you can see where the potential problem is when it comes to this year's Academy Awards nominations.
I totally agree that Daniel Kaluuya and LaKeith Stanfield should both be nominated for Judas and the Black Messiah. And there's always a temptation around Oscar season to blur the lines between which performances to submit for Best Actor and Best Supporting Actor honors. Even with that knowledge of strategic submissions, I still can't get over the fact that Kaluuya and Stanfield somehow both would be nominated as Best Supporting Actors in a film that surely has a leading character.
The way I see it, Judas and the Black Messiah treats Bill O'Neal as its functional lead. Between bookending the film with moments calling back to an interview O'Neal gave about his time in the Black Panthers, and the focus primarily being paid to LaKeith Stanfield's portrayal of the actual man, his performance should have obviously been submitted for a Best Actor nomination. Meanwhile, Daniel Kaluuya's Fred Hampton is a textbook case of a prime Best Supporting Actor role, as his sheer magnetism anchors the film with a secondary lead that compliments the story of O'Neal's betrayal.
Any interpretation of how Daniel Kaluuya and LaKeith Stanfield's performances in Judas and the Black Messiah should have been nominated would most likely lead to the same conclusion: one of them should have gotten a Best Actor nomination so as to differentiate their contributions to the film overall. By nominating both actors in the Best Supporting category, it's akin to saying that there was some other performance/character, other than Fred Hampton and Bill O'Neal, at the head of that film's story. The more I think about that last sentence, the more my head spins. And make no mistake, this isn't an oversight by Warner Bros, as the studio's official For Your Consideration campaign clearly submitted Stanfield for Best Actor, along with Kaluuya and Jesse Plemons for Best Supporting Actor.
The Academy Awards has made some interesting choices when it comes to who it potentially honors as Lead and Supporting Actors. Who could forget last year's race, when The Irishman had apparently no Lead Actor performance of any sort of importance, but was double nominated for Best Supporting Actor? And then there's that moment where Viola Davis and Octavia Spencer were obviously swapped in the distinction of who should have been the Best Actress/Supporting Actress nominees in The Help, as Spencer was a functional co-lead, while Davis was a comparatively reduced presence in the film? That last decision handed Octavia Spencer the win, which only highlights the game that's played when submitting your high power talent for awards consideration.
This time, at least from where I'm standing, the game is lost no matter what happens. Judas and the Black Messiah showcased two powerfully moving performances from actors at the top of their game. With Daniel Kaluuya lighting up the screen as Fred Hampton, and LaKeith Stanfield digging into the nuance and subtle shades to Bill O'Neal, their roles are inseparable in their chemistry and their effectiveness. But according to the Academy of Motion Picture Arts and Sciences, they're both supporting roles, playing to a larger lead that we're not privy to know about. Which is a shame, because they're both actors who deserve to be talked about alongside each other, as opposed to being pitted in direct competition. And if you had any doubt who should be in which position, just look at the film's title, and match those biblically charged names to the characters you saw in the film. It can't get any clearer than that.
This poll is no longer available.
Your Daily Blend of Entertainment News
Senior Movies Contributor
CinemaBlend's James Bond (expert). Also versed in Large Scale Aggressors, time travel, and Guillermo del Toro. He fights for The User.