Raya And The Last Dragon: Disney's Latest Princess Is Basically A Marvel Heroine And I'm Bummed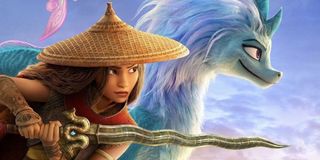 (Image credit: (Disney))
Spoilers are ahead for Disney's Raya and the Last Dragon.
Disney Princesses have been the animation studio's crowning trademark from the very beginning. It all started with 1937's Snow White, a fair young lady who greatly reflected traditional female roles in the household of the era. 1991's Belle progressed its values as a free spirit and bookworm much more concerned with a prince's mind and soul than outer charms, and 2016's Moana traded a romance storyline for an apt story about finding yourself and empowering others. But, Disney's latest movie, Raya and the Last Dragon, feels different. Kelly Marie Tran's princess is more of a Marvel heroine than a modern progression of the Disney princess, and it sadly feels like a missed opportunity for the studio.
Raya and the Last Dragon seems destined to go down in history alongside Brave's Merida, a Disney princess we respect for her movie's story and exploration of the culture it is depicting, but didn't garner the impact of movies like Mulan or The Little Mermaid. If Raya spoke to you, that's great. But, if it seemed to be missing something or lacked the magic of her princess sisters in your eyes, I've pinpointed why. Let's get into it:
Raya And The Last Dragon Is More About The Action Than Its Princess
As a former Disney Princess obsessive, I never miss a new inductee to Disney. As much as I see characters like Aladdin's Jasmine or Sleeping Beauty's Aurora differently as an adult, they stand as important figures in my childhood at a time when female-driven stories were not as big of a deal as they most certainly are now in Hollywood. These days, my all-time favorite princess is Moana because she redefined the formula while also implementing it. Like every great Disney Princess, Moana has big dreams and flaws, but following an epic journey, she finds her power and learns a universal lesson we can all grab on in our own ways.
But Raya's only mission in life speaks to action/fantasy films we've seen again and again. Her entire arc is to find a solution to bring her loved ones back and restore her homeland of Kumandra – nothing about her journey is personal to her specifically, other than having a friend betray her when she was a child, which directly led to the problem of the movie. The central message learned in Raya and the Last Dragon is the importance of trust to saving the world after she has been burned by her and her family's initial trust in her childhood. While "trust" is a great message for a movie to spend its time on, Raya's journey is so tied to the plot of the story and its other characters that some emotional depth is left to be desired.
Raya Was Inspired By Guardians Of The Galaxy's Star-Lord
When the credits rolled for Raya and the Last Dragon, my main takeaway was how Marvel it felt. Even from a visual point of view, Raya borrows a lot of ideas from Guardians of the Galaxy. I'm talking about the way new locations are introduced to viewers with large font names and sweeping wide-shot backdrops, as well as the gradual meeting of various characters throughout the film as they look for Gem pieces and save their land. Even that third act sequence where Raya takes Naamari's hand is reminiscent of the "dance off"-turned finale battle at the end of the 2014 movie starring Chris Pratt. Raya's co-writer Qui Nguyen even said this to Bleeding Cool:
So here's the thing, I love Marvel movies and Star-Lord is great, but why does Disney need to turn to the MCU to create its latest princesses? Especially since we're talking about an established male character in that universe! It feels like the lazy way to go; we have 23 Marvel films to look to, and a Disney Princess movie only comes every few years. These stories should speak to inspiring scenarios young people can look up to, so a distant echo of something we've already seen in the MCU just pushes Raya into the background.
Raya's Marvel Roots Doesn't Make Her A Better Disney Princess
I will say this: I like that Raya and the Last Dragon is challenging our own beliefs on who a Disney princess can be. Raya doesn't have time to sing a "want" song, or wear a pretty dress or get swept off her feet by a romantic interest. She is fighting for the survival of her homeland and trying to keep her culture and people alive. But the way the studio decided to deliver this new type of Disney princess did not hit the right notes. It felt very much like it was catering to what people like… which, as the big numbers put it, are Marvel films. Raya was is littered with funny catchphrases, unnecessary characters, choreographed fight sequences and a quest to string us along, and all that's fun, but Raya deserved more thought put into her.
At the end of the day, Raya being a badass heroine does not make her any better or more exciting of a Disney Princess because her identity is stammered in its action plotline when I wanted Raya to be our next favorite princess. She's not given much depth and her roots in MCU superheroes did not strengthen her emotional arc. Now, if it was a musical and/or given the LGBTQ+ community its first Disney love story, I might feel a bit differently. But, sadly Raya and the Last Dragon is forgettable aside from its lovely induction of representation of Southeast Asian culture into the framework of Disney Princesses.
What do you think? Was Raya and the Last Dragon too Marvel for you too? Vote in the poll below.
This poll is no longer available.
YA genre tribute. Horror May Queen. Word webslinger. All her writing should be read in Sarah Connor's Terminator 2 voice over.
Your Daily Blend of Entertainment News
Thank you for signing up to CinemaBlend. You will receive a verification email shortly.
There was a problem. Please refresh the page and try again.