Paul Reubens: 11 Non-Pee-wee Characters He's Played In Movies And Televisions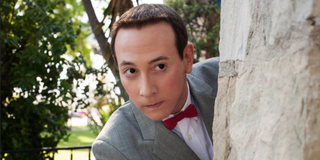 To have never heard of Pee-wee Herman would make you quite an ignoramus (I know you are, but what am I?) Yet, not as many people know about Paul Reubens, who co-created and has portrayed the legendary man-child since the late 1970s. Well, audiences will soon be given a proper introduction to the actor and comedian in a two-part documentary chronicling his life and career for HBO.
The recently announced documentary, which Uncut Gems directors Josh and Benny Safdie are producing, is still in its developmental stages, so I would not expect to see it pop up on your calendar for 2021 movie premiere dates, let alone on HBO's 2021 TV schedule either. However, until it is released, you can get to know the real Pee-wee Herman better by revisiting (or finally discovering) a few of Paul Reubens' other more notable roles from both the big and small screen, starting with a small part in a big movie.
The Blues Brothers (Waiter)
Who could forget the scene in 1980's The Blues Brothers when Jake (John Belushi) and Elwood Blues (Dan Aykroyd) grossly disturb the peace at a high class restaurant to convince the maître d', their old trumpeter Alan "Mr. Fabulous" Rubin (playing himself), to rejoin their band? What you may have forgotten is that the waiter whom Jake orders a $120 bottle of champagne from is Paul Reubens in one of his first film appearances before bringing Pee-wee to the mainstream.
Batman Returns (Tucker Cobblepot)
Partial credit for Pee-wee Herman's mainstream appeal can go to Tim Burton, who made his feature-length directorial debut in 1985 with Pee-wee's Big Adventure, the first movie led by the man-child. The filmmaker would reunite with Paul Reubens by casting him in Batman Returns as the wealthy father of the malformed infant who would grow up to be Danny DeVito as The Penguin, after selfishly abandoning him in the 1992 comic book movie sequel. Fun fact: that is Reubens' Pee-wee's Big Adventure co-star Diane Salinger as Tucker Cobblepot's wife, Esther.
Gotham (Elijah Van Dahl)
That cold open flashback in Batman Returns was the first appearance of Paul Reubens as The Penguin's dad, but not the last. In an amusing callback to that earlier cameo, the actor was cast as long lost father of Robin Lord Taylor's Oswald Copplebot in three episodes of Fox's Batman prequel TV show, Gotham, between 2016 and 2017.
Mystery Men (The Spleen)
Outside of playing the father of a comic book villain, the chance to play a real costumed vigilante was not lost on Paul Reubens, either. The actor gives one of his most fervently bizarre performances (which is really saying something here) as a man nicknamed The Spleen for his cursed ability to expel deadly flatulence on command, in the criminally underrated 1999 superhero movie satire Mystery Men, which is loosely based on an Image comic of the same name.
The Nightmare Before Christmas (Lock)
A year after their second collaboration with Batman Returns, Paul Reubens would take another small role in one of producer Tim Burton's most beloved creations. You can actually a hear slight hint of Pee-wee Herman in his vocal portrayal of Lock, one of Oogie-Boogie's trio of menacing trick-or-treater henchmen, in The Nightmare Before Christmas - the Oscar-nominated, 1993 stop-motion classic that is perfect during either the winter holiday season or Halloween.
Buffy The Vampire Slayer (Amilyn)
Halloween also sounds like a good time for a spooky guilty pleasure movie like Buffy the Vampire Slayer, starring Kristy Swanson as a high school cheerleader destined to battle bloodsuckers. If there is any reason to revisit the Joss Whedon-penned horror-comedy, which preceded his more successful series adaptation with Sarah Michelle Gellar, it is Paul Reubens chewing the scenery as Amilyn, a fanged, ancient antagonist with punk rock fashion sense, whom he would pay homage to on What We Do in the Shadows in 2019.
Dunston Checks In (Buck LaFarge)
If you needed any further proof that Paul Reubens is a master of the kooky villain role, the 1996 family comedy Dunston Checks In (one of the better known products of that era's monkey movie trend) is a prime example. He easily steals the show as an extremely committed animal control officer hired to rid a five-star New York hotel of the titular orangutan by manager Robert Grant (Seinfeld vet Jason Alexander), who is unaware that his sons are keeping the hairy intruder as a pet.
30 Rock (Gerhardt Messerschmit Rammstein Von Hap)
You know, I like to think of Paul Reubens' guest spot on creator and star Tina Fey's 30 Rock as his heinous act against his malformed son in Batman Returns catching up with him. In the quirky media satire's first season, he plays an Austrian prince whose incestuous lineage resulted in many glaring physical disabilities, which does not stop Jenna (Jane Krakowski) from seeking his affection in the hope of marrying into a royal family.
Blow (Derek Foreal)
Paul Reubens was given the opportunity to bring his much-overlooked skills for outlandish character acting to a role based on an actual person. In the 2001 true crime drama Blow, he plays a flamboyant, coke-addicted hair dresser who goes into business with the ambitious George Jung, played by Johnny Depp, to develop a market for the drug in the United States in the 1970s.
Star Wars Rebels (RX-24)
Tons of actors join the Star Wars universe at some point in one capacity or another, and Paul Reubens got that chance in 1987 by voicing RX-24, who guided Disneyland's Star Tours attraction until its closing. Luckily, Reubens reprised the droid pilot, nicknamed "Captain R3X," in the animated Star Wars Rebels series in 2014 before he was resurrected for the opening of Star Wars: Galaxy's Edge in 2019.
Flight Of The Navigator (Max)
However, RX-24 was not the first mechanical outer space being from a Disney property voiced by Paul Reubens. That would be Max, the sentient alien space ship that 12-year-old David (Joey Cramer) discovers he has been chosen to pilot after inexplicably going missing for eight years in Flight of the Navigator - a fun, cult classic sci-fi adventure form 1986.
Now you can brag to all your friends about how well you know Pee-wee Herman actor Paul Reubens when he is not at the Playhouse. When they ask you where you got all this information, tell them CinemaBlend sent you, not Large Marge, please.
Jason has been writing since he was able to pick up a washable marker, with which he wrote his debut illustrated children's story, later transitioning to a short-lived comic book series and (very) amateur filmmaking before finally settling on pursuing a career in writing about movies in lieu of making them. Look for his name in just about any article related to Batman.
Your Daily Blend of Entertainment News
Thank you for signing up to CinemaBlend. You will receive a verification email shortly.
There was a problem. Please refresh the page and try again.