What The Buffy The Vampire Slayer Movie Cast Is Doing Now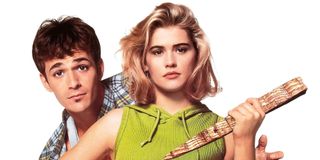 Before the TV show earned its spot in pop culture history the Buffy The Vampire Slayer movie gave us a campy teen movie about a valley girl who is from a long line of vampire hunters. This was Kristy Swanson's breakout role, but did you know other actors like Ben Affleck and Hilary Swank also got their start in this movie? Keep reading to see what they, and the rest of the cast are up to today.
Kristy Swanson (Buffy)
Before Sarah Michelle Gellar was launched to stardom on the Buffy The Vampire Slayer TV show, Kristy Swanson originated the titular role of everyone's favorite cheerleader turned vampire slayer. Although the film was a box office flop, it found new life on home video and has since become a cult classic. After Buffy, Swanson had a string of early-'90s hits including Charlie Sheen hits Hot Shots! and The Chase. After a string of box office bombs in the late-'90s, Swanson transitioned to TV work.
In 1998 she had a starring role in Early Edition, a pre-Friday Night Lights Kyle Chandler series, and has had a steady stream of guest roles including a recurring role as Marlowe Viccellio on the fan-favorite USA series, Psych, and recently-moved-to-Paramount+ series, SEAL Team. Swanson has also been frequently collaborating with fellow TV star Dean Cain on a bunch of religious-themed movies, and also a play focused on former FBI Agents Peter Strozk and Lisa Paige, a role for which Swanson has revealed she has received death threats.
Donald Sutherland (Merrick)
As Merrick, Donald Sutherland portrayed the original watcher to Buffy's slayer, the person who guides and mentors her through her vampire hunting. Sutherland was a popular actor prior to Buffy, with a career dating back to 1962 and appearing in films such as the popular firefighter drama, Backdraft. Sutherland's post-Buffy work has also been impressive, starring in over 50 roles, including The Italian Job, the Oscar-winning Cold Mountain, and the 2005 version of Pride and Prejudice. More recently, he appeared in the hugely popular Hunger Games franchise as the villainous President Coriolanus Snow.
Sutherland is no stranger to television either, with supporting roles in several shows including ABC's popular, but short-lived Dirty Sexy Money, the FX oil drama Trust, and most recently as Nicole Kidman's father in the HBO miniseries, The Undoing. The unique timbre of Sutherland's voice has also netted him a string of voice work over the years, including a series of commercials for Delta Airlines. As a native son of Canada, Sutherland also did voice work for the 2010 Winter Olympics which were held in Vancouver, where he also got to be a flag carrier.
Ben Affleck (Basketball Player)
Bet you forgot Ben Affleck was in Buffy The Vampire Slayer, didn't you? An uncredited, blink-and-you'll-miss-it cameo, Affleck briefly appears as a high school basketball player, who apparently had his line dubbed over. What's he been up to since then? Just becoming one of the biggest movie stars on the planet, as well as a critically acclaimed director. Oh, and he was Batman. Really, you could stop it there, he was Batman. Just Kidding! Affleck's early career includes being the Leonardo DiCaprio to Kevin Smith's Martin Scorsese, but what really put him on the map was winning an Oscar for co-writing the 1997 hit, Good Will Hunting, alongside his Bostonian Best Friend, Matt Damon.
After a stint as one of Hollywood's leading men in the late '90s and early 2000's, Affleck's career came crashing down after co-starring in the maligned, Gigli, alongside then girlfriend, Jennifer Lopez. A few years spent in actor jail gave Affleck the time to reinvent himself as a director, including critically acclaimed hits Gone Baby Gone, The Town and Argo. Of course, one of his most high profile roles in the last decade has been portraying Batman in the Snyderverse including the recently released Zack Snyder's Justice League, which he is set to reprise in The Flash, due in 2022 from Andy Muschietti.
Hilary Swank (Kimberly)
Who knew Buffy The Vampire Slayer would launch the careers of not one, but two Academy Award winning stars? While Buffy was Swank's first film credit, playing Buffy's cheerleader friend, Kimberly, it certainly would not be her last. Her first breakout role came in the 1994 fourth installment of The Karate Kid, cleverly titled, The Next Karate Kid. After some TV movies and even a recurring role on Beverly Hills, 90210 alongside fellow Buffy alum Luke Perry, Swank rocketed to the top of Hollywood's A-list with her Oscar winning performance in the 1999 drama, Boys Don't Cry, a role Swank has said if she was offered today she would turn down in favor of casting a transgender actor.
Swank also joined a rarefied list of double Best Actress winners after starring in Clint Eastwood's critically acclaimed boxing drama, Million Dollar Baby, but her career began to slow down after that, though she did go on to have the title role in the Amelia Earhart biopic, Amelia, as well as roles in P.S. I Love You, Logan Lucky and 55 Steps. More recently, Swank is back in the mainstream, appearing alongside Buffy alum Donald Sutherland in FX's Trust, and the short-lived Netflix astronaut drama, Away. She also voiced the role of Joey Pogo in BoJack Horseman.
Rutger Hauer (Lothos)
Rutger Hauer's most iconic role actually came before his turn as Lothos in Buffy The Vampire Slayer. Sci-Fi fans will remember him as Roy Batty from the groundbreaking 1982 Ridley Scott film Blade Runner. After a slew of '80s films, Hauer was cast in mostly low budget movies and television. Genre fans might remember him from some guest spots in Smallville and True Blood, and a part as the acting CEO of Wayne Enterprises in Batman Begins. Hauer passed away in 2019 at 75 of what was reported as a "short illness". Check out a supercut of Hauer's wonderful bizarre Guinness ads from the late '80s and '90s:
David Arquette (Benny)
Spoiler Alert: David Arquette has spent a lot of time as a professional wrestler. Arquette played Benny, Luke Perry's friend-turned-vampire, who you might remember from the scene where Buffy slices his hot dog (this is not a euphemism). Arquette wouldn't reach superstardom until 1996's horror hit, Scream, playing Deputy Dewey. After a string of turn-of-the-millennium hits including the rest of the Scream franchise, Never Been Kissed and Eight Legged Freaks, Arquette's career took an interesting left turn.
After starring in the 2000 comedy Ready to Rumble, about the now defunct WCW, Arquette took a real interest in the sport. While he's still had a steady stream of supporting work and voice work, he's made a very serious attempt at becoming a professional wrestler, which has culminated in the 2020 documentary aptly titled, You Cannot Kill David Arquette. Arquette is slated to reprise his role as Deputy Dewey in the upcoming Scream 5 due in January 2022.
Paul Reubens (Amilyn)
Reubens will always be known for his iconic persona Pee-Wee Herman, which he inhabited during the '80s and into the early '90s. However, his career came to a screeching halt in the wake of his 1991 arrest for masturbation inside an adult movie theater in Florida. His role as Amilyn, Lothos' henchman, came after this arrest at a time when he was taking on smaller roles that were mostly out of the spotlight. Since then, Reubens has made a career of supporting work including a guest stint on the '90s comedy Murphy Brown, which netted him an Emmy nomination.
A small part in the 1999 Johnny Depp drama, Blow, began a revival of his career, which has led to higher profile supporting work that has been very eclectic. Reubens has popped up on everything from 30 Rock, to the James Spader crime procedural, The Blacklist, and also a steady stream of voice work. His Pee-Wee Herman character has also been slowly brought back, which led to the 2015, Judd Apatow-produced film for Netflix, Pee-Wee's Big Holiday.
Randall Batinkoff (Jeffrey)
Batinkoff's role as Buffy's boyfriend, Jeffrey, landed him some starring roles in the early '90s, including a role in the Brendan Fraser drama, School Ties. Since then he's been a working actor, with guest roles in films and TV, most notably as George Washington in the CW Arrowverse show, Legends of Tomorrow.
Paris Vaughan (Vicki)
As part of Buffy's cheer squad, Paris Vaughan's character of Vicki didn't have much to do in the film. Vaughan had some early roles before Buffy, including Knightwatch, a brief '80s TV show about teen vigilantes that also was an early role for Benjamin Bratt, but hasn't acted since a guest spot on The Wayans Bros. in 1995. According to IMDB she's currently married to retired hockey player Russ Courtnall.
Michele Abrams (Jennifer)
Another of Buffy's cheer squad members, Michele Abrams made a go of acting in the 1990s. Some of her other credits include the daytime soap, Days Of Our Lives, Lois and Clark: The New Adventures Of Superman, and 7th Heaven. Her final screen role was in the 1999 TV movie Replacing Dad.
Luke Perry
Luke Perry's Pike was the opposites attract, outcast love interest to Buffy's cheerleader personality. The original bad boy, vampire killing boyfriend (eat your heart out, Angel), Buffy and Pike ride off on a motorcycle together. Coming into Buffy The Vampire Slayer, Perry was already a teen heartthrob thanks to his breakout turn as the bad boy (you may be sensing a pattern here) with a heart of gold, Dylan McKay on the seminal teen drama, Beverly Hills, 90210. While Perry did appear in a number of films, most ended up direct-to-video. He found more success in television, including memorable roles in the early HBO prison drama, Oz, as well as a starring role in the mid-2000's Showtime post-apocalypse drama, Jeremiah.
Luke Perry also did theater, appearing in lead roles in adaptations of The Rocky Horror Picture Show and When Harry Met Sally… Perry roared back to pop culture in a big way beginning in 2017 taking a lead role in the CW megahit, Riverdale, playing Archie's father. Sadly, Perry passed away in March 2019 after suffering a massive stroke. His final on-screen role was a small part he shot for Quentin Tarantino's Once Upon A Time In Hollywood.
With a TV reboot long in development, Buffy continues to stay relevant in media. Although the film was a flop, the cast is stacked with A-list Hollywood talent, and this cult classic has its spot in the pop culture pantheon. If you're itching for a rewatch or jumping in for the first time, Buffy The Vampire Slayer is available to stream on Starz or buy on Amazon Prime Video. Make sure to stick with CinemaBlend for all the latest updates on the latest Buffy updates.
Never not rewatching Mad Men. Lover of comic books and all things related. I spend most of my free time giving medicine to my geriatric cat.
Your Daily Blend of Entertainment News
Thank you for signing up to CinemaBlend. You will receive a verification email shortly.
There was a problem. Please refresh the page and try again.