Seinfeld's George Costanza: The Funniest Moments From Jason Alexander's Character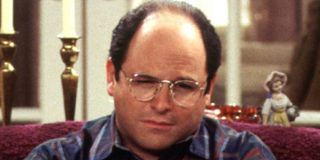 CinemaBlend participates in affiliate programs with various companies. We may earn a commission when you click on or make purchases via links.
It used to be tradition for sitcom sidekicks to be slow-witted dolts or fast-talking menaces, but also loyal and successful in resolving situations. The point of Seinfeld was always to break tradition, which is why Jason Alexander's George Costanza (roughly based on co-creator Larry David) was as a neurotic, self-serving, and self-loathing failure and we would not have it any other way. As one of the best Seinfeld characters, George's most definitively uproarious moments are key to the revolutionary comedy's success, such as one of his many iconic workplace screw-ups.
George Gets Fired From Pendant Publishing (Season 3, "The Red Dot")
After previously helping him attempt to poison his boss, Elaine Benes (Julia Louis-Dreyfus) gets George a job at Pendant Publishing, which he also ends up ruining in spectacular fashion in a Seinfeld holiday episode. Mr. Lippman (Richard Fancy) confronts him after the cleaning woman, Evie (Bridget Sienna), confessed she and George had sex on his desk. He probably could have found some way to at least try to talk his way out of getting fired. Instead, George pathetically "pleads ignorance" by asking, "Was that wrong?" in what Jason Alexander has claimed is the character's defining moment from the show.
George Is Desperate To Stay On Unemployment (Season 3, "The Boyfriend")
It is arguably funnier and, undeniably, more in tune with the character when George goes to extremes to avoid having job. In another Seinfeld Season 3 episode, "The Boyfriend," he convinces Jerry to answer his phone as a non-existent company considering George for a latex salesman position called Vandelay Industries (part of a great running gag) after he gives the unemployment office his number. Unfortunately, Kramer (Michael Richards) is not in on the scheme and ruins the ploy when he ends up answering their call, sending George running out of the bathroom screaming "Say Vandelay!" before falling flat on his face, caught with his pants literally around his ankles.
George Reprimands Two Rude Movie Theater Patrons (Season 5, "The Opposite")
George eventually realizes low points such as these result from his consistently problematic natural instinct, convincing him to try the opposite in the Seinfeld Season 5 finale. This new philosophy leads to some unexpectedly inspiring moments, but we see him at his most aspirational while on a movie date with Victoria (Deedee Pfieffer). George scares two loudmouths sitting behind them into silence by threatening to "take them outside" and "show them what it's like" if he has to confront them again, inciting a round of applause from the surrounding moviegoers.
George Has Jerry Threaten Yankee Stadium To Keep His Nap Space Secret (Season 8, "The Nap")
"The Opposite" also earns George a job for the New York Yankees, which he, of course, just barely manages to hold onto for the next few seasons - arguably reaching its peak in Seinfeld Season 8. In another amazing effort to put in as little effort toward work as possible, he hires a carpenter to construct a secret napping space inside his desk, which he becomes trapped inside when real-life Yankees owner George Steinbrenner (voiced by Larry David) and his grandchildren make themselves at home in George's office. In a last ditch effort, he very quietly phones Jerry and tells him call the stadium with a bomb threat, which backfires when Steinbrenner believes the safe thing to do is hide under George's desk.
George Thinks "It Moved" (Season 3, "The Note")
George's neuroses puts him and the rest of the Seinfeld cast in all kinds of trouble and one of his more notable moments of insecurity occurs in the Season 3 premiere. When attending physical therapy for his injured hamstring, George is already uncomfortable to learn a man (Jeff Lester) will be performing the massage, but later appears distraught when he tells Jerry that he fears he may have become aroused during the experience. This would not be the last time the George questioned his sexuality ("Not that there's anything wrong with that,") but any of those are easily topped by a Season 5 moment that sees, probably, the gold standard of his insecure tendencies.
George Experiences "Shrinkage" (Season 5, "The Hamptons")
While visiting a Hamptons beach house owned by mutual friends, Jerry's girlfriend, Rachel (Melanie Smith), accidentally walks in on George when he is changing out of his swim trunks and is unable to resist giggling at the sight. George frantically exclaims "I was in the pool!" which is later clarified when he tells Jerry that the water was cold, causing a certain change to his appearance that led to the embarrassment. When they learn Elaine was unaware of the "shrinkage" phenomenon, George fears that Rachel also lacks the knowledge to understand the situation and could ruin his relationship with Jane (Melora Walters) by telling her about it, which is, of course, exactly what happens.
George Has Two "Meaningful, Intelligent Conversations" Backstage At The Tonight Show (Season 4, "The Trip: Part 1")
Sometimes George experiences a rare boost in confidence that still, inevitably, gets the best of him - such as in the first half of the premiere episode for Seinfeld's Emmy-winning fourth season. While Jerry is preparing for his appearance on The Tonight Show, George waits backstage where he pitches a damning personal story as an L.A. Law episode to Corbin Bernsen and tells George Wendt that the Cheers producers might want to consider another location for the long-running sitcom than the titular bar. He assumes he made a breakthrough until the actors both use harsh words when mentioning their recent respective encounters with George on the talk show, making Jerry's botched stand-up set look favorable in comparison.
George Tries To Plant Another Marble Rye At Susan's Parents' Apartment (Season 7, "The Rye")
It seemed George was finally growing up when he became engaged to ex-girlfriend, Susan Ross' (Heidi Swedberg), in Seinfeld's Season 7 premiere, but that also proved to be a recipe for disaster upon disaster. For instance, after George discovered his parents (Jerry Stiller and Estelle Harris) pettily took back the marble rye bread they gifted his future in-laws (Warren Frost and Twin Peaks' Grace Zabriskie) at an ill-fated dinner party, he coaxes Jerry and Kramer to help replace it before they notice. Nothing goes according to plan, eventually forcing George to use a fishing pole to get the stolen loaf from Jerry into the Ross' apartment, only to get caught redhanded anyway.
George's All Too Casual Reaction To Susan's Death (Season 7, "The Invitations")
"The Rye" is actually a rare instance of George struggling to preserve his impending nuptials as he spends more time scheming to get out of it - which he ends up indirectly achieving in the Season 7 finale, but through a tragic means. When George finds out that Susan has passed away from licking toxic adhesive on the wedding invitation envelopes he purchased, he reacts in a way that Dr. Wexler (Victor Raider-Wexler) would later describe in the series finale as "restrained jubilation." This scene sees Seinfeld at its unapologetically darkest and George at his most despicable, which is why it remains a classic example of the show's subversive brilliance.
George Saves A Whale From Kramer's Golf Ball (Season 5, "The Marine Biologist")
However, a scene that many (including myself) agree sees Seinfeld at its most subversive and most hilarious is just about the one moment from Season 5 that effectively paints George in an overwhelmingly positive and heroic light. At the request of his girlfriend (who, thanks to Jerry, believes he is a marine biologist), George sets out to save a sick whale seen near the beach and the recounts the incident to his friends at Monk's in an exciting monologue. As it turns out, the whale's breathing was obstructed by Kramer's own golf ball from an earlier scene, leading to one of series' longest audience laughs and Kramer uttering one of most priceless Seinfeld quotes: "Hole in one, huh?"
George Costanza may not always be "master of his domain," but he never fails to make millions laugh at his own expense. We only included ten of his best Seinfeld moments, but could have included so many more. Did you spot your own favorite on our list or do you think we should have gone with our opposite instinct?
This poll is no longer available.
Jason has been writing since he was able to pick up a washable marker, with which he wrote his debut illustrated children's story, later transitioning to a short-lived comic book series and (very) amateur filmmaking before finally settling on pursuing a career in writing about movies in lieu of making them. Look for his name in just about any article related to Batman.
Your Daily Blend of Entertainment News
Thank you for signing up to CinemaBlend. You will receive a verification email shortly.
There was a problem. Please refresh the page and try again.